21/3/16
El Marchal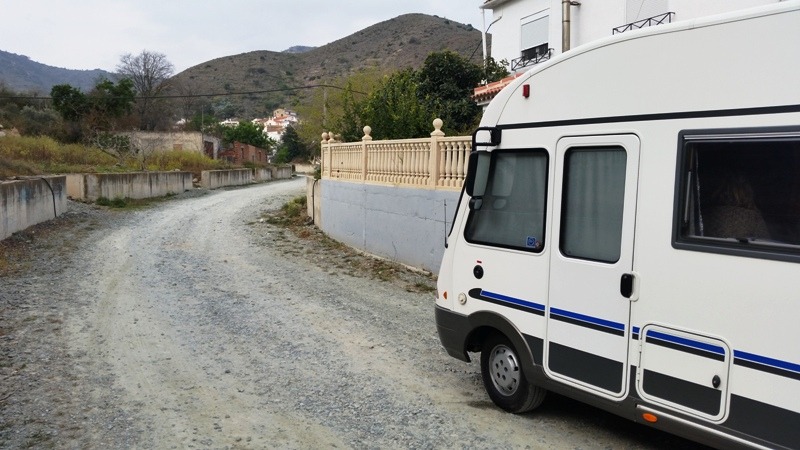 Woke early … 8am, and tried to catch up with a bit of blog writing.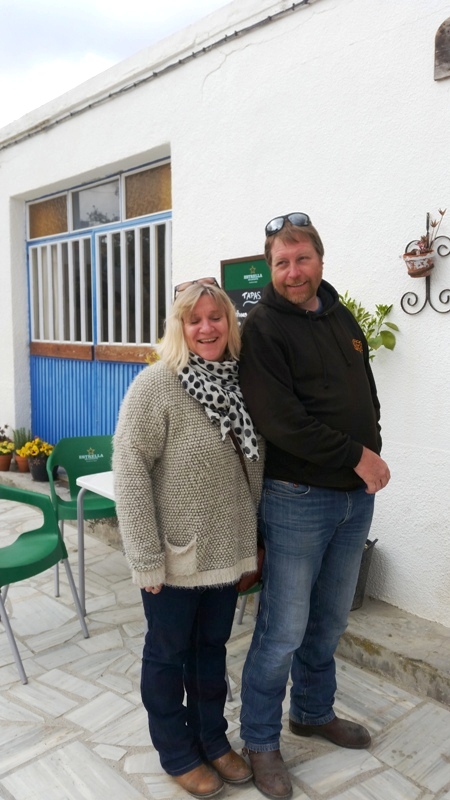 Wayne arrived at 10.45 having done the cash and carry – to open the bar – he's already got a couple of coffee customers waiting for that machine to warm up!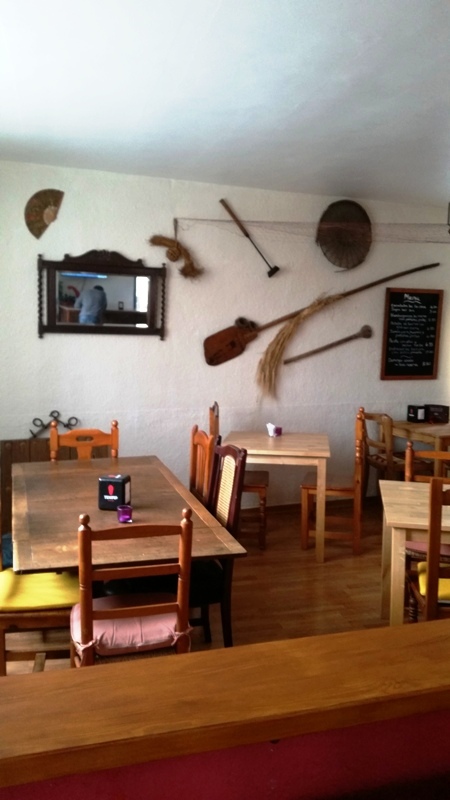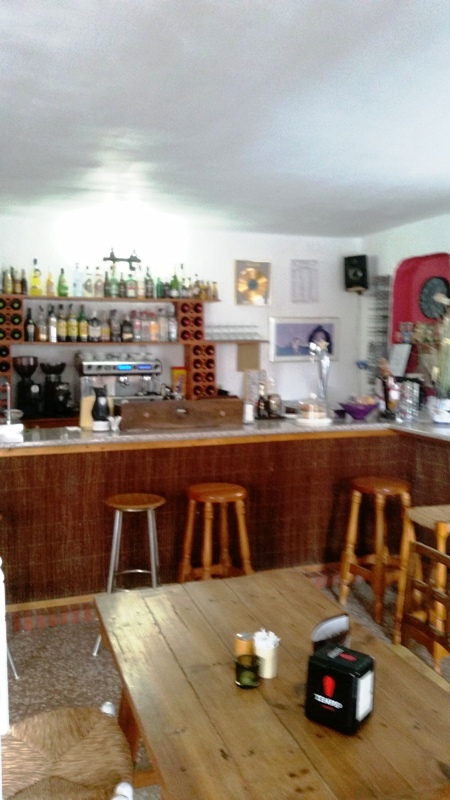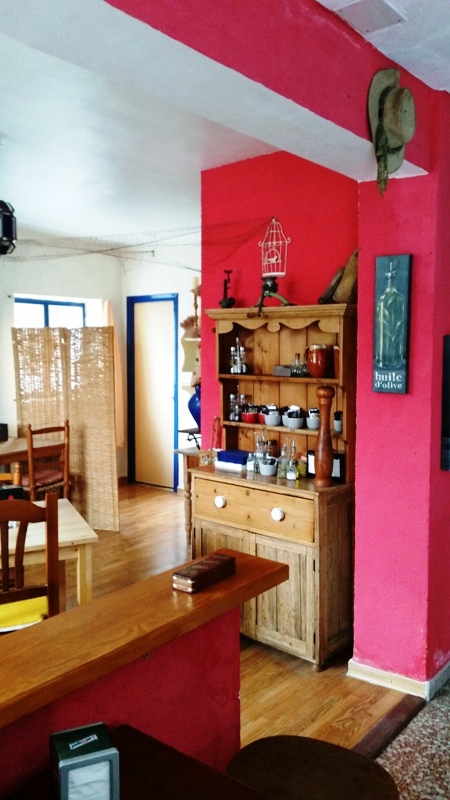 The weather is overcast and a bit drizzly, so we sat inside the bar and uploaded some pictures, and eventually said our goodbyes to Viv and Wayne, and followed Jude and Pete down to Mojacar…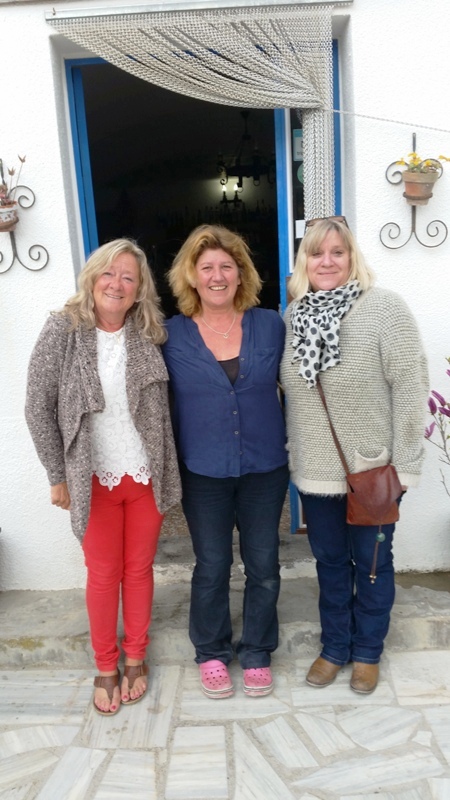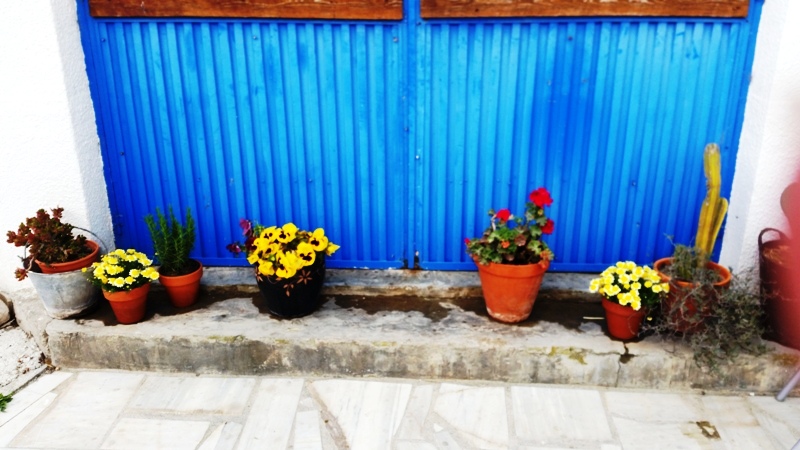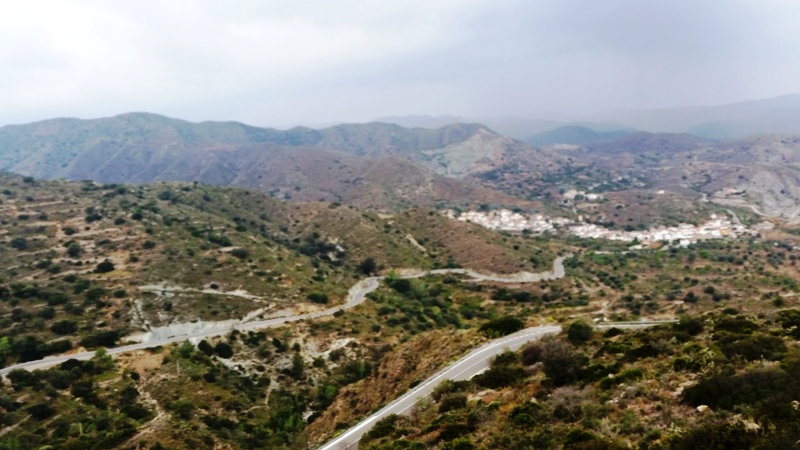 We ate a huge English Breakfast at 2pm in Beachcombers, said tata to Jude and Pete, then set off to find Dave and Ali to say goodbye. Ali was working, Dave wasn't at home, so we thought we may be disappearing without saying goodbye – but as we waked back to the Blobbybus we saw Dave and Wendy! Big hugs all round, and we set off. We'd set co-ordinates for a waste drop about an hour away; then Nick spotted a sign at a nearby Cepsa garage – we did a quick about turn and refuelled, paid 2 euros for services, everything emptied and filled! Reset the Navi and set off for our next overnight stop at a place called Playa del Arroz in Calabardina.
We were both so tired when we arrived – all this food! Feel so bloated… serves us right. We opted for a very light supper and an early night… However, at about midnight we were rudely awakened by a screaming siren – our gas alarm!!! I woke straight away and shook Nick (above whose head the "OFF" switch is located) but it took him quite a while to come round, pull out his earplugs, and realise what the noise was….. if only I'd had video; he was blowing into the sensor, fanning it, banged his head on the cupboard….LOL! Finally he flipped the switch….. I opened the bedroom blind and at least 3 of our neighbours were out of their vehicles to see what the noise was!!! OOOPS! We worked out the cause fairly quickly – Nick had pulled the curtain across the bedroom, confining his rather rumbunctious rectal recitals to the small bedroom area and – apparently this is common – setting off the gas alarm!
Bertie's reaction? Didn't make a sound…. just stood up from his post in the Capn's chair – stared at us both in astonishment…. I'm surprised he didn't shake his head!
22/3/16
Calabardina – La Manga (Veneziola)
Woke to more drizzle and an overcast day… quick breakfast and a clean up is in order – floors swept and washed – all made ready to move on once more… La Manga here we come!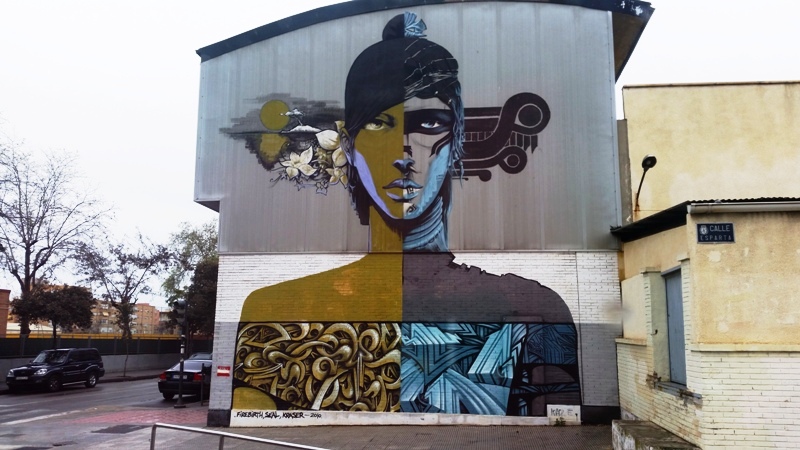 We drove, and I looked, and I kind of recognised some of the buildings in the distance around the Mar Menor – where I'd stayed about 6 years ago in the summer with Yvonne, Tina, Rosie and Mandie….. a text to Tina didn't get a reply, but I spotted some multicoloured tower blocks, and remembered that the urbanizacion was to the right of those….. so I ask Nick if we can go have a look – just for posterity's sake… and the man from Del Monte said Yes! We tootle off the motorway at the lump of spaghetti that I never COULD get my head round when I'd stayed here, and towards Playa Honda on the service road, which I recognised straight away! I was soooo inordinately chuffed with myself – I directed Nick down to the road that we stayed in,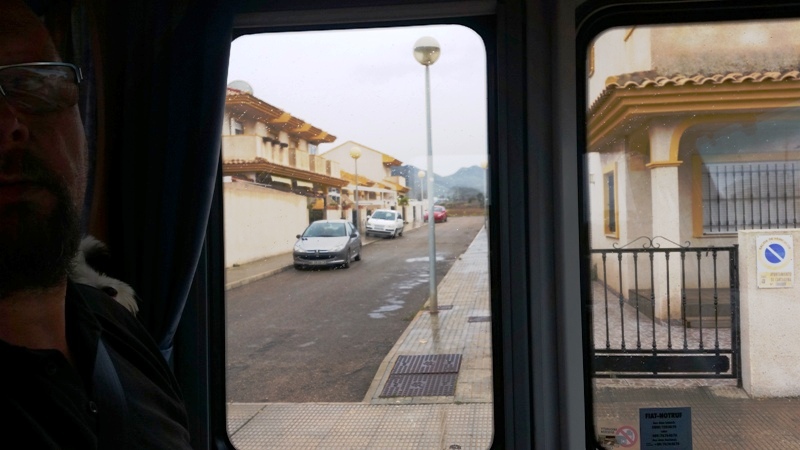 and down to Playa Paraiso beach,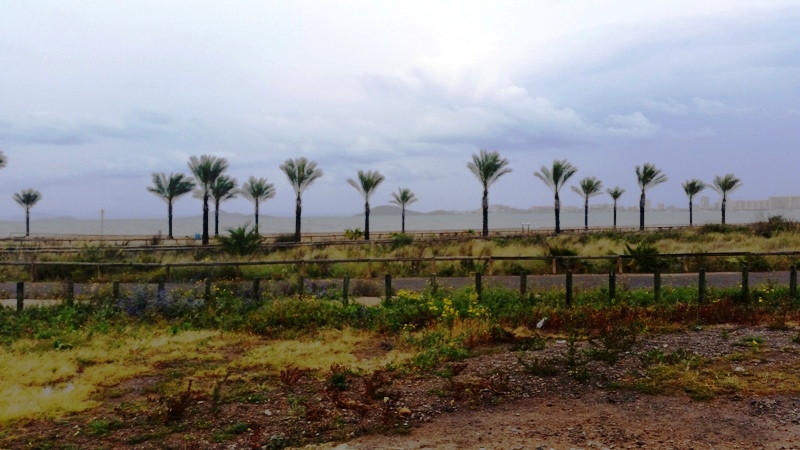 and the little bar – all closed and looking a bit sad in the drizzle! Took a few pictures: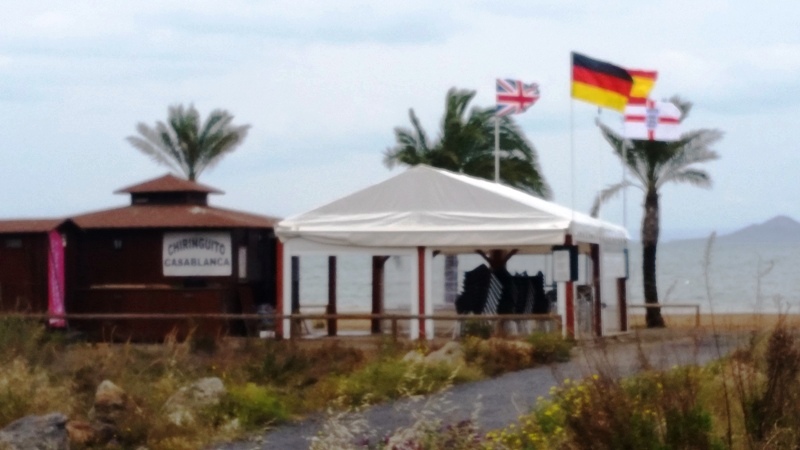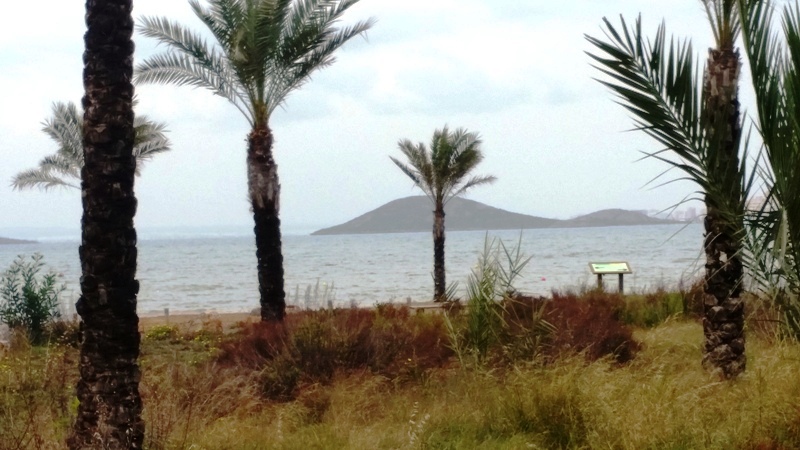 We decide to head down 'the strip' (an even bigger cul-de-sac than Elmer Sands) and head for Veneziola to park up for the night….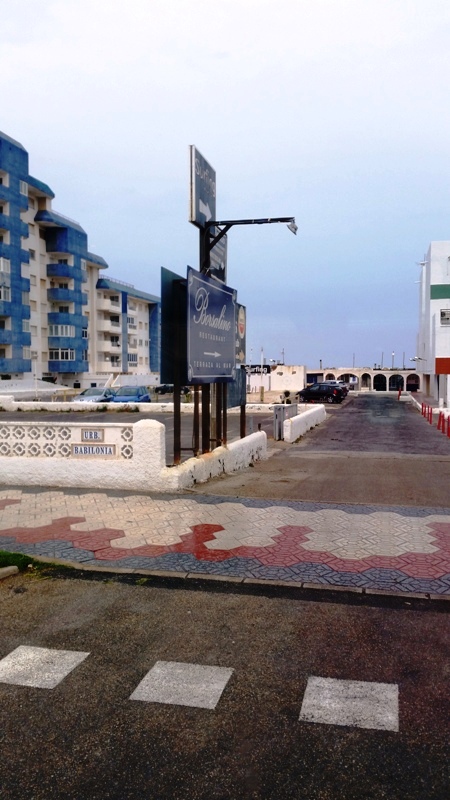 there are a few motorhomes on the road, and the lifting bridge is up for a couple of yachts to be let in…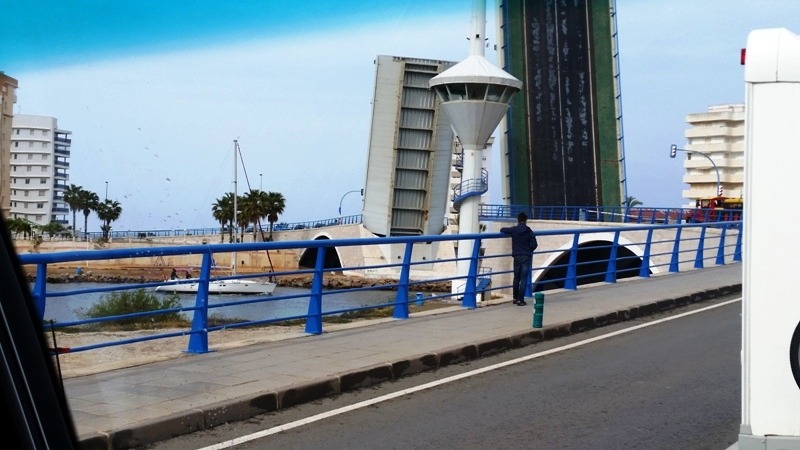 We arrive and park up by a salt windmill on the very end of the strip. I sat sorting the blog out till 1am – then bed!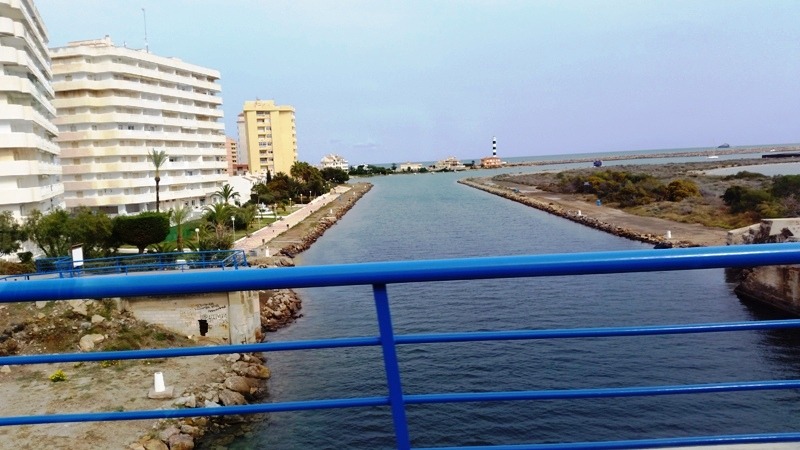 23/3/16
Veneziola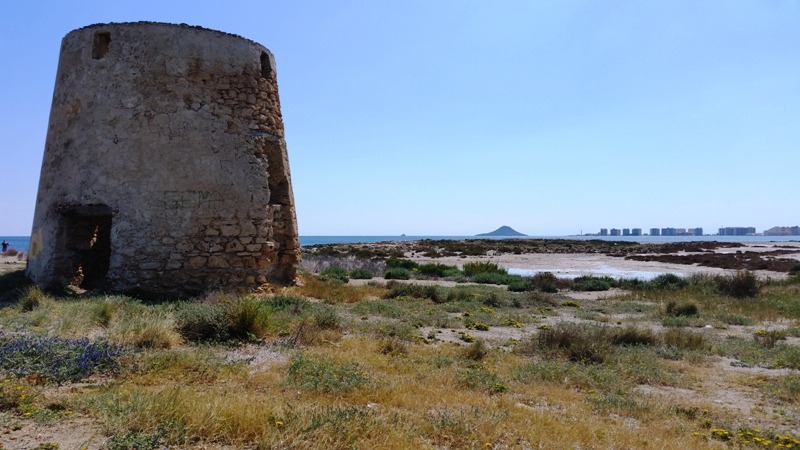 The sun is shining again! Spent all morning updating all the last 3 week's blogs…. THEY WILL NEVER get that far behind again! It's too much like hard work! From now on, it's little and often.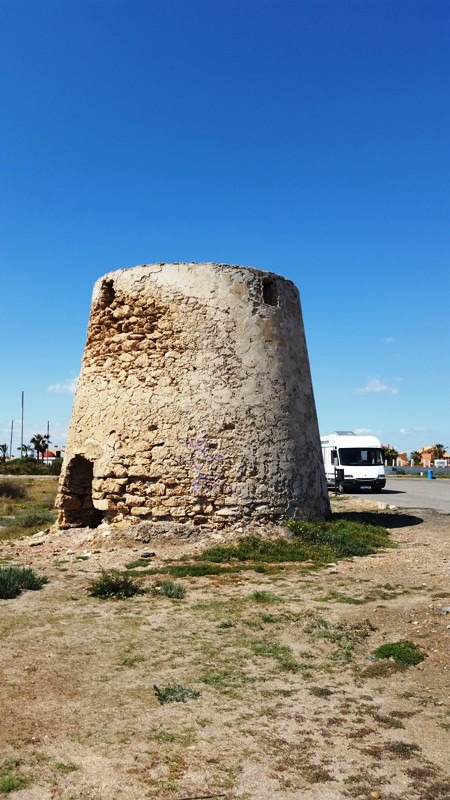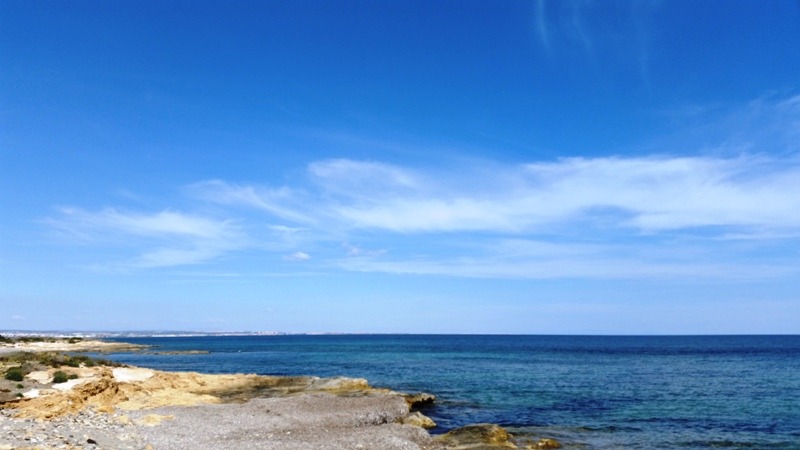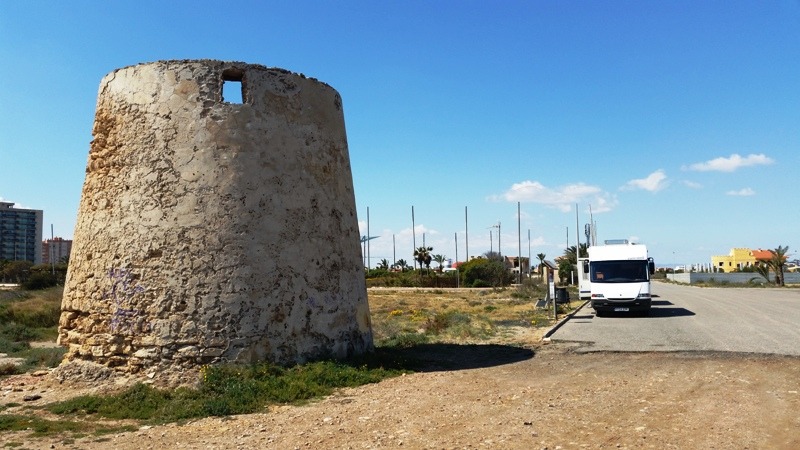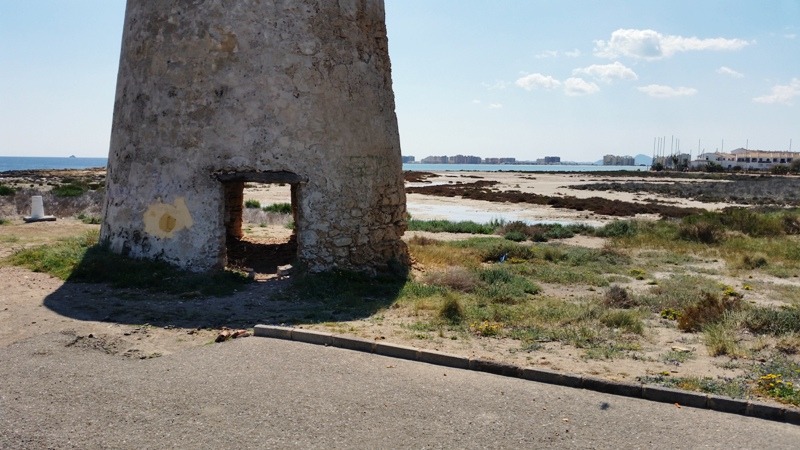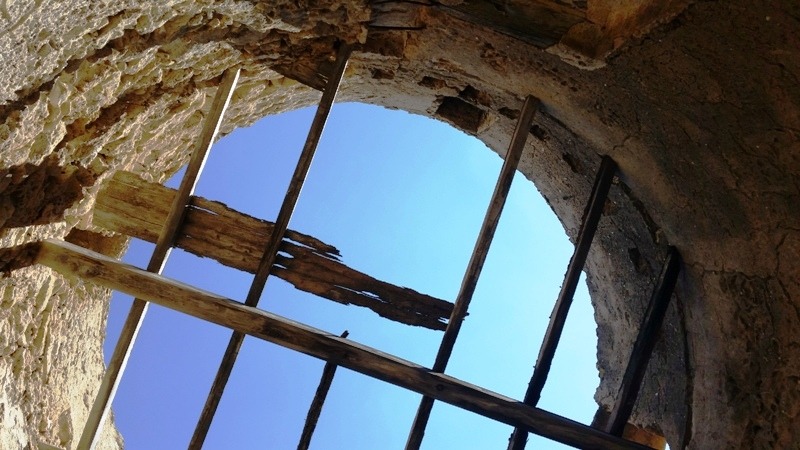 Nick made another healthy breakfast: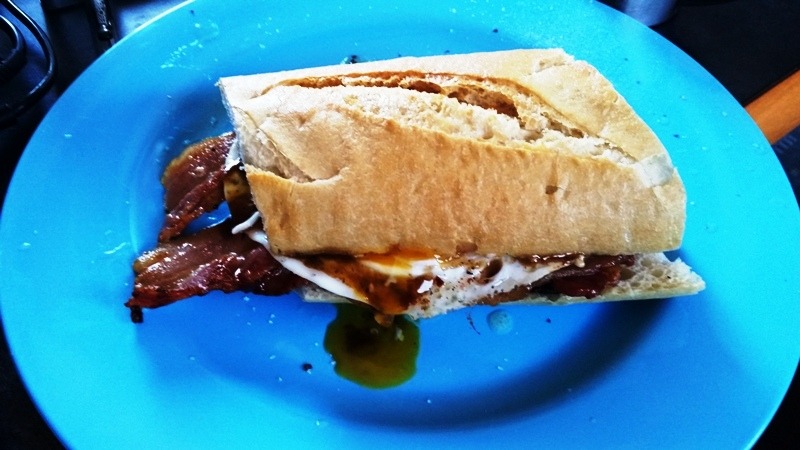 I've expressed a wish to visit Benidorm en route to Calpe …. we have found a couple of sites in mind… and drive there we do, it's a long journey!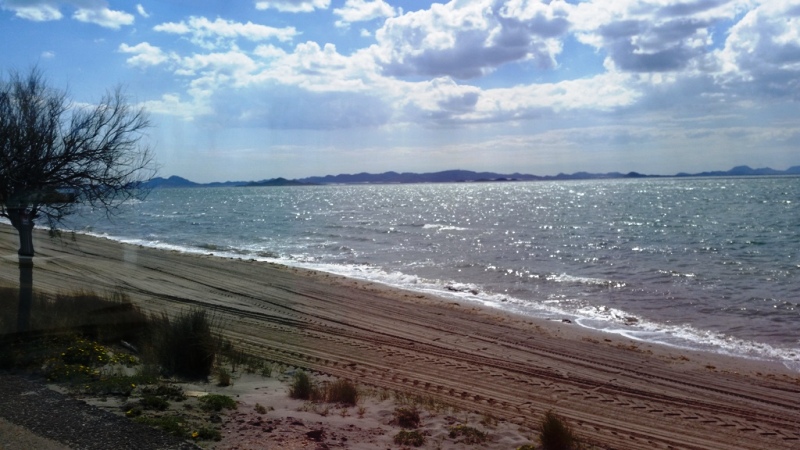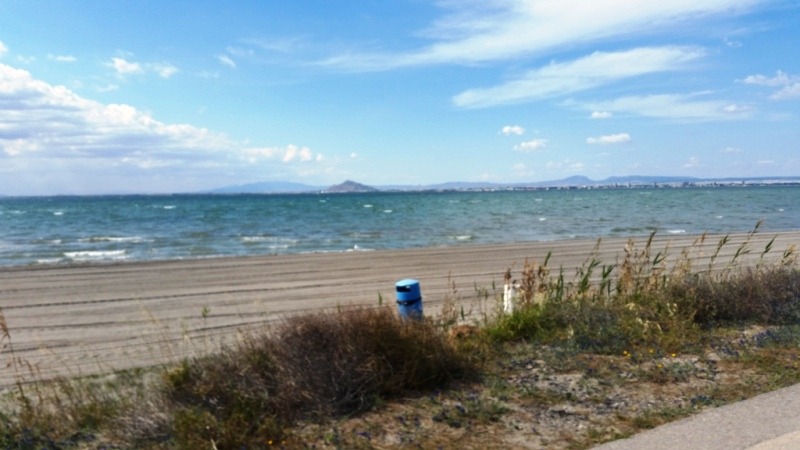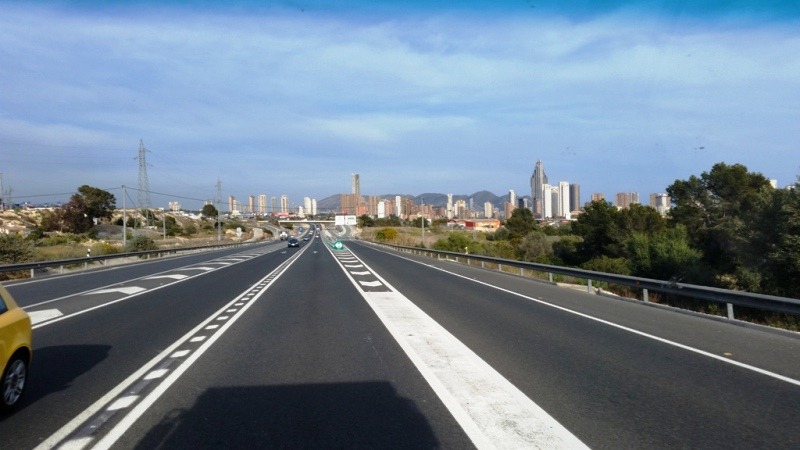 Our first choice campsite is closed….great!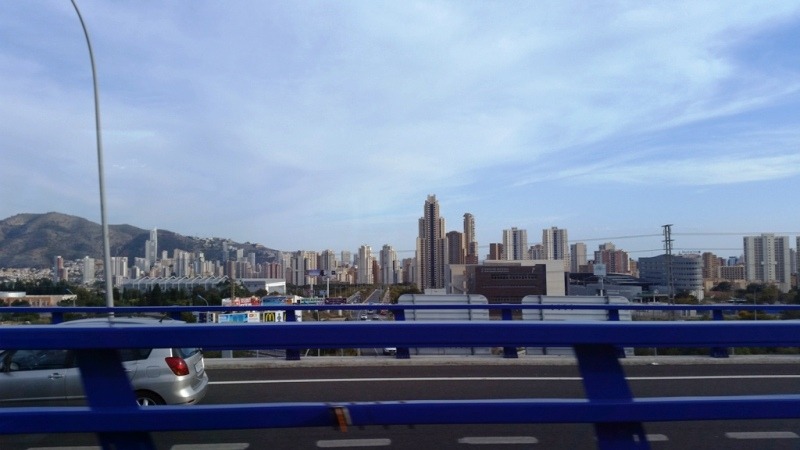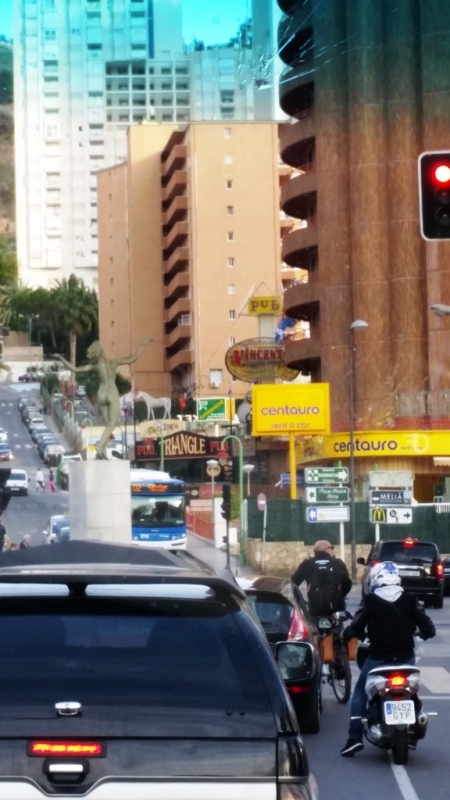 We drive on to Altea, and that's full! No worries – we'll try the next two sites further inland – both closed! Bugger! And we had to go down some WEENY little single track roads and do two seriously tight turns to get out of there!
It's now after 7pm and I'm getting stressy… I only wanted to see the bloody Solana anyway! "Let's just go to Calpe" says I, "Okay" says the Capn…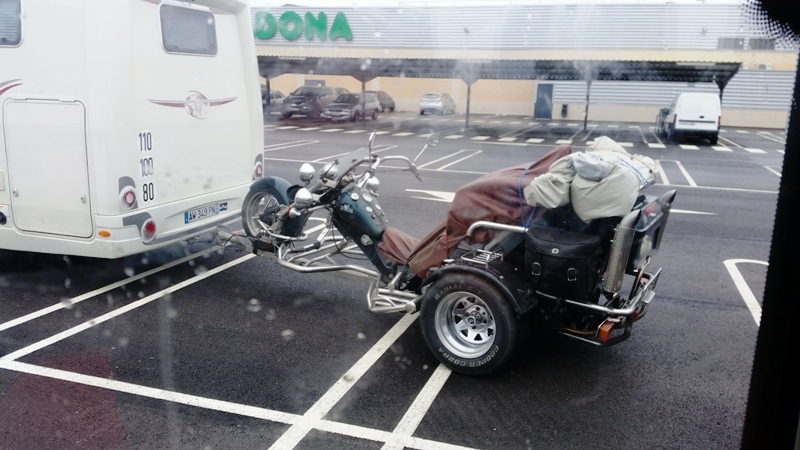 We drive out through Altea and it's full of amazing little shops – I was window shopping in comfort while we were stuck in rush hour traffic! We'd heard of some free camping in Calpe from Bryn, an old mate from Horsham, who we hadn't seen for donkeys years….. Our instructions were to "turn left at the roundabout with all the aliens fighting one another"………. sounded a bit odd tbh, but there's no mistaking that roundabout I can tell you! Look at it: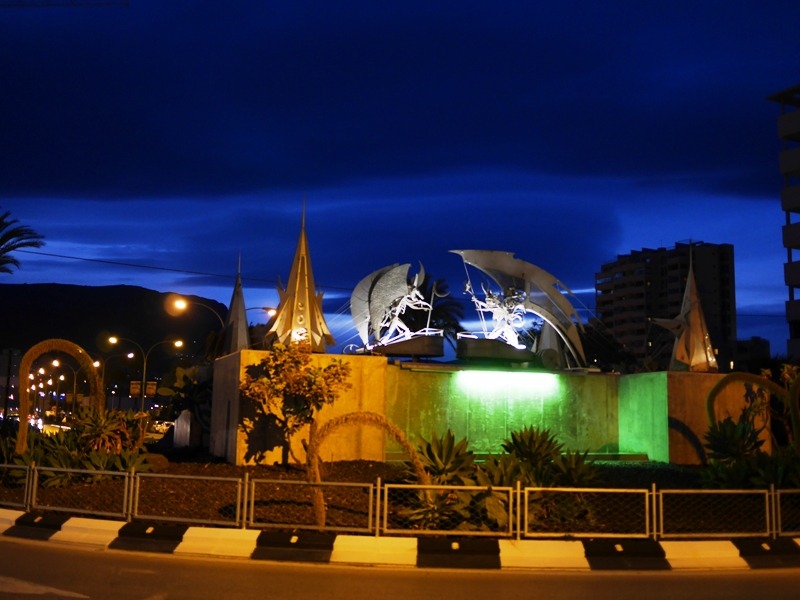 We stopped in sight of the glorious roundabout and Nick took poor Bertie for a walk – promising never to drive for that long again! I've never been happier to see a big rock in the sea! G & T all round I think! (well, not for Bertie).
I made cassoulet for dinner and we watched a couple of films – and then it was up that ladder to bed….but seriously…. check out that ROUNDABOUT!!!