We were up bright and early and were down for breakfast at just after 7. I went for the healthy option today and just had cereal and toast along with a yoghurt and a banana.
We were heading towards Glasgow today with the hope to get to the outskirts and then tomorrow get through Glasgow and sleep around the Motherwell area.
We left Fort William and it was already raining, I got the bikes unlocked and Jane loaded them up onto the bikes. I have somehow lost a set of keys, which is not like me at all, but hey how I think they must be in a safe place….. I hope…. The rain was coming down hard and I could feel water trickling down my back and it was getting cold. After about a mile or so miles we stopped as Jane had once again got another puncture yet the only difference this time is that it was pissing down with rain.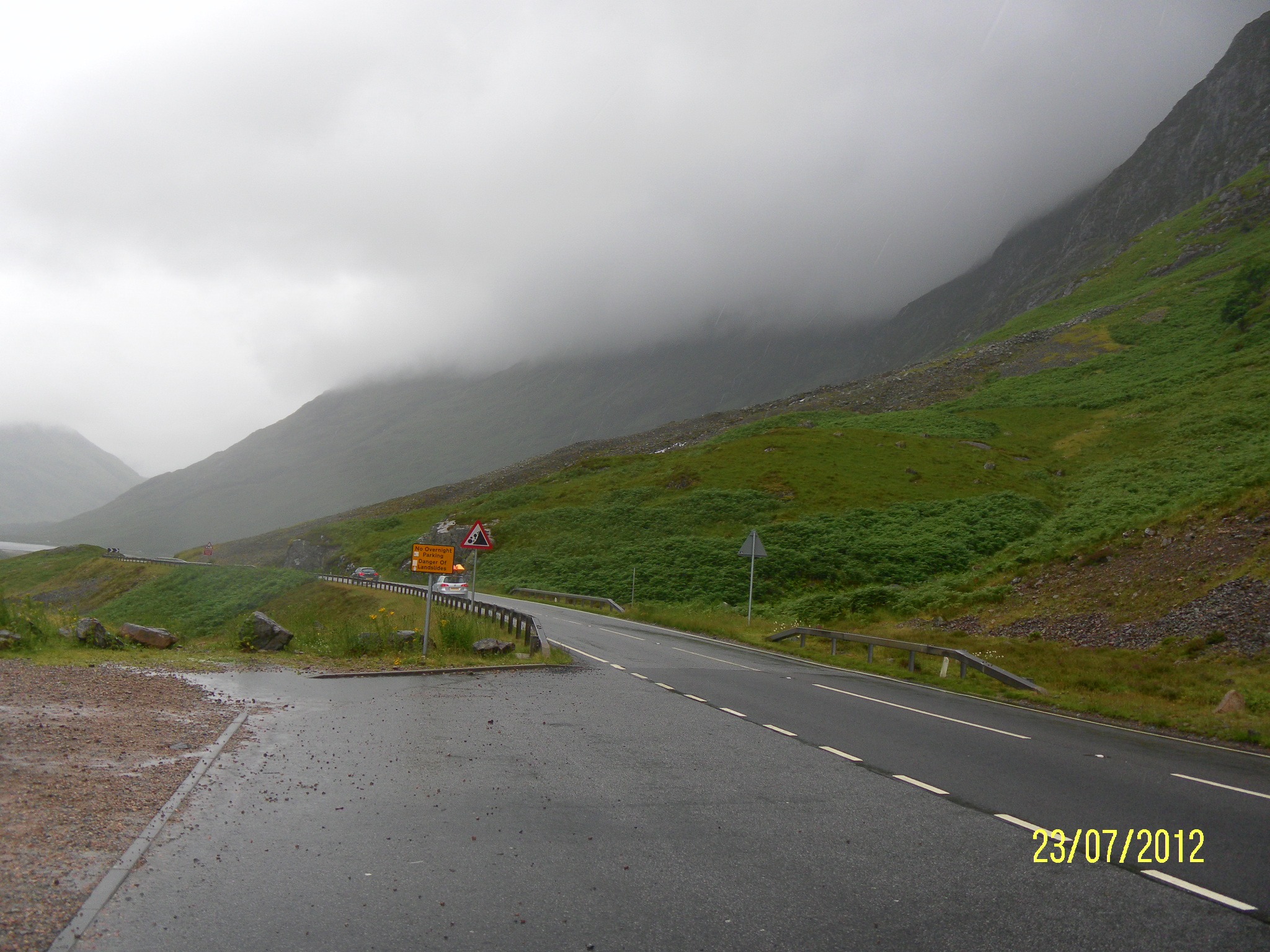 We made it to Glen Coe where we decided to stop and get a cup of tea and wait for the rain to pass so that I could once again try and repair Jane's punctures. we walked into the cafe and a lot of people looked round as we just left huge puddles on the floor but the owner was fine with it and just told us to make ourselves comfortable…. which is quite hard to do when you are wet through.
We had soup and a cup of tea followed by carrot cake which was fantastic, but you guessed it the rain did not slacken off at all in fact it started to rain harder. I took a punt and decided to just grin and bear the weather and go out and fix Jane's bike. After about 10 mins I had found what had caused the puncture and you guessed it, more broken glass. The rear tyre has so many splits in it now where she has run over glass that it wont be long before she will need a new tyre.
With the puncture replaired and Jane just coming out of the cafe for the first time since we arrived I noticed that Jane had made her self a rain coat out of a kindly donated black bin bag from the cafe… boy did she look stupid.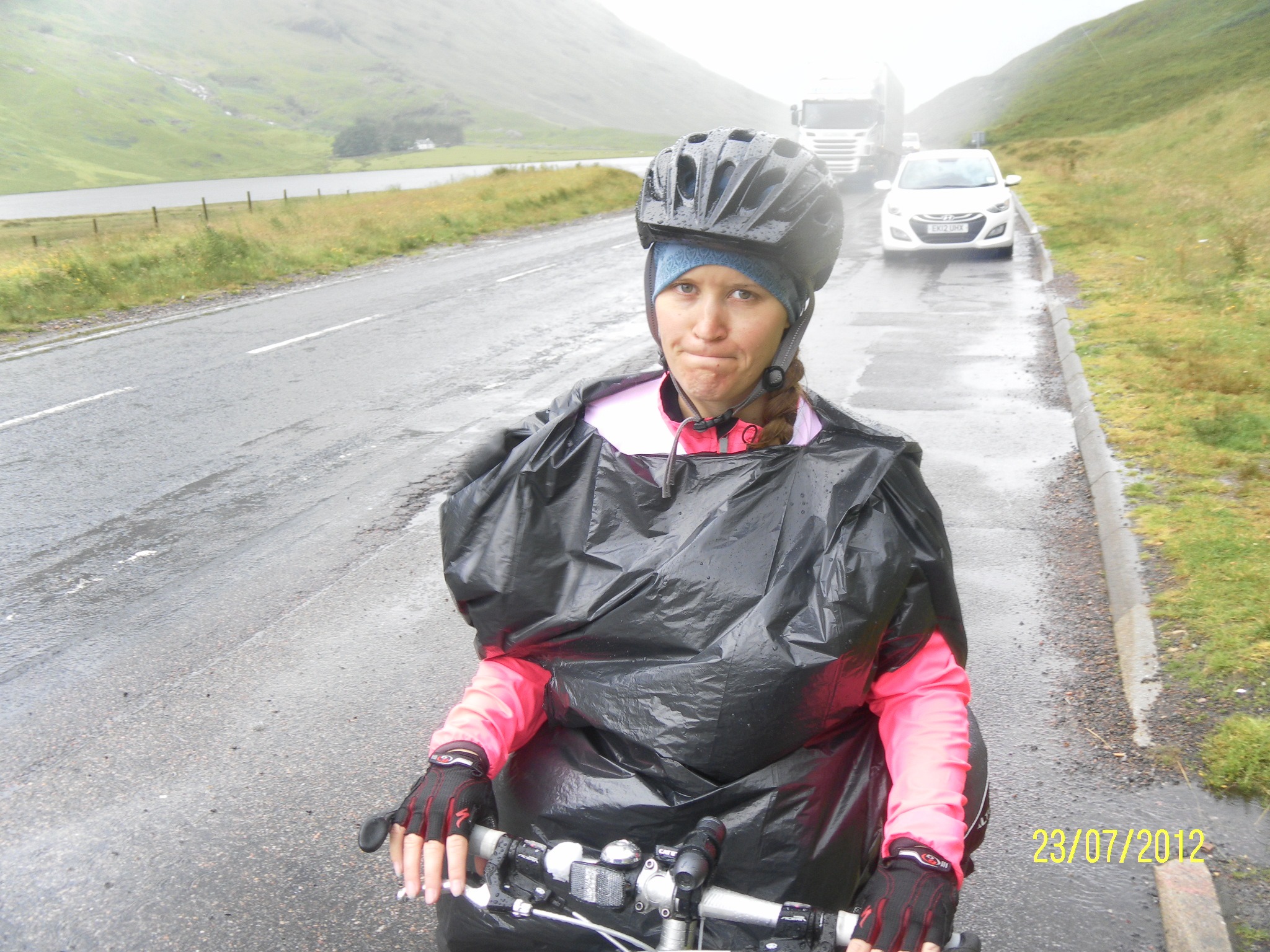 We set off through what we think were the hills and mountains but it was so cloudy and wet that we saw very little in fact we saw almost nothing but the puddle ridden tarmac that vibrated through every single sopping wet bone in our bodies. What's more Jane's modified bin bag was making the most irritating noise.
We pushed on through Glen Coe and the weather was getting worst the rain was wetter and the wind was picking up and our speed was dropping rapidly. Jane was loosing the will to live and I have to say I was slowly begin to wonder why I thought this trip was going to be a good idea.
We got to a burger van and we ordered some fatty burgers and when we got them we were not sure whether we should eat them or simply hug them. We were so cold that we could not feel our hands and to make things worst the rain was getting heavier. We decided that the only thing we could do was to push on and try and find a hotel to sleep in and write the day off due to bad weather.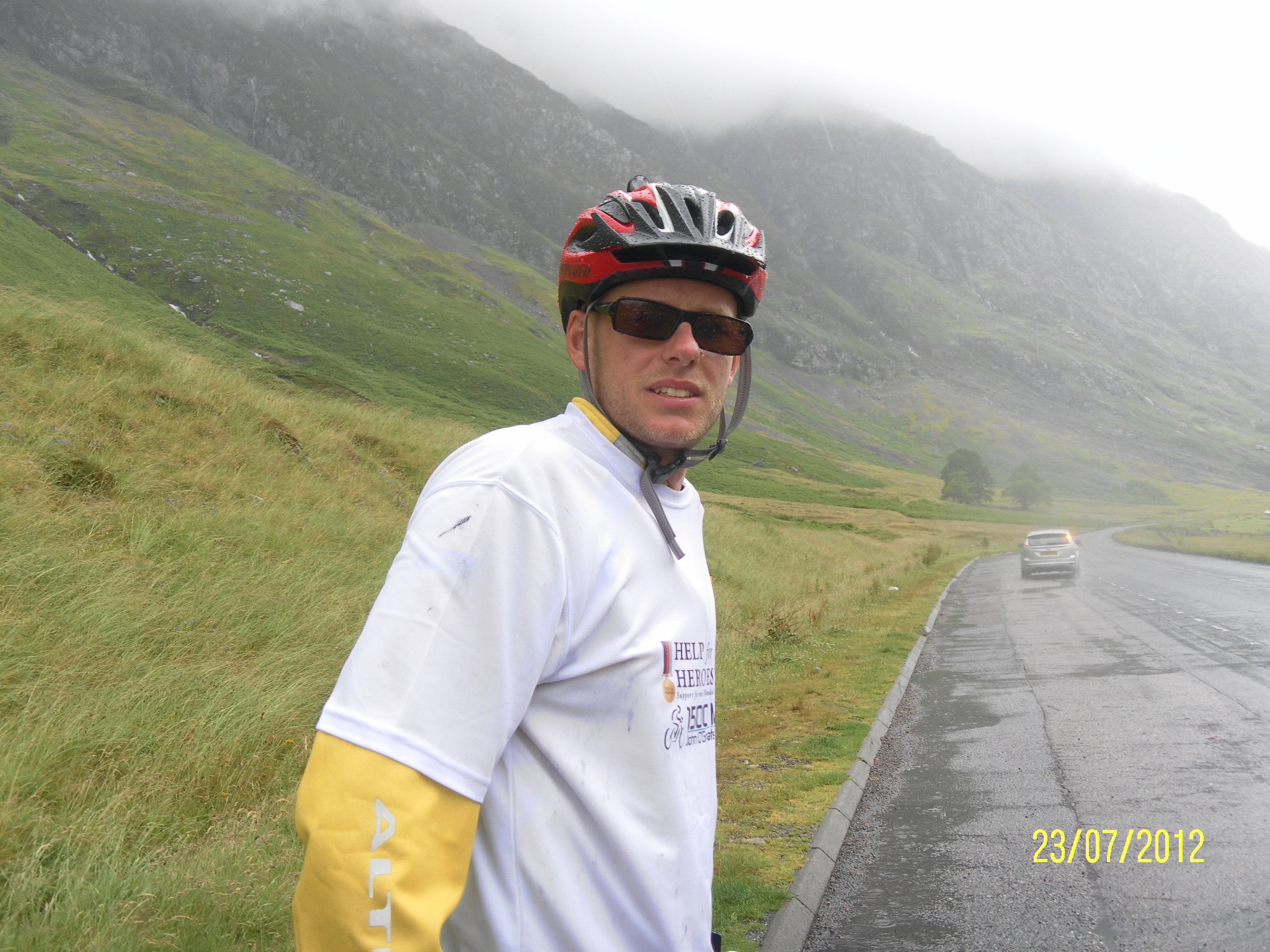 Don't you just love my sunglasses….. my free prescriptions ones….
The first hotel we got to was fully booked and Jane was devastated by this and was getting quite upset as she was really starting to shiver, everything we were wearing was soaked through abd everything we touched was cold and wet…. this was not going the way we had hoped.
We were told of another hotel about 6 miles away and that they may have rooms, this was brilliant so off we cycled trying to stay focused and trying to keep our spirits up, which was hard work.
By 16:00 we were in a hotel bar and chatting to the barman who was phoning round hotels and seeing if he could find us a place to stay, he bought us our beers as well to say thank you for the huge puddle we left in his bar 🙂 He was not able to find us anything and so we had to call our support line back home…
Pete and Julie did an excellent job t finding us somewhere to stay, and they did it quickly which was the important thing as we were really struggling. We would normally phone them in the morning and let them know where we would be heading and they would go and sort the hotel out for us which is a big weight off our minds, the trouble is today is that we had know idea how many miles we were going to cover and so we kept putting the phone call off.
We finally made it to our B&B by about 18:30 and we were greeted by a nice man who locked our bikes in his garage and showed us the special room he built to dry soaking wet clothes… which we were very impressed with.
We got to our room and headed straight for a hot shower t warm up and bundled all of our wet clothes on the floor ready to take them to the drying room.
Once we were dry and we were a little rested we headed out to get some food.
We are finding this cycle trip seriously tough. We are no cyclists and we are not athletes, this challenge is proving to be a lot harder and physically and mentally draining on us.
today was meant to be a 70 mile day but we only managed 50 miles….. we are also keen to find people who can put us up for a night as we are currently spending in the region of £120 a day on eating and sleeping which is a huge drain….
Please please please show your support and donate to Help For Heroes and show to us that this trip has been worth all of the blood sweat and tears.