So today we got up early as we had a big day ahead of us. But with our luck the day did not start to plan. Dan had a puncture before our bums even hit the saddle, this delayed us and we ended up not setting off till 8:30!
We were running low on our puncture repair patches so we decided to stop at the first available bike shop to pick some up. This was a 30minute ride away and we pulled up at Alpine Bikes just as the workers did -result.
Dan said we should get the bikes checked over and our gears adjusted whilst we were there. Luckily they had nothing booked in so we left the bikes with them and wondered around for a hot drink.
We came to the Whistle Stop Cafe where we were greeted with a warm smile and a cheery hello. We ordered two hot chocolates and i was tempted by the freshly baked and still warm cherry scone and Dan ordered a brekkie roll (even tho he turned one down at breakfast) We chatted to the staff who were very friendly and encouraged us with our trip.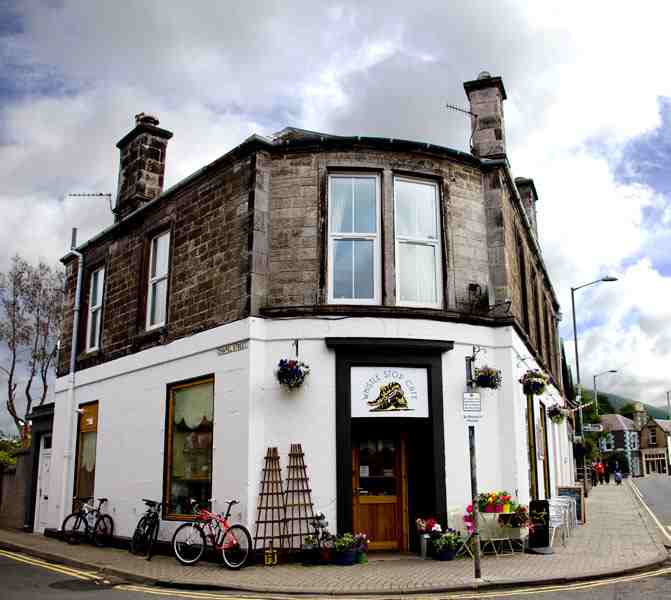 This cafe is a must stop if ever in Innerleithen.
We then headed back to Alpine Cycles to pick up our bikes. They had replaced my bearings and break pads and adjusted my gears and they had replaced Dans break pads, adjusted his gears and lubed up his head set. The bikes were happy and we were happy as the store donated their time and took 10%off the cost of the parts. Thank you Alpine Cycles 🙂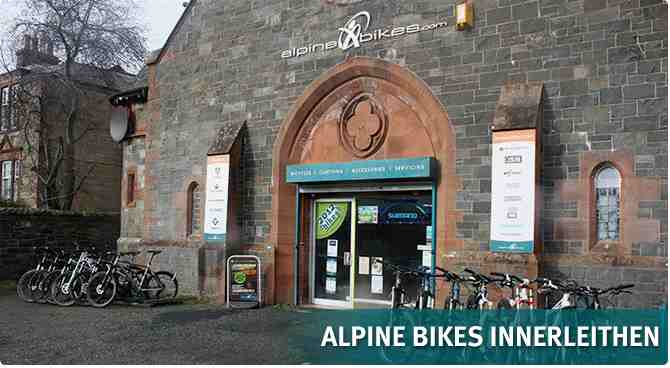 So we started on our day of cycling at around 11am. A bit of a late start but at least the bikes were in good shape.
Today was going to be the day we would be leaving Scotland and entering England…. We took a photo to show you 🙂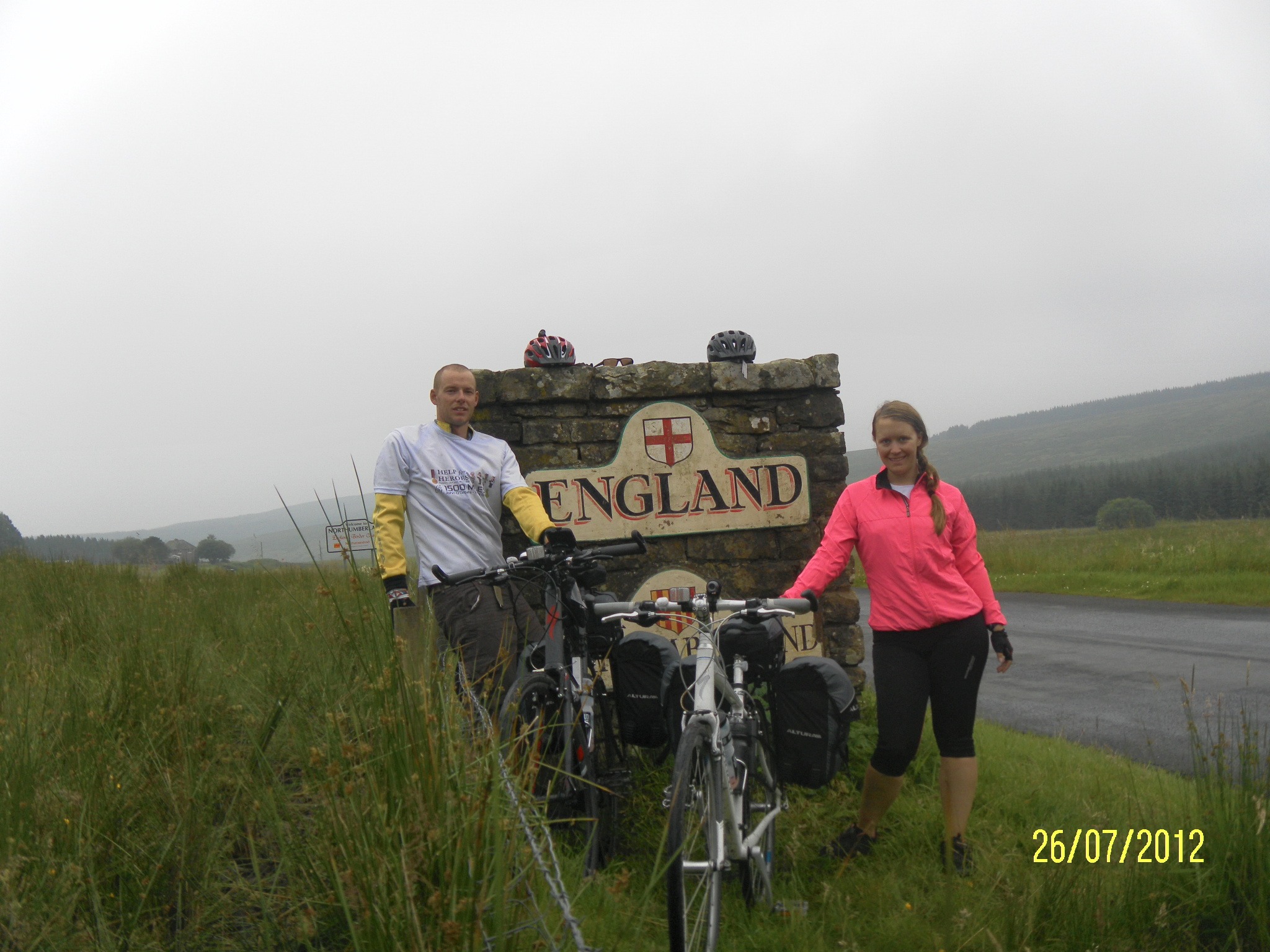 We were headed for Kielder Forest today and it was not meant ot be too far away, however we should have known by now hat the roads were bound to be a little bit hilly and we were soon battling against the the tarmac climbing up some steep hills. I was beginning to moan quite a lot and Dan kept telling me to push on. which annoyed me even more.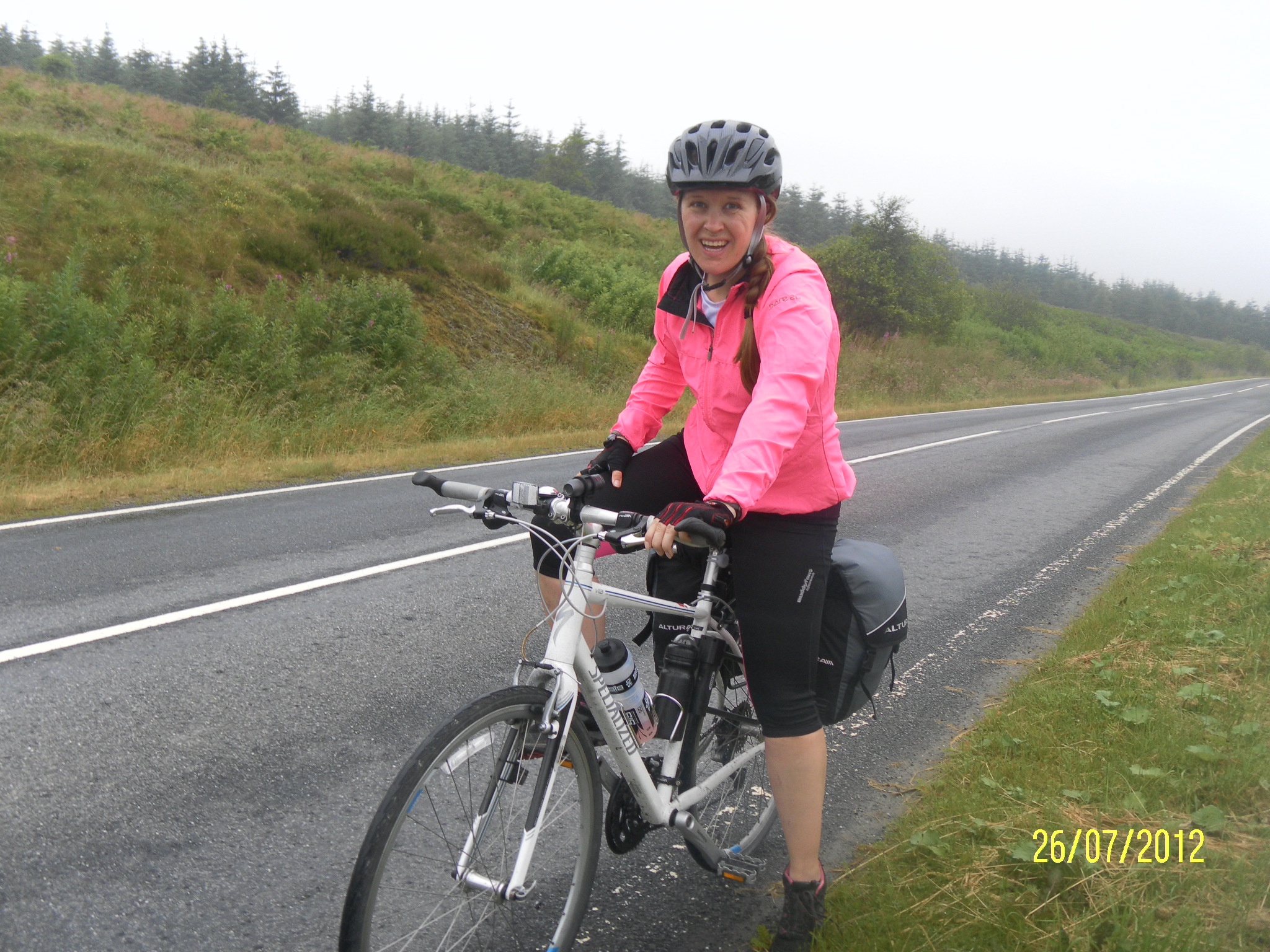 We lost all phone signal from about 16:00 and this meant we had know idea whether we were going to get somewhere to sleep in the forest or if we were going to have to rough it. We found YHA hostel and I ran in to see firstly if our friends had already booked us in and if not if we could get a room as it was now getting late. We had a room and it cost us nearly £60 for a nights stay in a hostel.
I came outside to see Dan flapping his arms about fighting the midges and he looked like a bit of a nut job but it made me chuckle… until they started to attack me also. Damn bugs!!!
We locked the bikes in the shed and made our way to the room…. I am now going to hand the post over Dan as he had a lot to say about this room.
The room was on the top floor of this prison looking building and there was not a lift, I had cycled 70 odd miles to then walk up god knows how many stairs ot get to a room that was no bigger than the average downstairs toilet you find in a housing estate. I stubbed my toe almost straight away which made me jump which meant I smacked my hairless head into a corner of a shelf ….. This shelf also had no purpose which pissed me off a little bit more.
I then found out that I had to make my I fricken bed…..!!! what in Christ's name am I paying £60 for??? I decide to go and have a shower… after a walk down the hall to find the damn showers I was in and washing the grime and oil off me. which was actually a very nice feeling.
We went out for dinner and a few beers in the local pub where I pretty much moaned about the room and the price of it etc while Jane obviously ignored me. I decided to call a few people from a pay phone… I kid you not… an actual pay phone…. I had to use like real money and everything. After getting no answer and wasting 10 minutes f my life trying to get my 20p back I gave up to find Jane finishing her bottle of wine off.
We got back to the hostel after fighting our way through a blanket of midges and other annoying little biting insects to climb god knows how many stairs to get into our room that was tiny for me to then realise that I had to still make my own god damn bed which I must add was a bloody bunk bed….
How the heck I got on that bunk bed beats me as I was in a lot of pain and my Achilles was killing me. I would like to say that I got a good nights sleep but I would be lying… I don't fit on bunk beds and the damn bed swayed every time I tried to unfold my legs it felt as if I was on a cramped boat…. To say I was annoyed is one of the biggest understatements.