28/3/16
Calpe…. Monday morning....
MAN WE'RE HUNGOVER!
Even Bert really can't be bothered to get up today!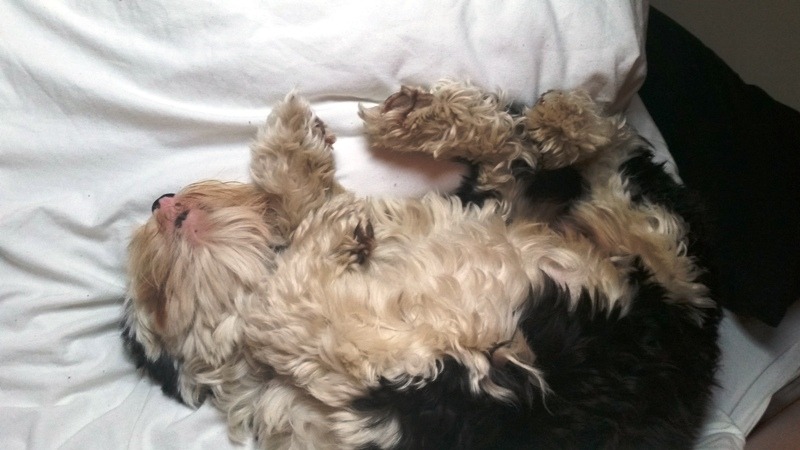 I have blank bits – and Nick is thoroughly enjoying filling them all in for me! Oh dear …. I'm not going to say "Never again" because I know this won't be the last time I stitch one on! But I WILL say that the next few days are going to be 'gentle' ones.
IF CARLSBERG DID HANGOVERS……
The road from Denia to Oliva is the N332 – and I'm quite shocked at the number of ladies of uncertain virtue plying their trade along the route! They're all just stood by the side of the road, or sat on plastic chairs!
We've arrived at Daimus, that's where we're staying, today is cancelled. That is all.
29/3/16
Daimus
Lovely sunny morning!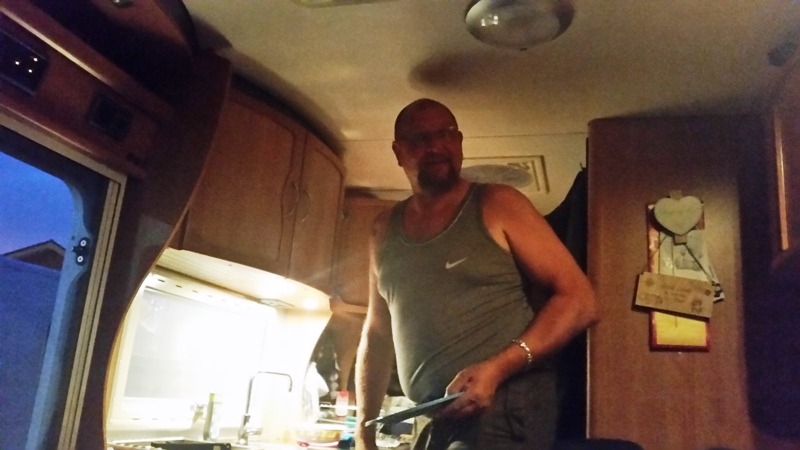 When we left Mojacar, Nick heard an ominous knocking sound coming from front left of the bus… I couldn't hear it, but I'm deaf anyway – but yesterday it became not only loud enough for me to hear, but also to feel! Either a UJ or wheel bearing, or both. Fortunately, while chatting to a guy near reception we saw a board advertising repairs, and spoke to the Mechanico! He's coming over later today to take a look – so we'll probably be here another day while it's fixed… rates are reasonable, 30 euros an hour + parts. It definitely needs fixing before we attempt the Pyrenees or the Alps later next month!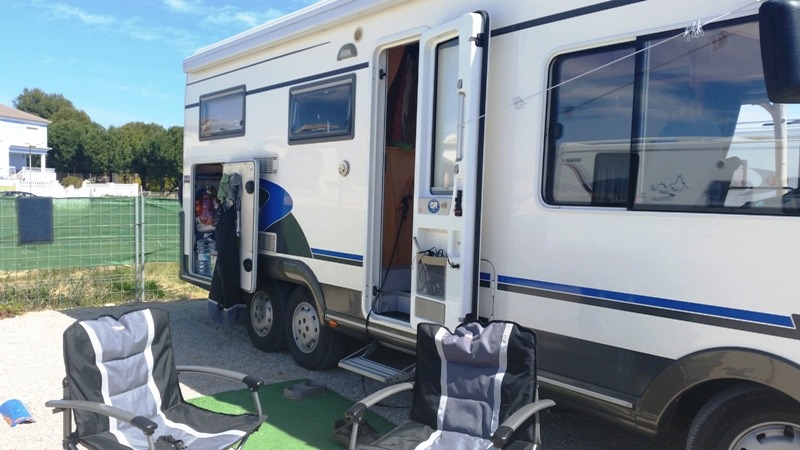 Spent the entire morning deep cleaning the bus – it's been a while – seats and everything out and thorough wash – there was a ton of sand/grit in there… now it's sweeeeet!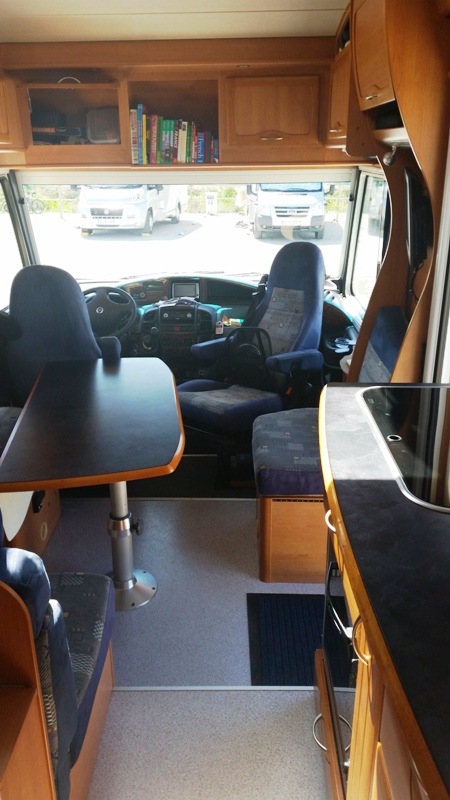 Chilled afternoon – the mecanicos can't get the part until next week – and that's not soon enough for our esteemed leader… so he spends a few hours on the internet and telephone, and we're heading to a Fiat dealer in Valencia tomorrow morning to see what they can do.
30/3/16
Daimus – Valencia
Woke early to a slobbery Bertie "kiss"! Straight to service point to fill and empty, then off to Valencia. Navvi took us to AP7 and a 2 euro toll but we jumped off at Xeresa to join the N332 again. Refuelled at 1.02E a litre.
Bert took over the driving!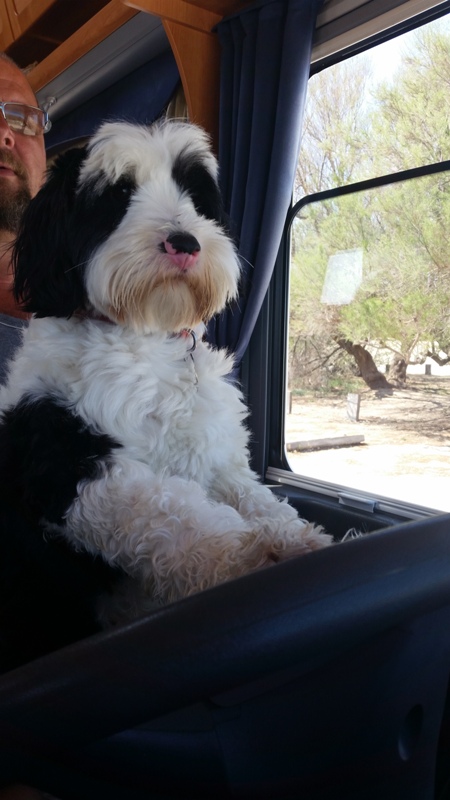 Our days are full of the sweet scent of orange blossom!
Just glad I bought Cetirizine for the sniffles!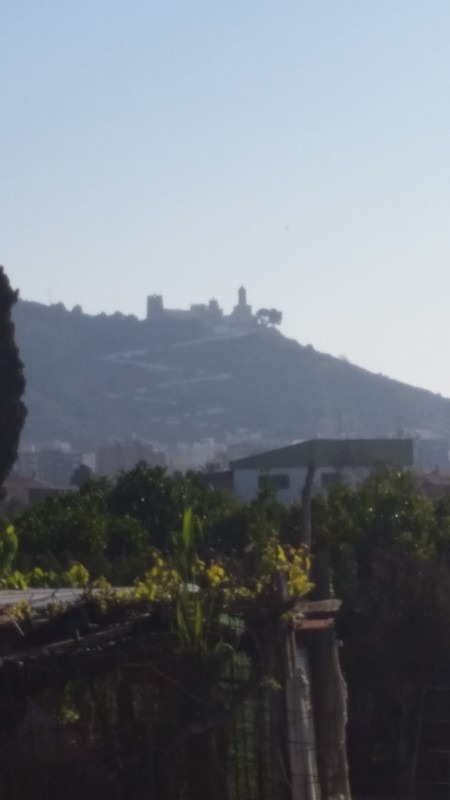 Velodrome looks like a blimp!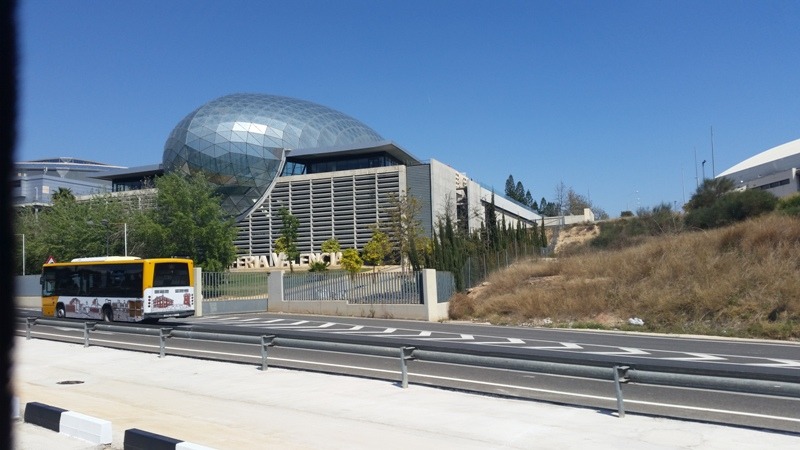 We arrive 30 mins late at the garage, Automoviles Pinel, where it becomes clear that the guy I spoke to last night thinks there's a problem with the cruise control! Clearly my Spanish wasn't as good as I thought hahahaha!
With the aid of Google Translate we manage to explain the problem. The guys appear very helpful, the chap I spoke to last night was only visiting (he's dating the owners daughter) but was kind enough to come down again this morning to assist. Nice guy. They tell us to come back at 9 tomorrow morning, all should be done by lunchtime tomorrow.
We're headed to a freecamping site at El Saler for the day to wait it out…. it was quite beautiful.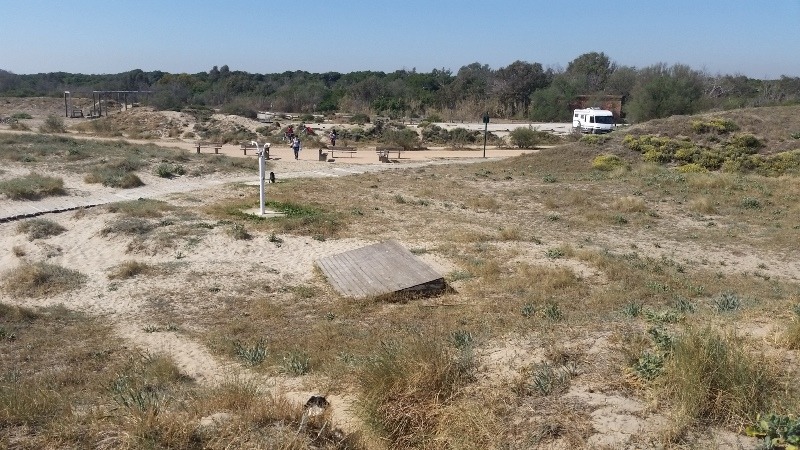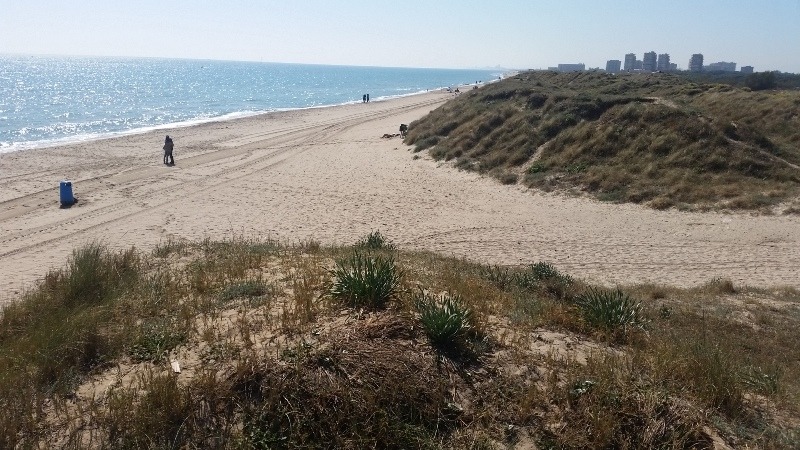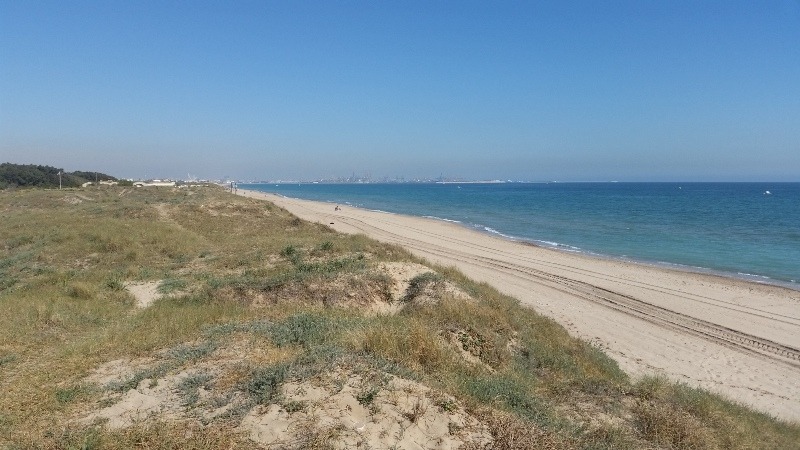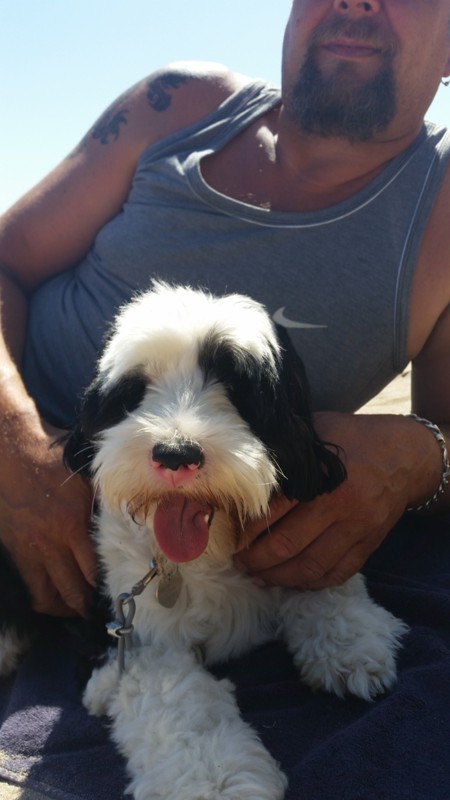 Had brunch, no overnights though, so we'll head for Valencia Camper Park at Betera for the night…. Meanwhile Bert is enjoying the beach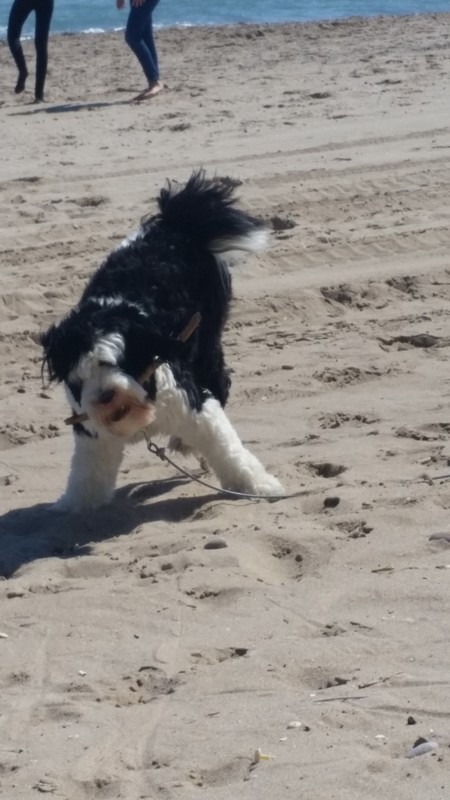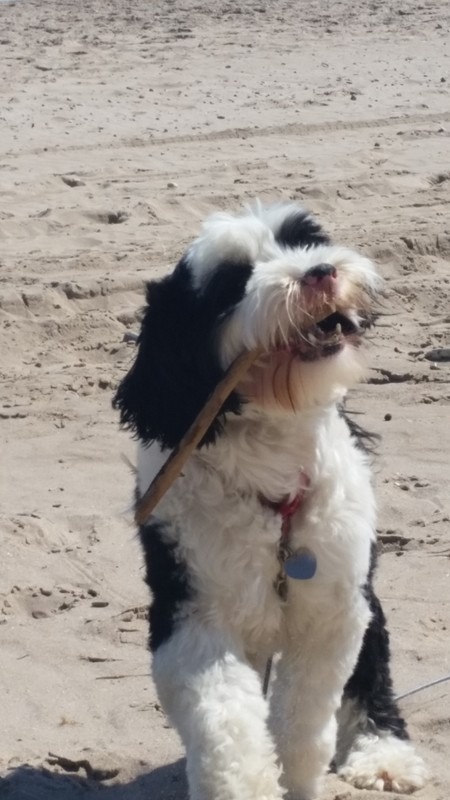 Arrived at Betera, site is ok, 12 euros – hot showers, bar, restaurant, friendly staff.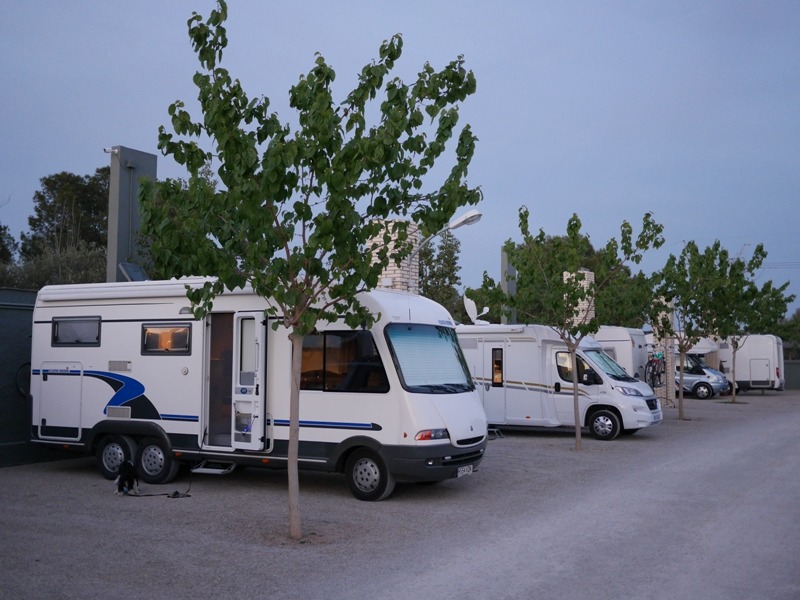 Went down for drinks (2 complimentary Sangrias – rude not to!) and came back to watch a film and an early night – gotta be up early!
31/3/16
Betera, Valencia
Up at 7.45 gone by 8.15. Arrived at the garage at 9 and said goodbye to Blobby… mechanico says come back at 2pm… walked round and round Aldaia – there's only so much you can see. I got eaten alive by mosquitoes last night – killed 4 of the f**kers before we left.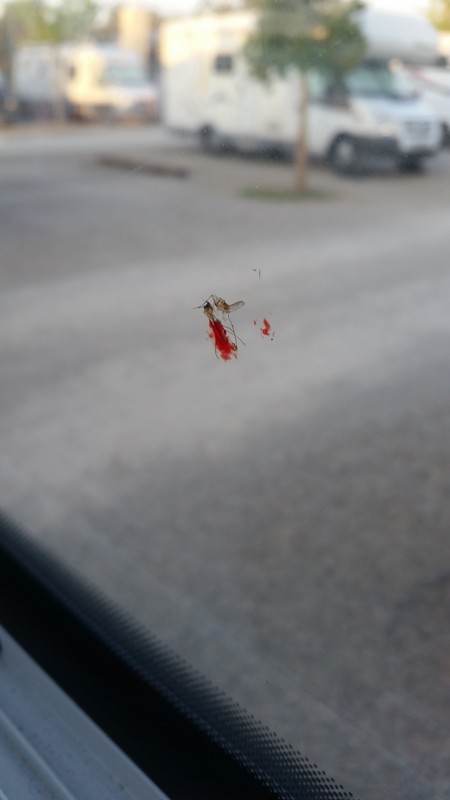 Went for along with some breakfast. I opted for a sensible tostada con tomate and Nick, well, eyes were definitely bigger than the belly because he saw (and ordered) this beauty along with some delicious (?) okra tempura!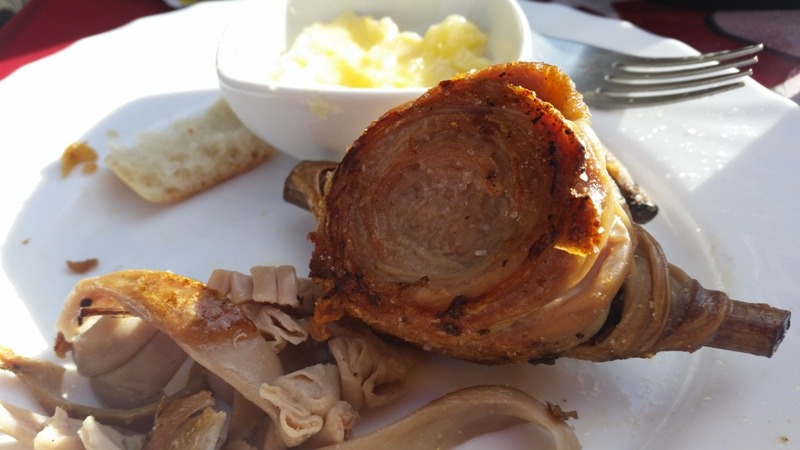 Well, I don't know what he thought he'd ordered, but it was called Zajaros, and I can only describe it as Pig intestines twisted round crossed sticks! MMMMMM yummy!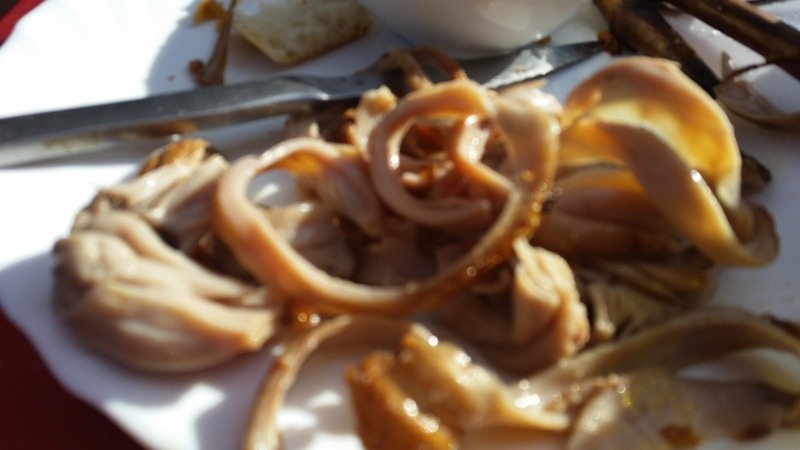 Needless to say, Bert ate more than Nick hahahaha… and a 2nd order of tostada appeared toot sweet!
Walked our arses off all over Aldaia – stopping for coffees and playing games on nick's phone.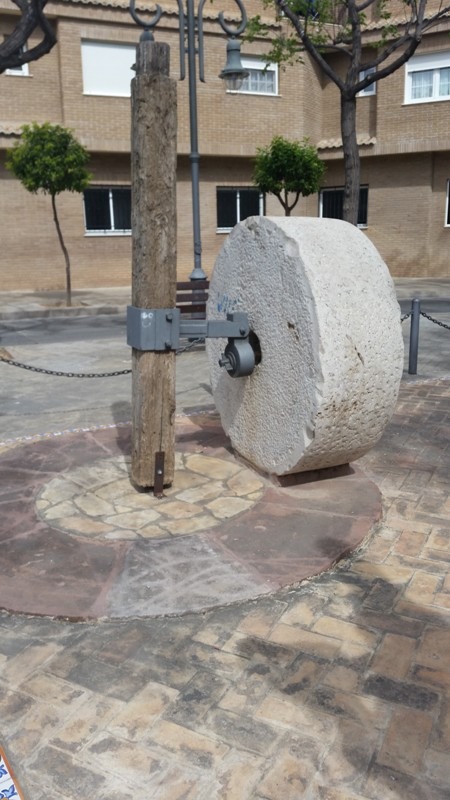 Went back to garage about 1ish, thinking I could do some shopping in the Mercadonna first… Halfway round I had a call from Nick to say don't buy anything – Blobby won't be ready till 5! So I spent the next 15 minutes "reverse shopping" putting everything back lol! I should've walked backwards and REALLY confused people!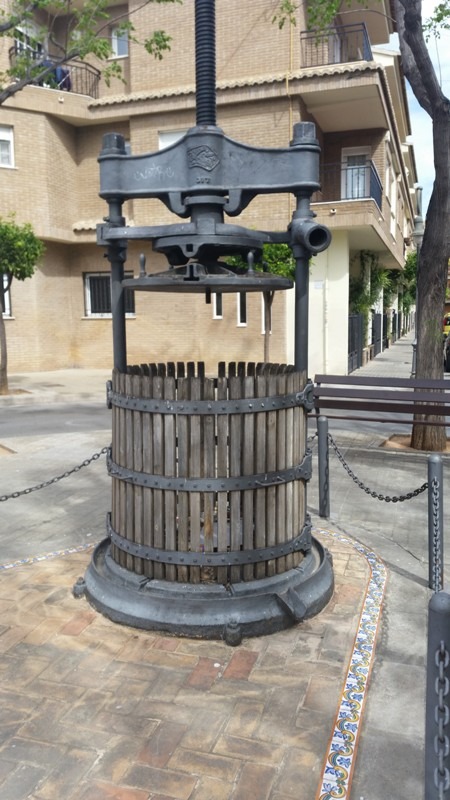 We walked some more – went for a late late lunch in the square, had ice cream, walked and walked some more. Went to library for internet – there wasn't any!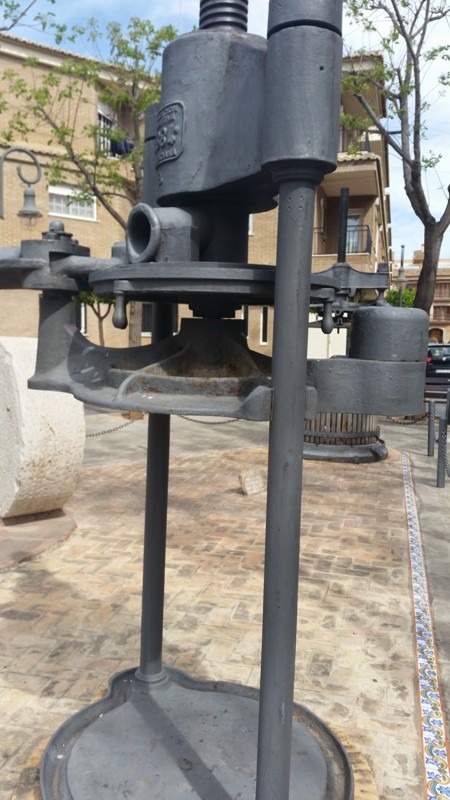 We don't like being homeless, even for a few hours!
Went back to Mercadonna at 4 and shopped – one way this time – and walked to garage to put everything away. Another half hour to wait. Nick took her for a test drive… noise still there!!!! Upon translation of the bill, they'd stripped it, cleaned it, regreased it and fitted a new boot, and put it back together. Fiat had insisted they needed to replace the whole drive shaft assembly at E430, and they didn't think we'd want that! The upshot is we're E170 lighter and the noise is slightly better… but we're not happy bunnies….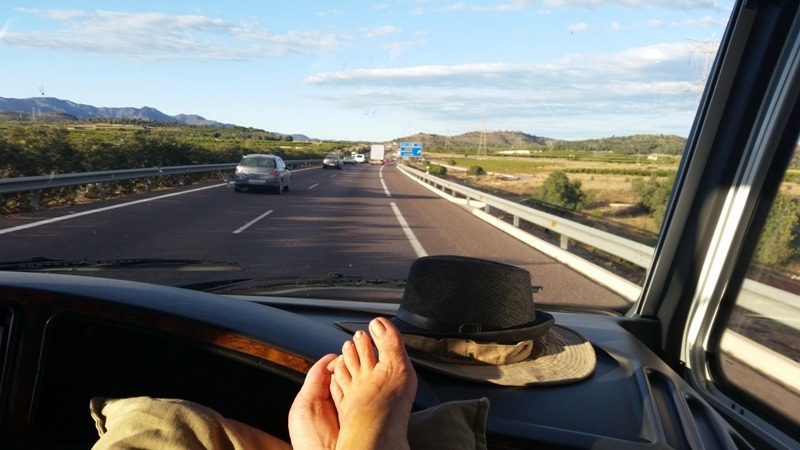 Couldn't wait to get out of Valencia, and heading north the terrain starts to look familiar…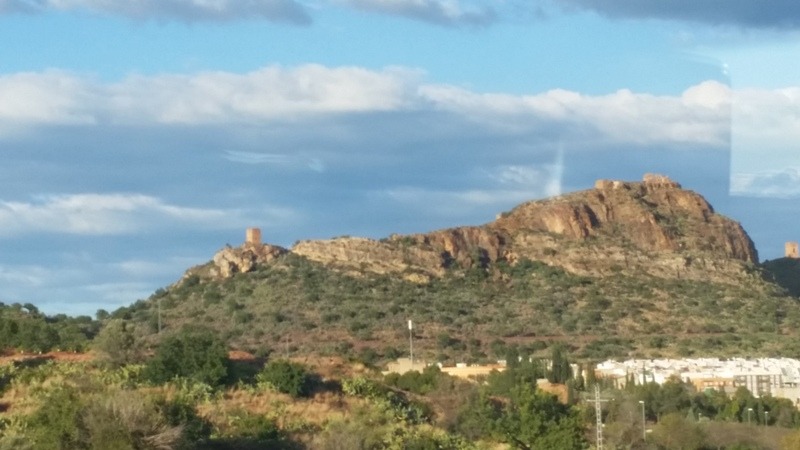 Stopped at a couple of sites, but decided to head for Borriana and find a spot on the beach, north of the harbour.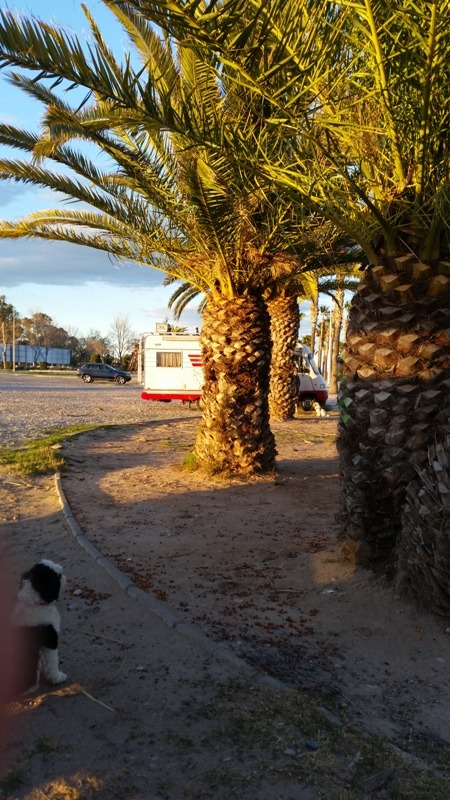 Took Bert for a walk – he started limping on the way back to the van… wicked cone-shaped burrs in his feet! Nick pulled one, I tried to pull a second and it lodged in my finger …. drew blood – Barbed and vicious!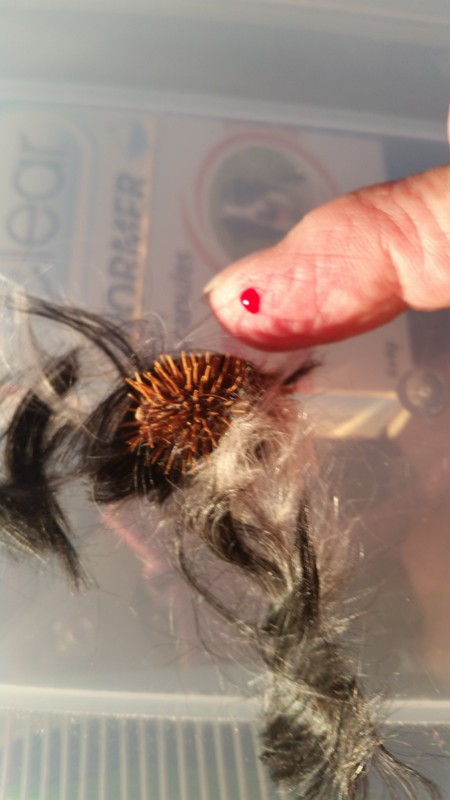 Ended up cutting 3 of them off Bertie, and resolving to do only pavement walks while we're here. Had supper – debugged the "studio flat on wheels" with spray and hope we don't get eaten tonight! I'm covered in sticking plaster to stop me scratching – very attractive!
Nice view as we pull the blinds for the night…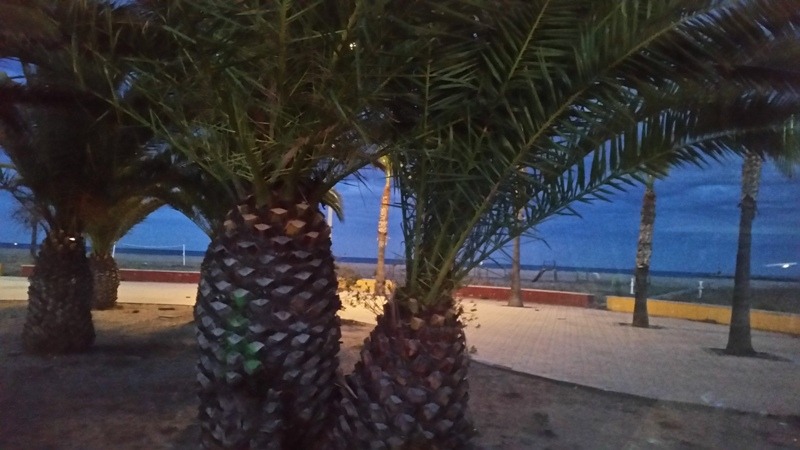 1/4/16
Borriana
Very overcast this morning… Nick 'operated' on me with the Aspiven to relieve 2 bites that have ulcerated badly overnight. Wish I didn't react to mozzies like this!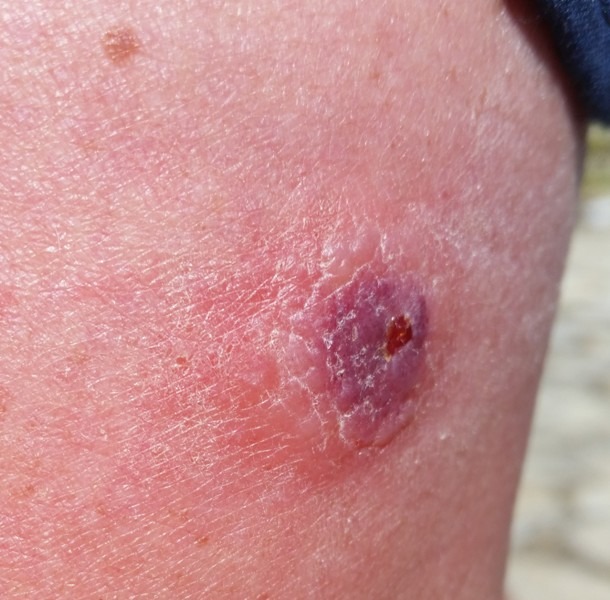 We take Bert for a cycle ride after breakfast, ended up at the 'keep fit' area on the beach – where I demonstrated the equipment quite skilfully (I thought) for Nick's amusement and hilarity! 🙂 and the sun came out!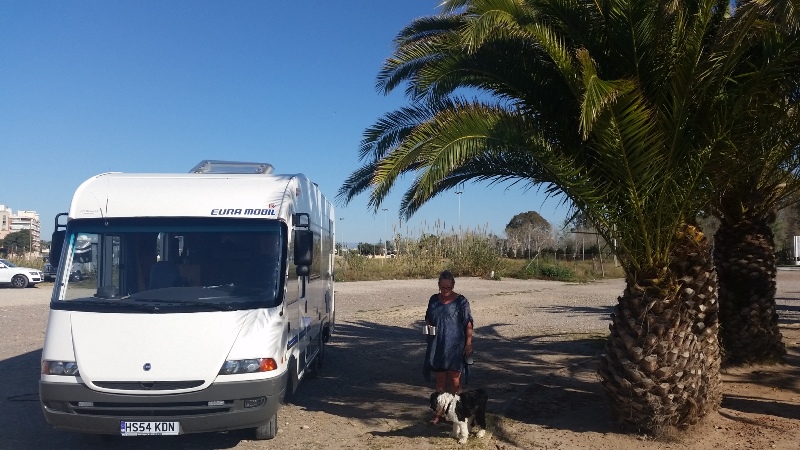 A Ford Melbourne camper arrived today – just shy of 7.5 tons, imported from the USA – 10 metres long, with a scooter on the back – and it's got a 4 metre(!) overhang on it!!!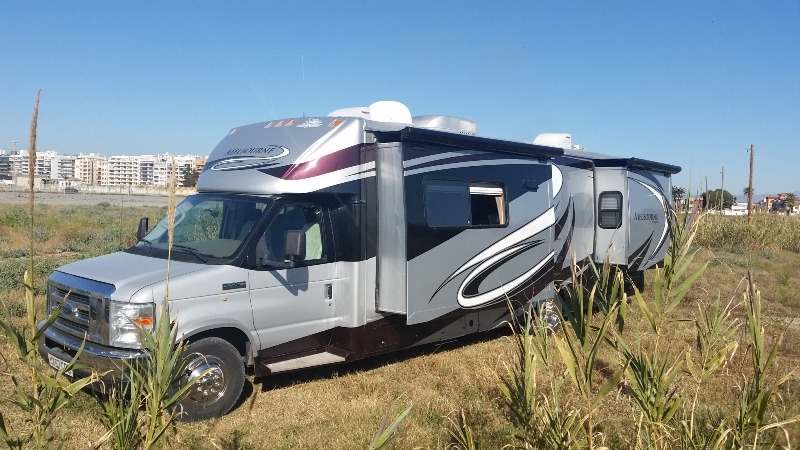 If it had a powerful enough engine it'd wheelie! Just looked so unbalanced… nice chap driving Anthony – lives in Menorca with his wife Winnie, they do 5 months or so in the winter – he keeps the motorhome in Barcelona… I dread to think what it costs to put on a site – it's enormous! I think I'd rather have a bus/coach if we went 'big' – but there's no reason…. our studio flat on wheels is good enough for us!
I spent a lot of time today preparing a marinade and spicy bbq sauce for some lovely ribs I bought yesterday – for less than 4 euros I got a whole cotillo rack.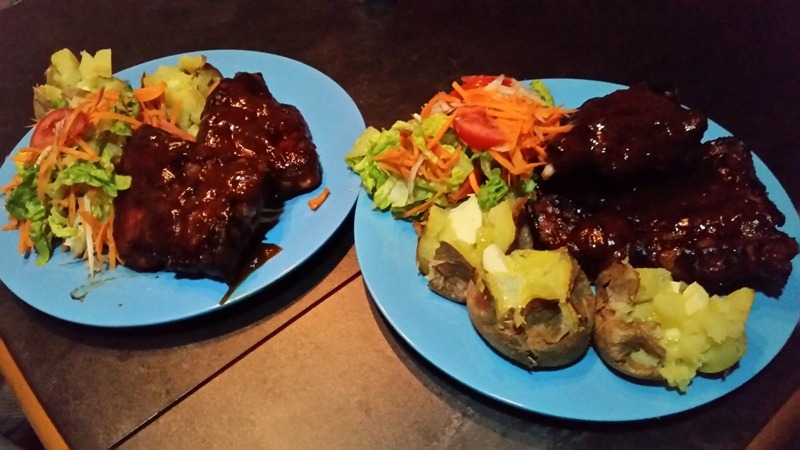 We ate late at 9.30, ribs salad and little jacket potatoes – lovely! Nick was rapturous about the ribs – said I'd surpassed myself! (bloody hell – I was winging it – now I've got to try and remember how the hell I made that sauce)!
Nattered to my Friday girls for quite a while – it's lovely to hear their voices – and then called Callie, cos she's feeling poorly and I'm missing her badly! It was great to chat to her and Luke, and laugh, and find out they're looking forward to the Pasty run – just like us!