29/2/16
Sevilla – Sanlucar de Barrameda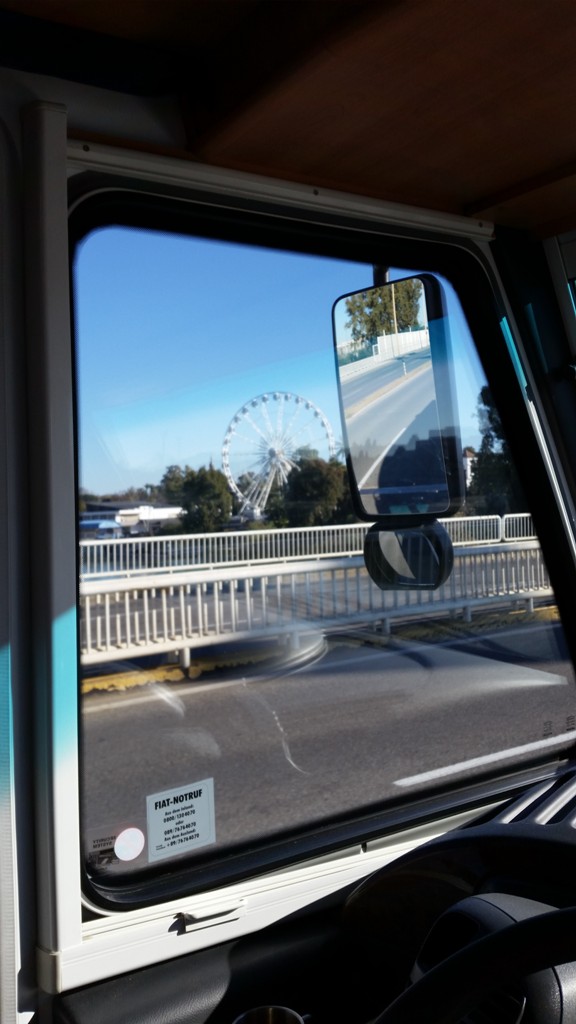 Driving out of Sevilla proved easier than the maps made it look. Everything appeared to lead to a toll road, and we're determined not to pay any tolls having been stung for a 17 euro one weeks ago!
The countryside is sweeping hills and valleys and quite beautiful – with tractors in the fields being followed by flocks of white egrets rather than the gulls and crows we're used to at home!
Driving down into Sanlucar Nick surprises me once again with one of his Barkworthy quotes: "What's that up on the hill? Oh… it's a WINE BUGGERDIAS!" I cried… real tears, snorts and everything! There was almost a nose bubble! I do love him… there were indeed lots of Sherry Bodegas in Sanlucar – it's the home of Manzanilla Wine… famous for it's dry, salty flavour.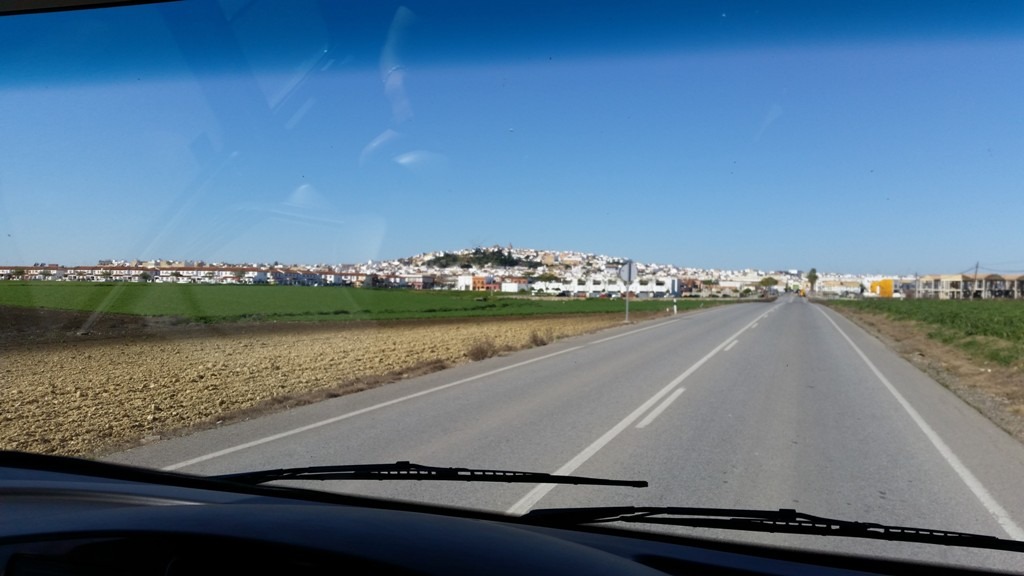 The satnav took us to roadblock, after roadblock, after roadblock.
The streets were PACKED with parked campervans…. it didn't look like the aire we were looking for at all… just on-road (and pretty dodgy at that) parking – around a huge sandy showground with horses and carriages milling around inside it. We watched for a while before realising this WAS the aire, and it had been closed for a municipal event. Clearly the vans in all the surrounding streets had been kicked off the site for the event. Bemused, we cruised around and eventually found a space further along the coast road and parked up behind a coach.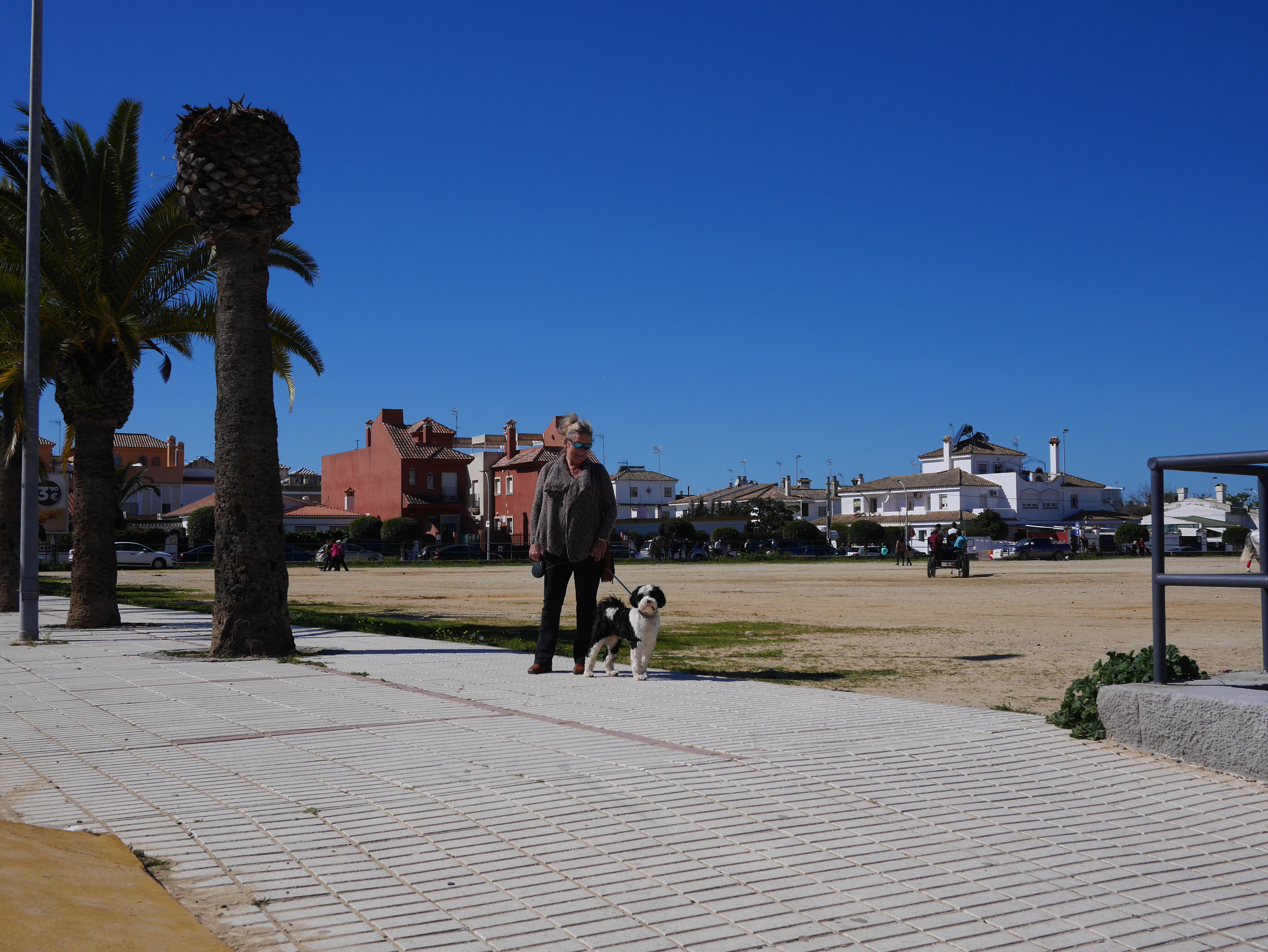 We walked back along the promenade to see what was happening at the aire.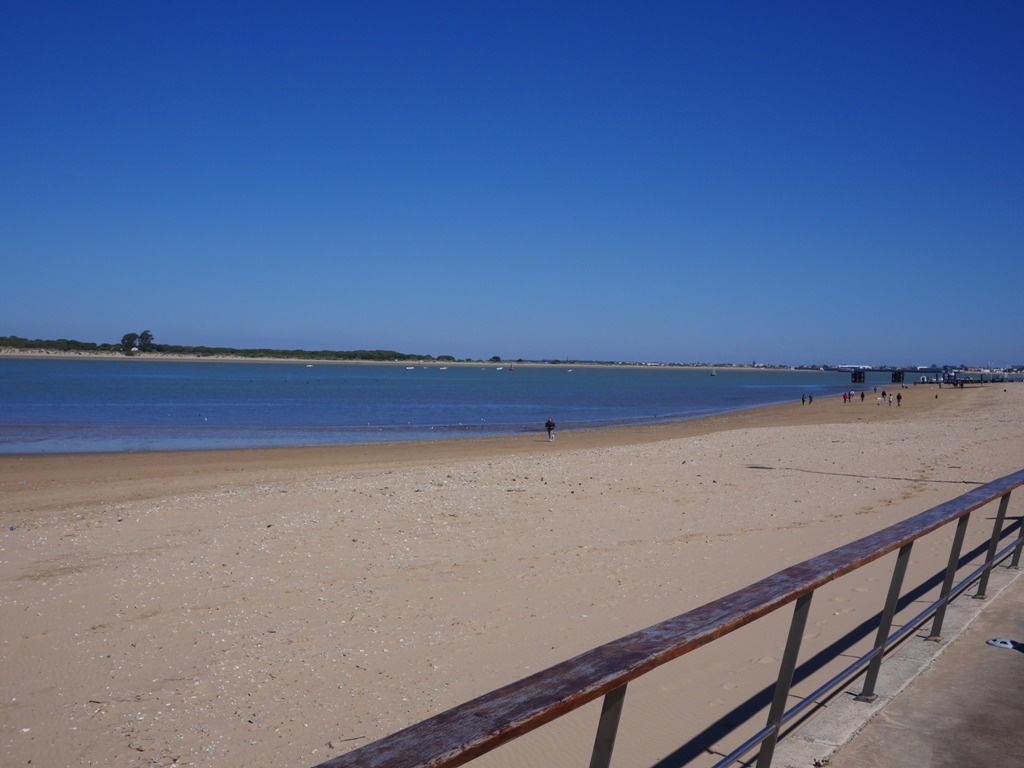 We were thirsty and hadn't had any breakfast today so we sought out a little restaurant and snacked on shrimp and cod fritters – crisp and delicious – served with fried green peppers, and the best version of sausage egg and chips I've ever had – Chorizo, 2 eggs and handcut chips served with more fried green peppers. Stuffed…. Me…. Not the peppers.
We were also given a dish of house special 'soup'. He did say, soup! It was the stiffest soup I've ever eaten… had to use a fork! bread, tomatoes, garlic, peppers. Delish tho!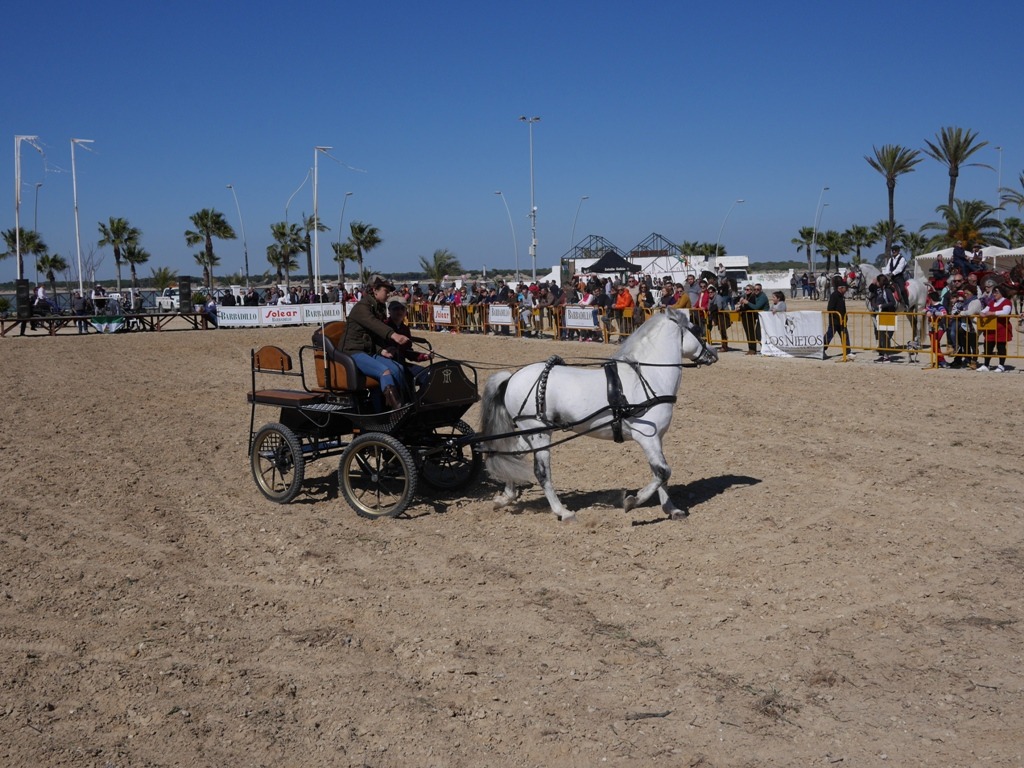 Fed and watered we wandered back down to the arena! Fantastic.
After watching the warm-ups, we watched carriage driving, from a little tiny cart driven by a 12 year old to an amazing 5-mule professionally driven job! Theresa Edwards, you would have LOVED it! Nick had taken his camera so he kept busy taking pictures and video…
Bertie surprised us both once again by not reacting one iota to the horses or the carriages, even 5 mules in halter passing within a few feet didn't scare him at all!
At some point in Sevilla he must have gotten over his fear of horses – he was more interested in what had happened to this guy's foot!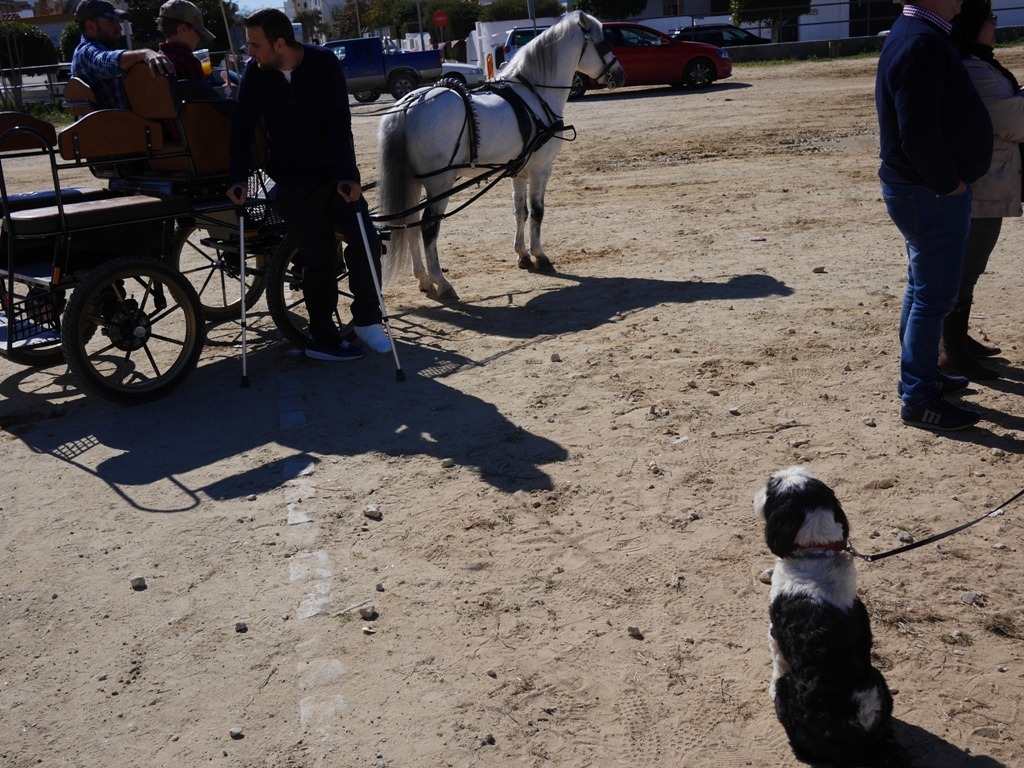 The show was great, and we waited for the prizegiving and wandered back to the Blobbybus. No-one we encountered could tell us whether or not the aire would re-open tonight, and it emerged that the event was due to be a 2 day event over the weekend, but had been cancelled due to extremely bad weather… so they held it on the Monday instead.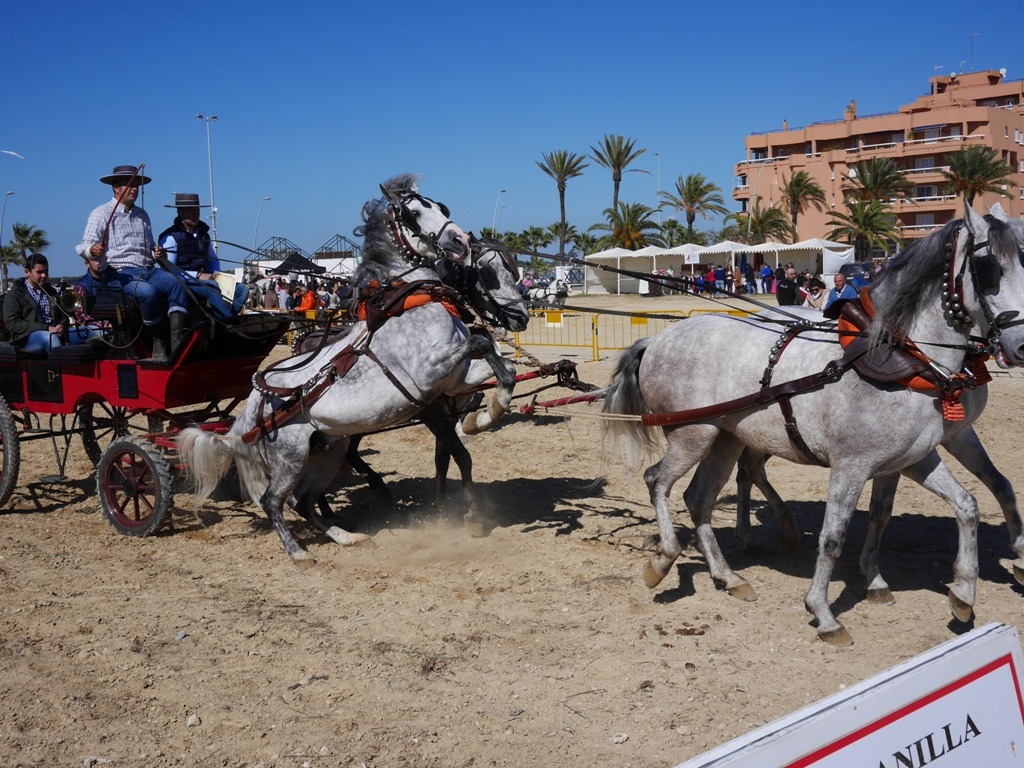 We opted to stay put at our roadside and see what panned out during the event.
After a short siesta we wandered along the prom, and sure enough, the vans were slowly filling up the former showring.
We walked back and brought Blobby home for the night.
The sunset skies are an amazing colour.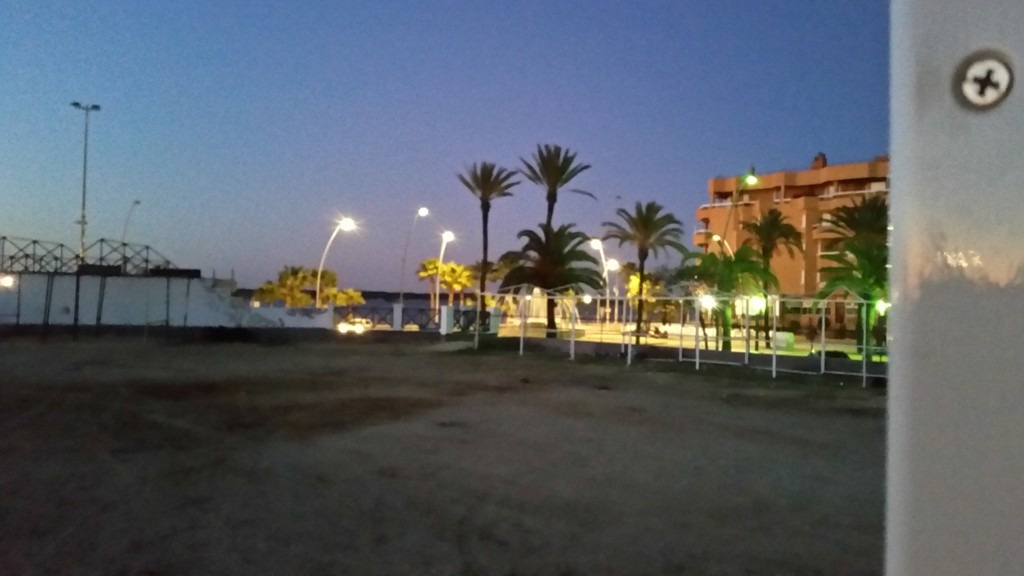 Twiz and Bert have gone to see what they can snap while I think about supper. Not a lot of supper tbh…. I'm still stuffed from lunch! He's snapping me now, through the window, while I write up the blog!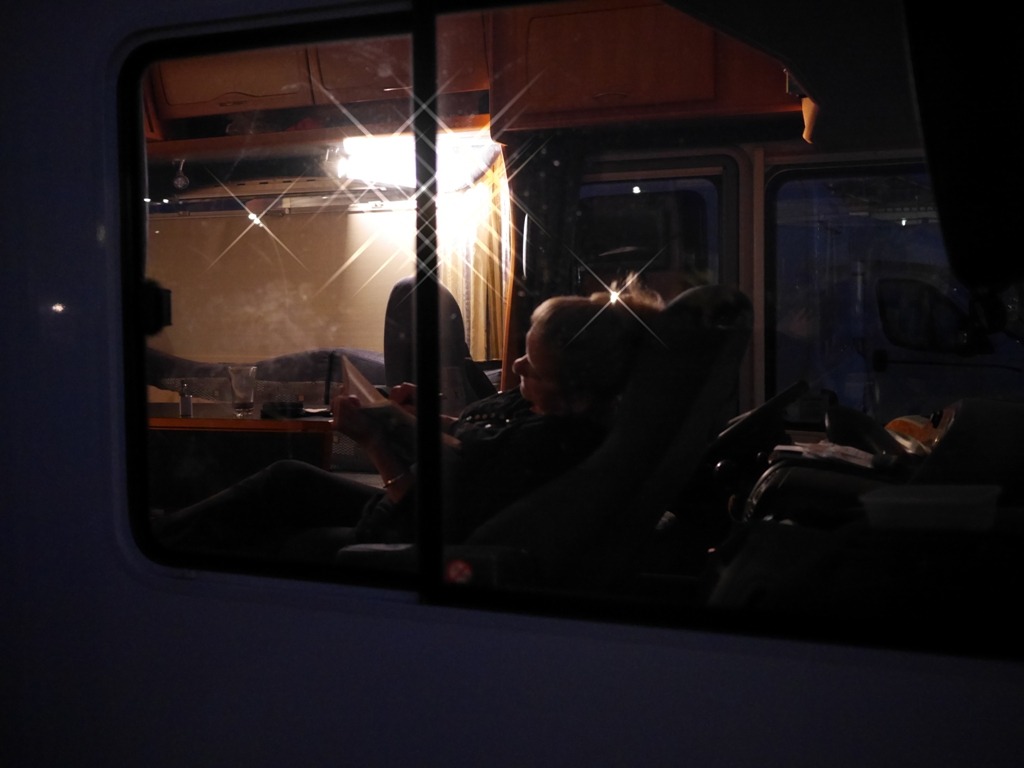 Supper, read, bed.
01/3/16
Sanlucar de Barrameda
The sun is brilliant this morning, we moved the van over to face the fountain at the corner of the aire.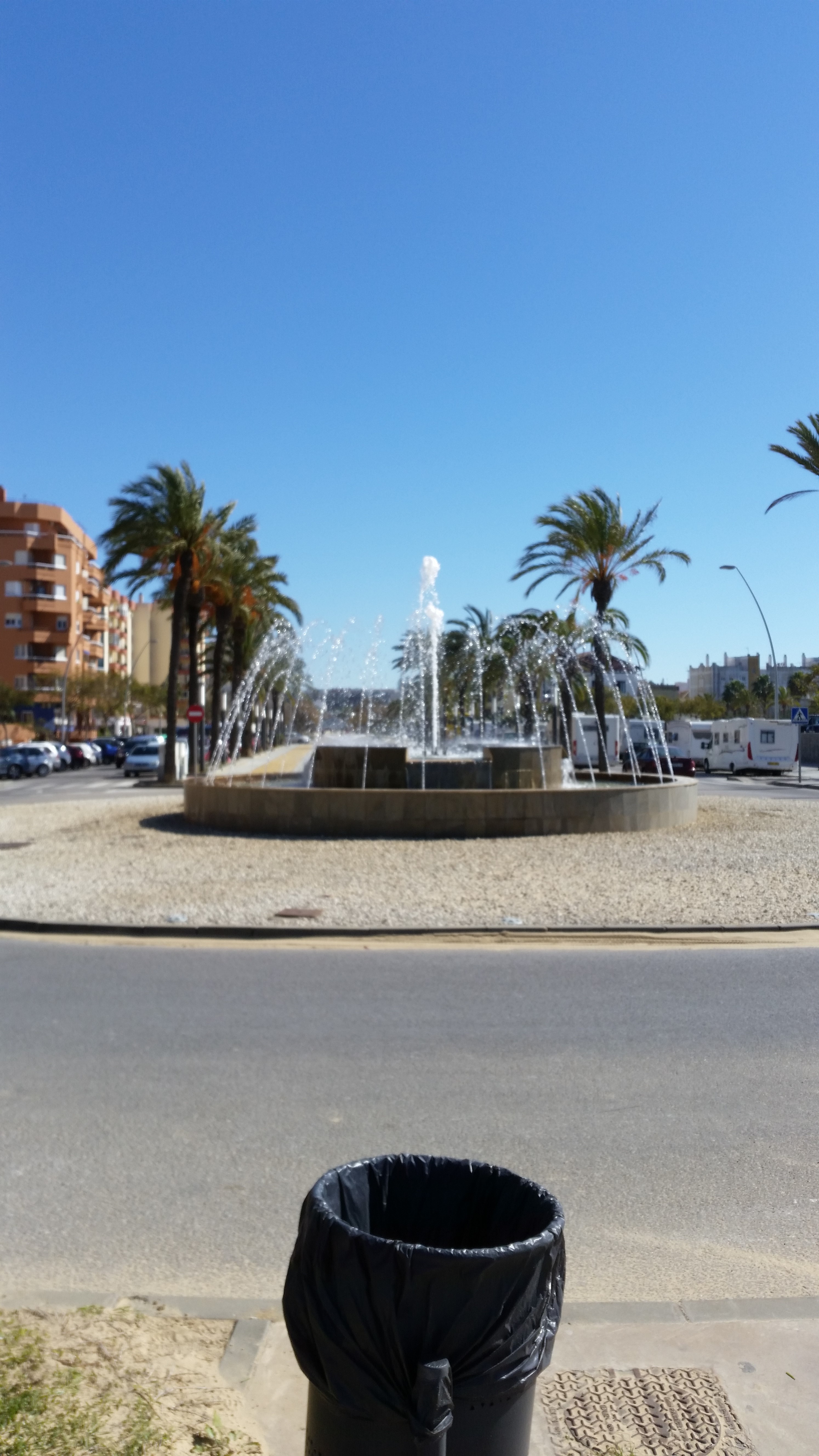 Neighbours are Brits Arthur and Carla – they live near Limoges; and Rupert their lovely rescued dog:
Bert loves him! Nick fixed up my new bike doggywalker… our neighbours were keen to see if it would work with Rupert, so Nick volunteered and Rupert cantered around the arena with Nick – good as gold!
Nick then fixed it to my bike to see how Bert would react to it…. maybe later!
Arthur and Carla are lovely – fellow boaties/bikers and campers! He used to work for British Airways at Heathrow as a Maintenance Technician. Told him my dad was a BA Airframe Detail Tech at Gatwick. We waffled some more…..
Well I put it off long enough – it was time to test the new doggywalker. This was my first solo cycle with Bert… YES! Made sure he was always pulling ahead – I just hated the idea of dragging him anywhere – but Bert wasn't going to give me the chance to drag anything, anywhere! It was rather like having a one-dog-power cycle! No problems even ,when he spied another dog and made a swift detour…
We chilled out for the afternoon after eating the rest of our prawns. Then having heard from Carla and Arthur that the local vet was approachable, spoke English and was very nice, we cycled off to the vet to see about a little holiday present for Bertie! Yes, we did need a new Seresto collar for him, but we've talked about sterilization for him for some time, and the price is right – even on our budget. We made an appointment for a consultation on Thursday and if all is well, he'll have "the snip" on Friday.
Nick wanted a curry for supper so made a thai red curry – it was awesome. On this occasion, I wish I'd made enough for 6 lol…..!
Nick had a spot of elbow trouble shortly after 11pm and woke all our neighbours by blasting on the horn! It's a definite design flaw because having remounted the drivers seat further back to accommodate his long legs; now when we rotate the seat to face inwards it fouls on the steering wheel and will not rotate past it… which leaves the hooter WAY TOO CLOSE to his elbow… another tech fix required methinks!
02/3/16
Sanlucar de Barrameda
I'm loving the amount of laughing we're doing on this holiday – mostly at each others' expense – today while doing my back stretching exercises (which I do every morning before getting out of bed) and doing one particular yoga-y one which involves reaching through one crooked leg to pull up on the other one, Nick blurts out "oooooo look – an oven ready Lindi"….It's a good job I love him…
Nick spent the morning sitting in the sun reading, I've spent it typing up this blog. It's 1.15pm, lunch of jamon, tomatoes and bread has been eaten and it's time to WARM UP! Off to read in the sun.
The afternoon was taken up with several bike rides to explore, a walk on the beach, a ride into town, and a lovely early evening nattering to Arthur and Carla; followed by carbonara and a backgammon evening. Nice. Even though I got whooped!
Nick found a bike shop today and has fitted a handlebar riser to my bike – I can sit more upright now and it's taken the pressure off my hands… much less pain from the old arthritic thumbs – Brilliant!
We noted an interesting fishing method going on in the shallows on the beach. 2 guys standing in the shallows, with a heavy hoe-like implement – watching intently and then swinging the hoe into the sand… turns out it's razor clams they're after. They watch the sand for the creatures to emerge, then whack the hoe down into the sand and up underneath and behind them – so they can't retreat down into the sand! Then they just pick them up and pop them in their pockets! It looks like very hard work!
3/3/16
Sanlucar de Barrameda
Bertie's date with destiny – or not! He's going to meet the vet today to see about a testosterone reduction operation (!), and then we're off to market.
Nick wanted sardines for lunch, but was beaten to the mark by a lady who cleared the slab! He then found some crustaceans that looked like giant sand fleas he decided he wanted for lunch. They had bright green eyes and looked like prehistoric prawns:
We cooked them as we'd been advised – Nick throwing each handful into the pot like a girl "they wiggle and they're scratchy"!
We left them to cool whilst we took Bert to meet the Vet. Juan (the Vet) was lovely, and took some blood samples pre-op. Unlike the UK where they shave a leg, he explained he would take the sample from his jugular vein while he was held tightly by a nurse… A male nurse, who had a leaky inkpen in his pocket…… Who left a HUGE blue smear on Bertie's shoulders. Juan was horrified and desperately tried to remove it with wipes and alcohol – and it spread EVERYWHERE! WE HAVE A DOG WITH A BLUE RINSE! Bertie's booked for the snip on Monday if the blood results pan out OK.
We cycled back to Blobby with the blue rinsed dog (how embarrassing!) and out came the external shower and some washing up liquid to try and wash off as much as we could – this is what he looked like afterwards:
Nick was disappointed I hadn't taken a picture of the full effect!!! Poor Bertie!
Unfortunately our lunch was a non-starter, and we spent the afternoon feeling mortified because we'd consigned the sandfleas to the pot for nothing….. YUK!!!
We had invited Arthur and Carla over for supper – I made a pancake canneloni for the first time, with salad, and some strawberry millefuille…yep it was pretty lush! Over supper they showed us some photographs of their narrowboat, the Black Dog, and the beautiful Briard dog who gave it it's name. They're such interesting people to talk to, and it is great to see their interaction is full of love and humour. They've had quite a life together!
4/3/16
Sanlucar de Barrameda
Happy Friday! Off to market this morning – I has a bream to buy, and hopefully some monkfish – neither Carla nor Arthur have ever had it and we're going to have a fish barbecue between us tonight so some monkfish kebabs would go down well.
Arriving at the market we see monkfish – but it's 12.5 euros a kilo, and we have to buy the HEAD! We opt for bream (dorada) and something else which I've called Donkey Fish (burro) for the grill.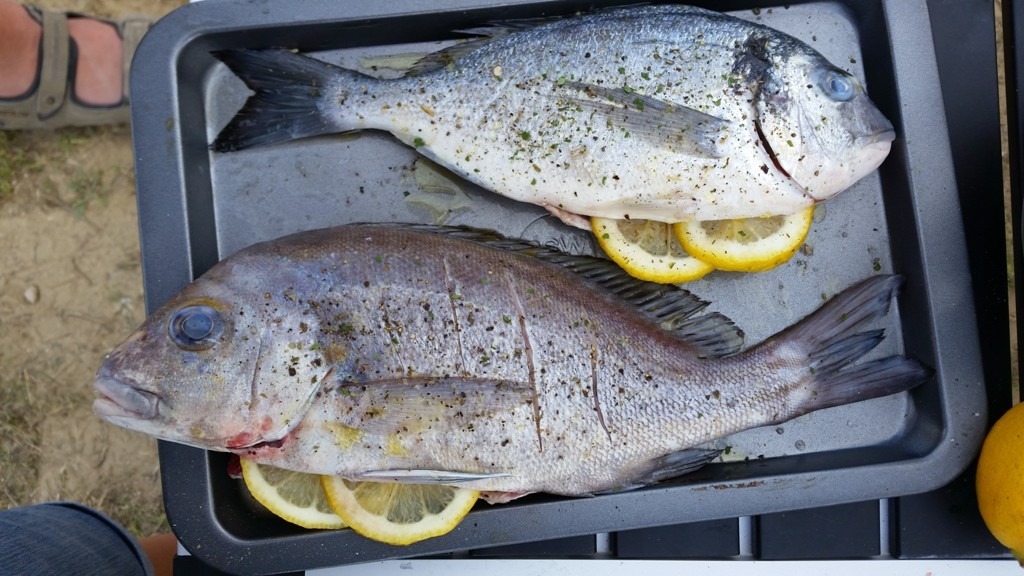 Arthur and Carla are not shellfish people, but take a look at the Prawn Man's Stand: we were sorely tempted!
This time Nick headed straight for the sardinas and we have a kilo of them for just 2.99 euros. Yummy.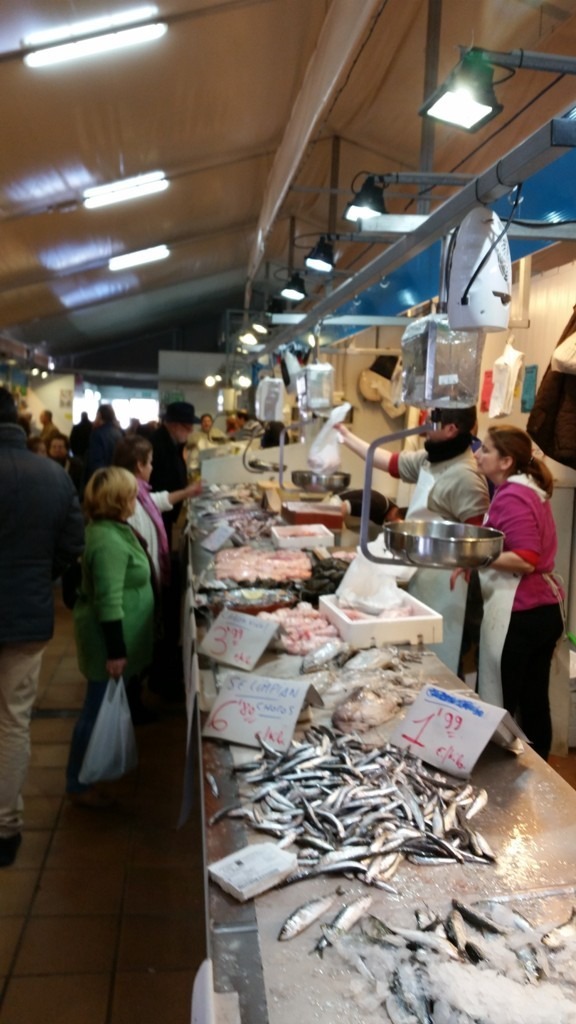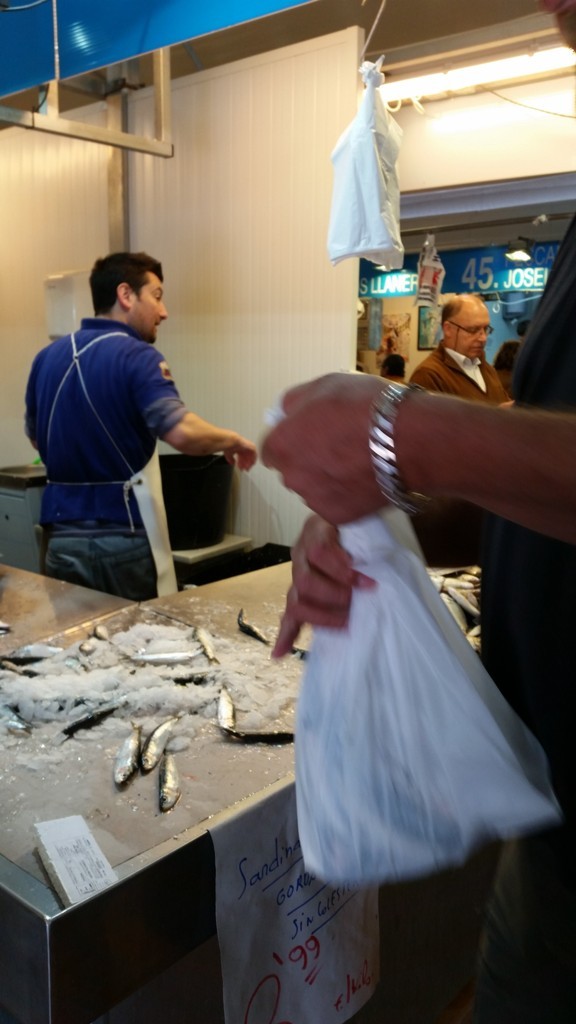 We found a little shop on the way back – I bought another notebook for the blog, some skewers for the barbecue and (Paul Barnes and Lisa Hire) I GOOO AAAA! (See my smartly dressed dog above)! Stopped off at the vets to get Bertie's blood results – all are good, and he's booked in for the 'snip' on Monday….
Back for lunch at the beach, and took Bert for an afternoon promenade along the beach. Barbecue started – wind picked up
Sardinas, Burro and Dorada on the menu! Bloody yummy! The sardines won hands down for flavour .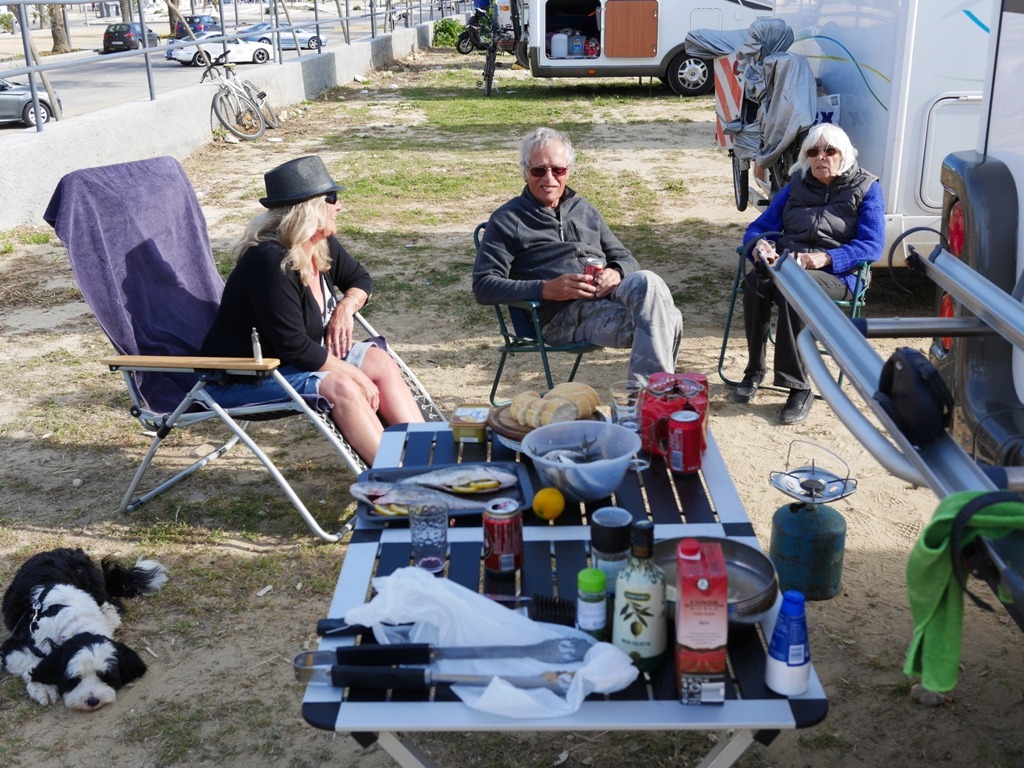 Sadly Carla and Arthur are off tomorrow with the lovely Rupert – they've given us their address near Limoges and we have an open invitation to visit – perhaps in September if they're not away. We'll miss them – they really are fun!
The weather is forecast to turn a bit overcast on Sunday, so we're going to enjoy tomorrow and blog on Sunday – upload Monday and after we collect Bert from the vets we're thinking of a little pootle off to Cadiz maybe!
5/3/16
Sanlucar de Barrameda
This morning we woke to a brisk NE breeze – a good drying day so we'll do a bit of washing today. We bade a sad farewell to Arthur and Carla and Rupert – they're such a lovely team and we hope we have the same zest for life if and when we are lucky enough to reach their age! I still can't believe they're almost octogenarians! We're joined almost immediately by a NL camper with a huge Burman cat onboard! It glares with some disdain at our Bertie!
Apart from washing, we'd like to find a bodega (buggerdias!) for some Manzanilla. The Pan Van came at 10 – shortly followed by the fish man – bringing dover soles today! Brekky however is sausages and bread – Bert approves!
The washing took forever – I'll never take my washing machine for granted again! My "MAN-MANGLE" was on hand to wring everything and bring rinse water – I can't wring anything out with my blasted sore thumbs. Eventually we had an airer and a washline full of clean clothes. Lunch was my last tub of homemade soup from UK, with that delicious crusty bread. We sat in the sunshine and read for the afternoon – and chatted with our new neighbours Henk and Wieke. The cat is a cross between a Norwegian Forest Cat and a Burman…. his name is Yoopi, and he's an enormous ball of fluff with the most piercing blue eyes.
They walk him on a harness, and have an ingenious cat flap inside their van which leads to a litterbox accessible from the outside of the van… clever!
Pork loin for supper washed down with plenty of red wine! Went to sleep with the sound of the sea and a little distant flamenco music from a local bar……..!
6/3/16
Sanlucar de Barrameda
Happy Mother's Day!
It was chilly this morning, I had a lay in, and spent the day lazing in the sun – well, it IS Mother's Day! Nick bought lunch out to me in my sunlounger – perfect!
Bertie and Yoopi are not exactly friends, but can tolerate being 2 feet away from each other without too much lunging or barking or spitting! At one stage today, on their respective leashes – they stood on their back legs with their front legs on the wall watching a pair of horses go by! I couldn't get to my camera in time – what a great picture that would have been!
Our supplies have dwindled – we've very little left to eat – tonight it's bratwurst and some kebabs on the barbecue – I have no salad left – so you can imagine my horror when Nick informs me he's asked Henk and Weike to supper! However, they did supply salad and dessert – so all was well!
Retired late, having spoken to Mum, Callie and Luke!
Happy Mother's Day