The plan for today was to get to Plymouth to see one of my forum moderators and friend for the last 5 or so years and his family. We only had about 40 miles to get through, and so we decided to take a relaxing morning and lay in bed and generally try to catch up with our sleep. This is something we were soon to regret.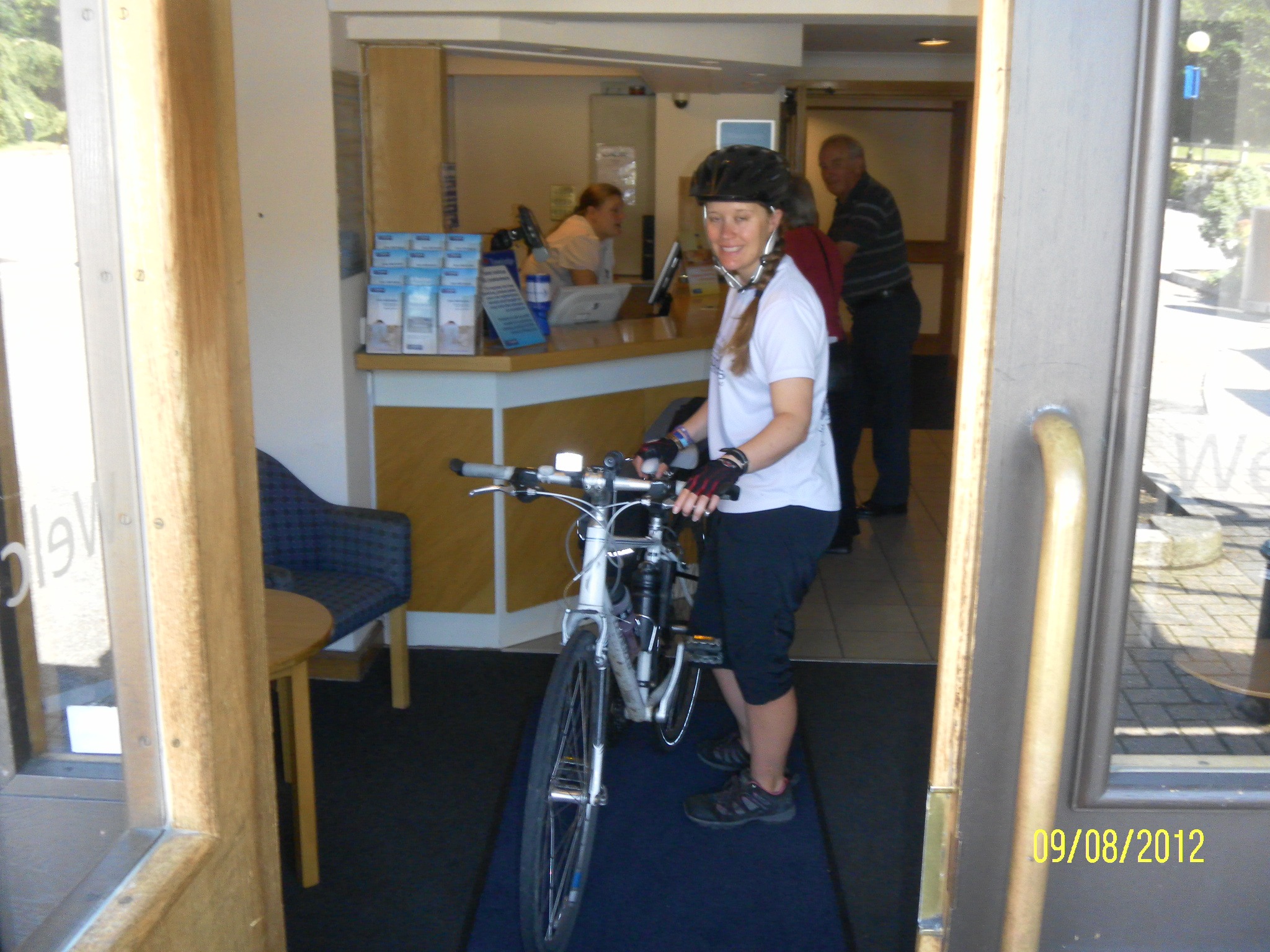 We left the Travelodge and I took great pleasure in wrestling the bedroom door while I tried to get me and my bike through it while Jane was waiting for me in reception. I finally got through the door, and I decided to cycle down the corridor of the Hotel…. why not??
We left and decided to get stuck straight in and pushed on to the A38, the A38 is an ok road in most places but the further west you go the worst the drivers get, and it was getting more and more dangerous and Jane was really starting to moan like hell about it so we decided to stop at services after only 3 miles and take a look at a map and soon discovered that there was nothing we could do other than use this road for a few miles.
Another mile pass and we are stopped again as our cycle path on the road vanished and there just wasn't any space for us to cycle, which is always a little of a worry. We decided to use this time wisely and get some food and take on some more fluids and generally put off cycling.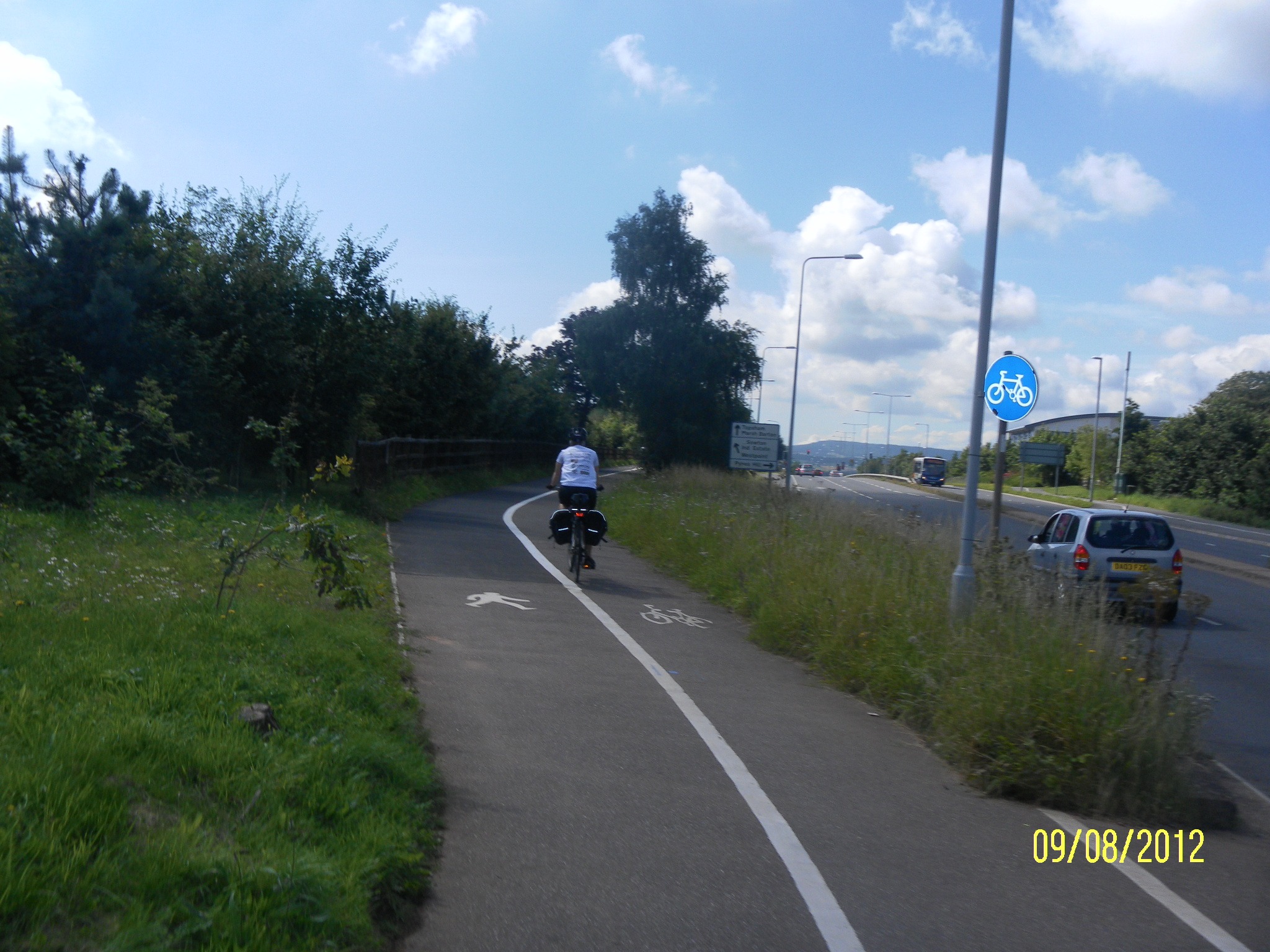 A few more miles passed, and I may have just found a way out of the A38 we head off down a little farm track and although it said it was a dead end on my map the road continued on a fair way up to the A38 so we just went with it, and it was going well until we got to a farm and decided that the road goes right through the farm.
A muzzled dog comes running out to greet Jane and jumping and growling at her, which really scares her, and she peddles off fast to out run the dog, but as she turns around the next corner she is now met with 6 more dogs that are not muzzled, and Jane is screaming her lungs off. A lady or should I say Witch came running out yelling at us that it was private property, and that we shouldn't be on there. Like wise we pulled the charity line, and she was not interested in that and barked "get orrfff my Land" in a typical southerner way. I asked her again if we could get back on to the A 38 the way we were going, and she said yes but we were not allowed to go through her land… so naturally we ignored her and carried on our merry way.
She was most definitely the wicked witch of the west….
Time is now romping on, and we are still nowhere near Plymouth, and the sun is absolutely frying us. We are drinking water and trying to keep our fluids up, but it still did not help the problem that was the A38.
However, alas there was a little blue sign with a picture of a bike and the word Plymouth on it and so there was a little sigh of relief as we figured that this was going to be a cycle route all the way to Plymouth. How we were so wrong… the signs just seemed to come and go, and it was more like cycling using a dot to dot system, but you had to guess the numbers. It was not helpful in the slightest and was very frustrating and when we found the cycle lane again it would literally last a few feet and then stop.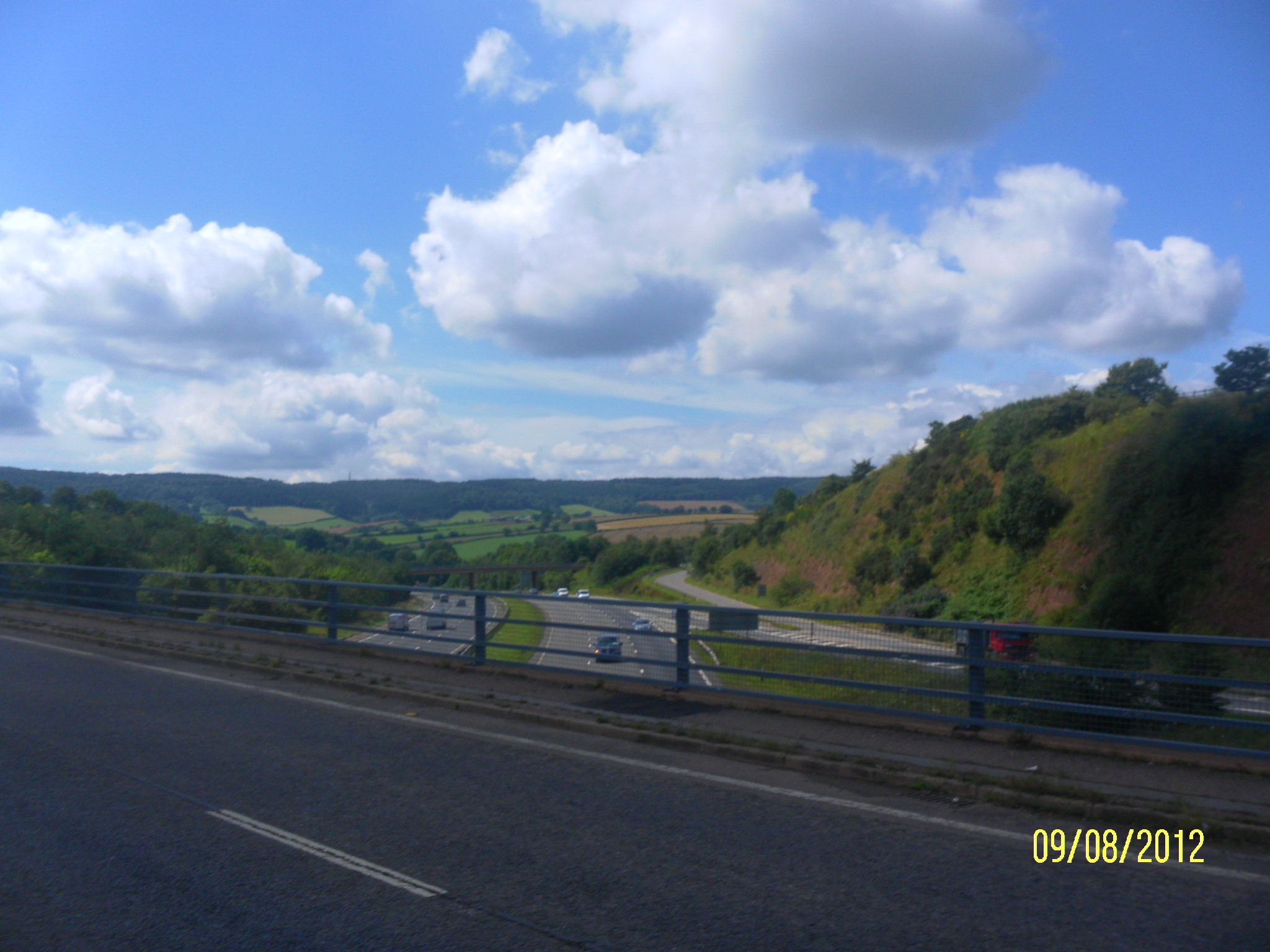 Google maps was once again our friend, and we soon managed to get off the A38 for once and for all, and we were eventually at my friends three storeys Town house and wow what another incredible house. He showed us around the back where we can store our bikes, and we had them soon unloaded and were stood in the kitchen supping on an ice-cold beer… perfect!!!
Richard has a Japenese wife who we called Mrs. Brown and two lovely 20 month-old boys called Leo and Ashley, and they were so cute 🙂 Rich made us feel welcome and showed us where the shower was and how to use it a turned on the bathroom hi-fi (very smart), and we showered and got dressed ready to be taken on a little tour of Plymouth the first port of call was to get some food and seeing as Rich loves chinese food that is exactly where we headed, his favorite little Chinese restaurant. You can always tell an excellent restaurant as it is generally very busy with chinese, and as soon as we walked in there where a couple of tables, so I knew we were in a decent place.
Rich ordered the food and he also asked for a surprise dish and started crunching on prawn crackers and generally chatting.
The food arrived quickly, and we were very pleased as it was cooked to perfection 🙂
However, tiredness was kicking in, and we struggled to stay awake so instead of going and having a few beers we had a quick tour of Plymouth where rich showed us the docks and the oldest part of Plymouth and then we were soon back at their home.
Our nest was made in the front room where we said our good-byes to Rich as he has to work in the morning and is up at the crack of dawn and there was no chance that we were going to be getting up that early.
We soon fell fast to sleep….