As always with UK bank holidays it rained the whole time and so as my post yesterday explained we did some indoor training.
Today however is a different story we woke up to beautiful sunshine and so decided that it would be a good day to get the bikes out and explore some of the west sussex country side.
The first five of so miles where hard work as the wind was really slowing us down and so we needed a rest quite early on. I soon realised that we also had a problem with the GPS in that it was not tracking us for some reason. A few moments passed and the GPS is working and we head off.
We had know idea where we were going we just kept on peddling and avoiding the the dead end housing estates. We found some really nice houses in quite a posh bit of bognor and soon enough we were in Pagham where we sat on the beach for a while watching the sea… Its strange as watching the sea is quite a good passtime for us we often find ourselves doing it.
At the moment Jane has just popped into uni to pick up some books and i am once again sat in the sunshine relaxing and writing this post.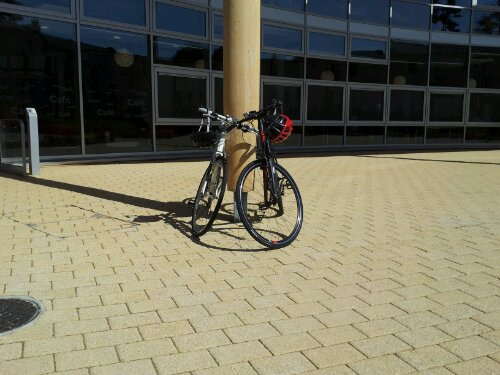 We should be home in about half an hour or so with about 15 or so miles completed.