28/2/16
Seville
We arrived in Seville and found the aire quickly. It's not pretty, but it is right alongside the Puente de las Delicias. We gathered ourselves and hopped on the bikes ready to go exploring!
We crossed the Puente and rode alongside the Canal de Alfonso XIII, along the Avenida la Palmera to the Puente de los Remedios, where there was a small but enthusiastic food festival going on…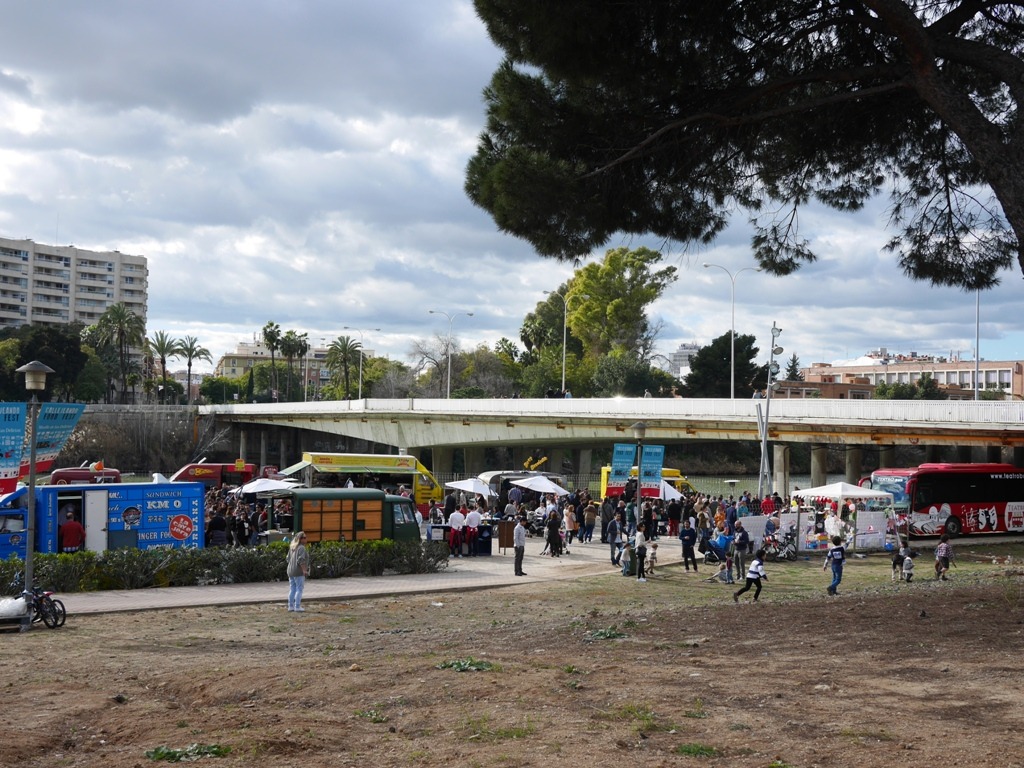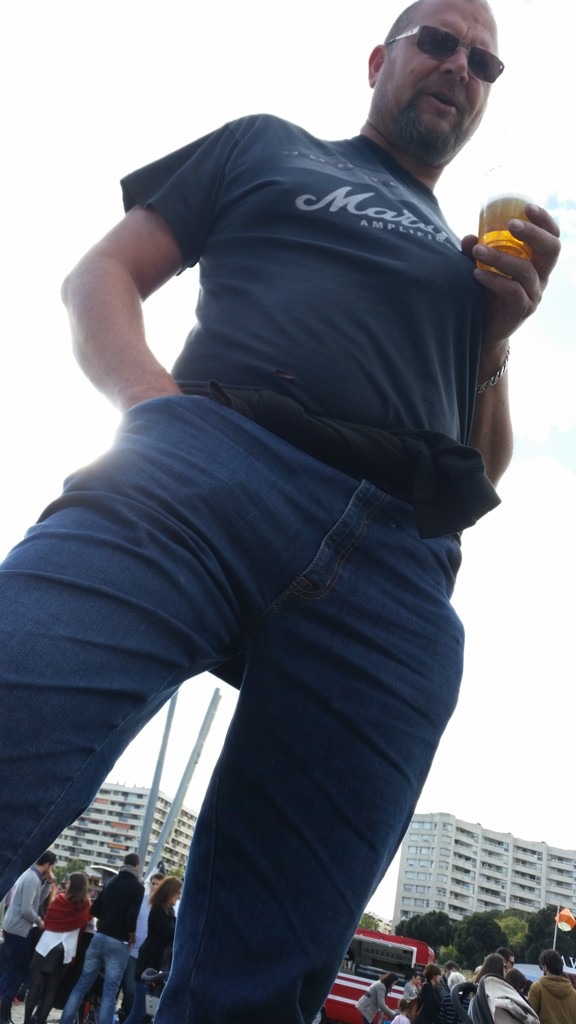 We stopped for a beer with Bertie…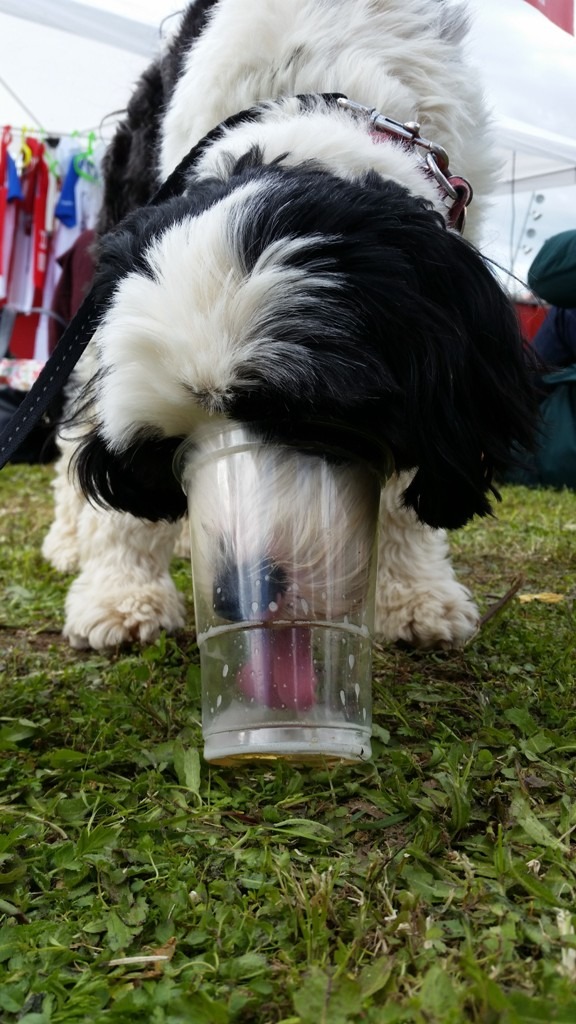 He liked the beer – but was ready to take on the world afterwards….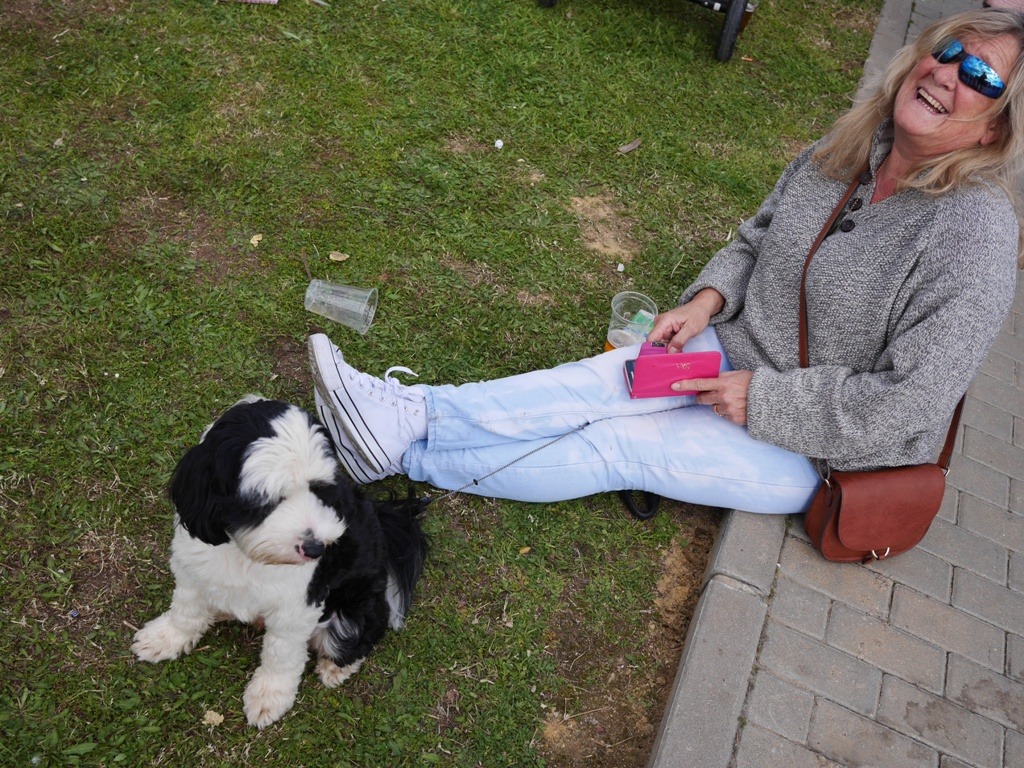 On to the Paseo de las Delicias, past all the good stuff denied to those with Perros in tow! 🙁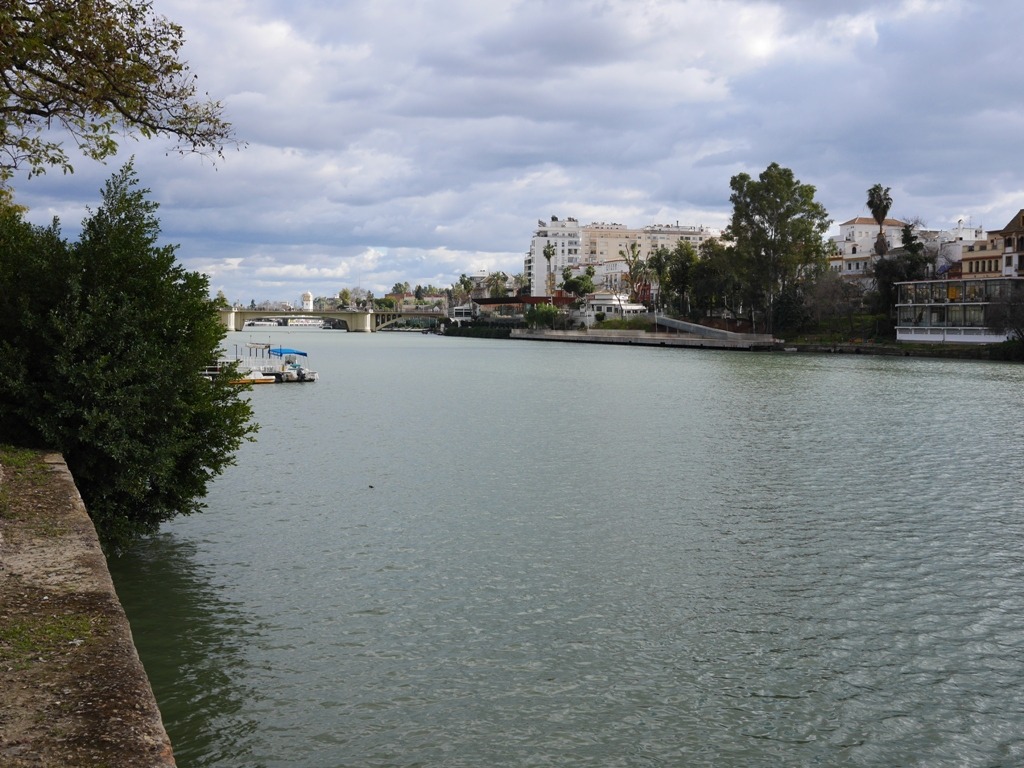 Most disappointing our pooch AND our bikes were not allowed inside….. Past the Palacio de Santelho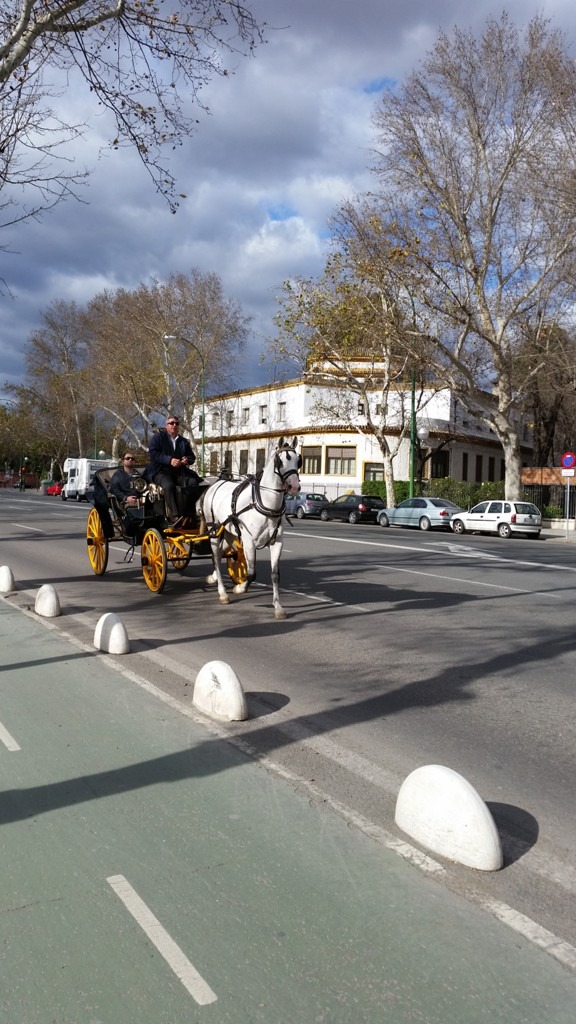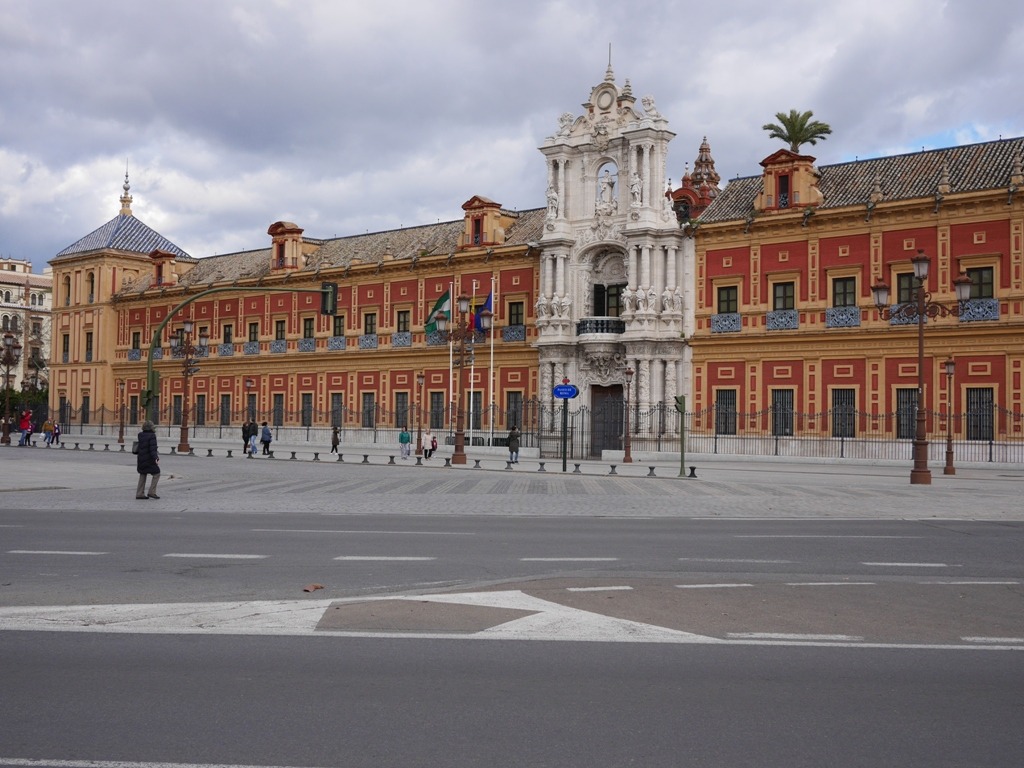 and the Torre del Oro; into Paseo de Cristobal Colon, past the Bullring Real Maestranza and the Monumenta a la Tolerancia, then across the Puente de Cristobal Colon into Calle Castilla, and through the Triana district of fab little cafes and tapas bars.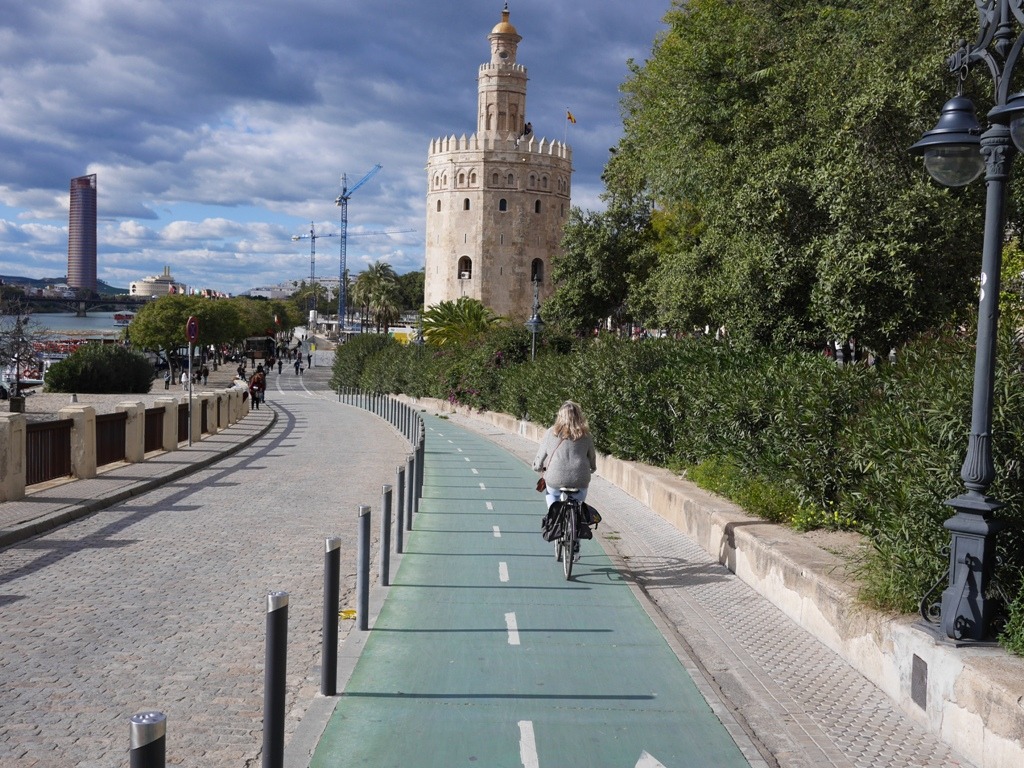 Ultimately around the Plaza de Cuba and back down the other side of the canal to where we're staying – we got a BIT lost coming back but that was all to the good, as we found another motorhome parking spot… even closer to the centre near Puente los Remedios, and 2 euros cheaper. For a month they charge just 90 euros, and 990 for a year… www.puenteremedios.es.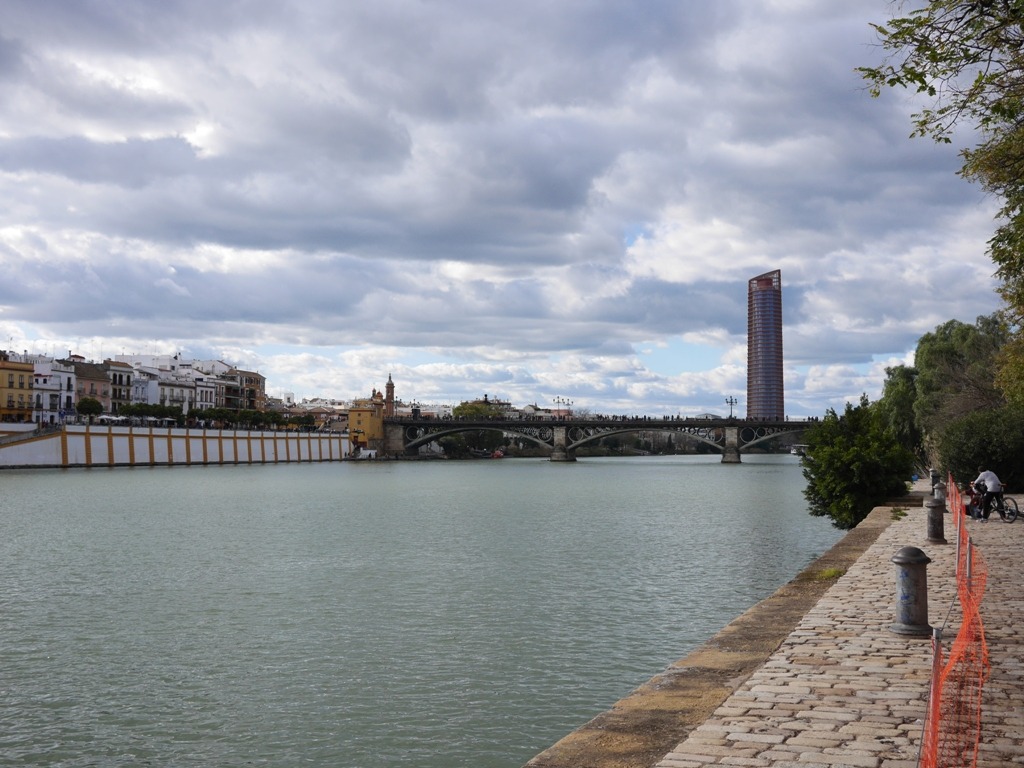 We loved the cycle paths around the city, but HATE the fact that doggies aren't allowed in any of the parques and jardins!!! We have a simple rule: If Bert can't go in – we don't go in! Doggypower!
I guess it's for the best in terms of fouling etc. as not everyone is diligent about carrying away their dog's waste – I wish they bloody would, because then some beautiful beaches and palaces would be accessible for we, responsible dog lovers/owners! Nick carried Bert the last km – he was knackered – despite always wanting to run, this wore him out. Doggy carrier to be constructed for long-distance use ASAP!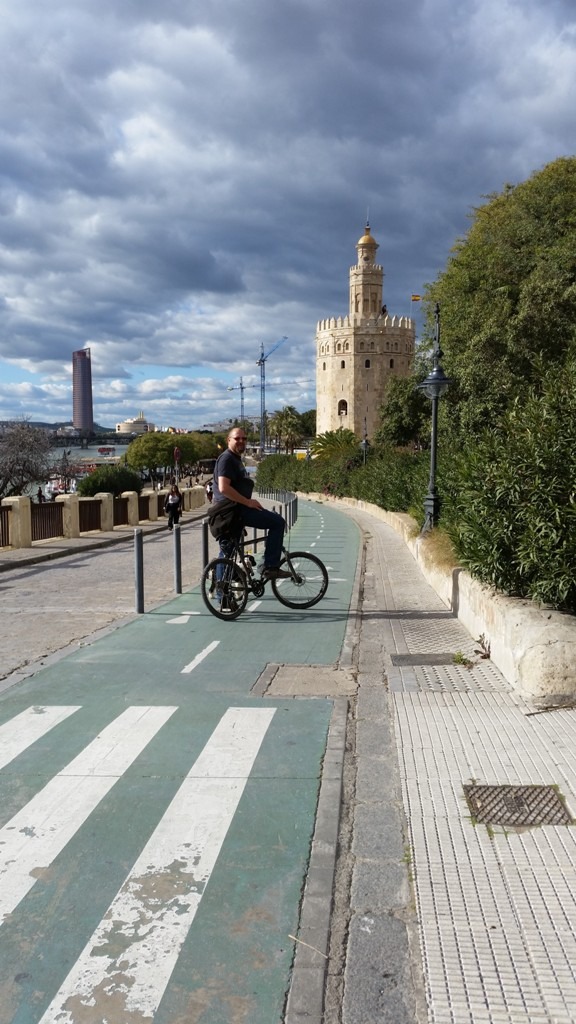 It was amusing to see how Bert barked like hell at his first sight of a horse-drawn carriage – but then was a trooper when they passed just a couple of feet from his nose at a traffic light! Good Boy! (I suspect he was too tired to raise even a bark by then!).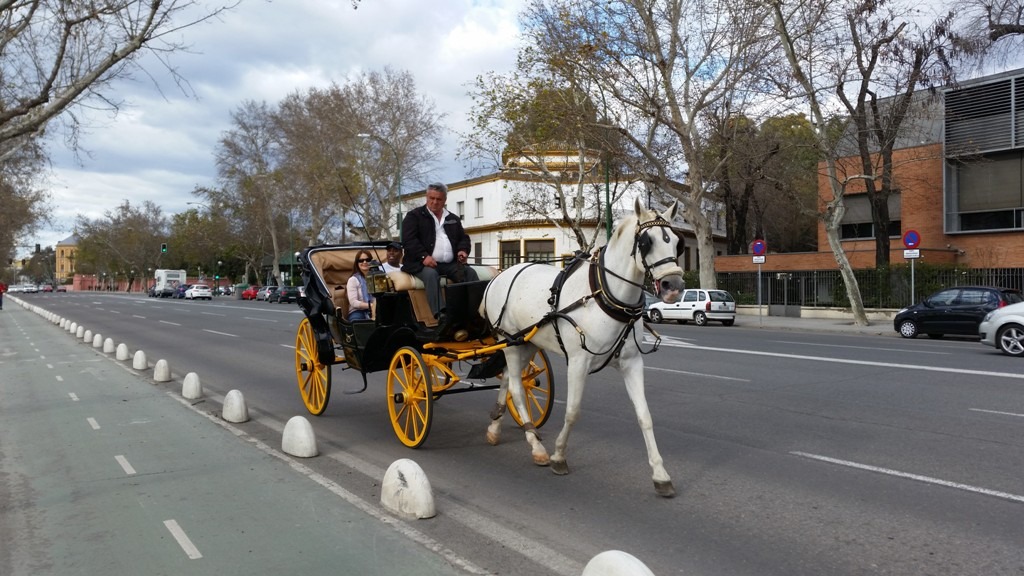 Now sitting with a glass of vino (rude not to) and a bowl of potato straws to nibble at whilst recording the day's events. Went down to the WIFI room (joke) for an hour to say Hi to FB friends – very welcoming – NOT! Mozzie-filled marble room with half a dozen chairs – not even a bloody light on ffs! We spent the evening eating dangerous giant macaroni which having filled itself with scalding hot sauce kept falling off our plastic plates and landing in our laps and letting all the sauce go…OUCH! Plotting our next moves….
Pigeons…. no respect…..
29/2/16
Sevilla
Asked Nick to marry me this morning…..again! 28 years after the first time…..he said Yes…. phew!