When You Zoom Out It'll Blow Your Mind!
The beaches of San Francisco you will see stunning sand and waves that are crashing onto the shoreline coupled with people sunbathing the families generally enjoying the beach.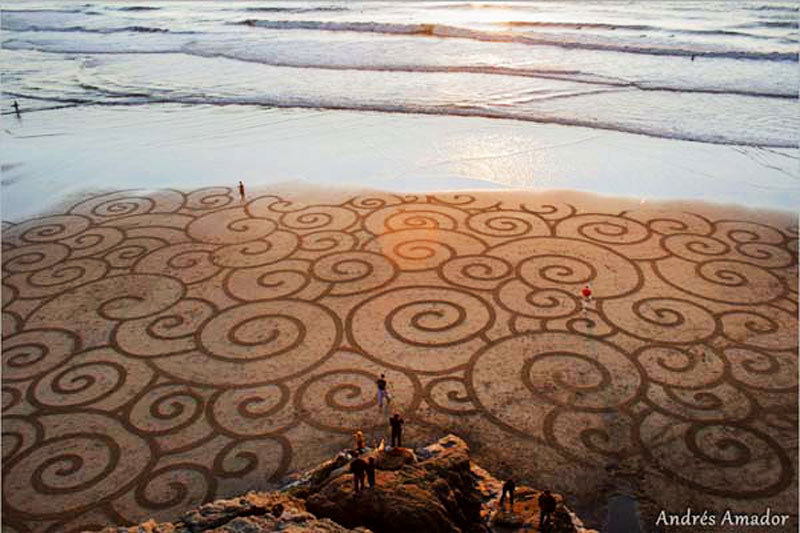 However that may sound ace, but if you are extra special and I mean really lucky you may just bump into Andres Amador as he creates one of his "earthscapes,". Earthscapes are the name he gives to the massive designs he draws in the sand and let's be honest they are incredible.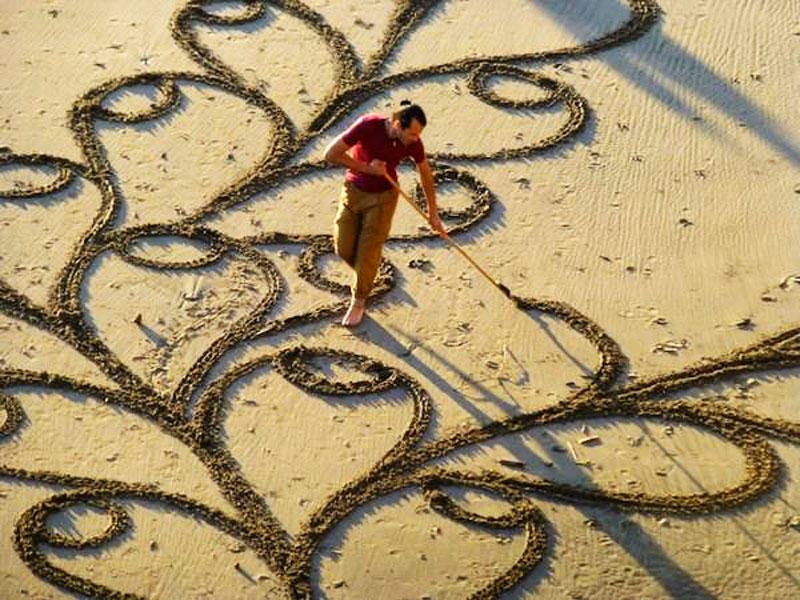 When I say draws, it is not exactly drawing as Andres does not sit down or stand motionless as he uses his hand to create these masterpieces. Instead, he steps and jumps over the beach dragging a rake behind him as it scrapes the top layer of sand revealing the much darker wet sand below.
The wet sand creates stunning snowflakes, flowers and geometric designs that can be 100,000 square feet.
"I kind of consider that I'm painting, is what it feels like. But I'm using my whole body and the rake is the brush. I start just before low tide and end just after low tide so that when it's coming back, I've used up the area that it had already left behind," Amador says.
Amador's earthscapes are not around long. They are gone in a flash of beauty. Amador creates his works of art during low tide when the ocean exposes the most amount of wet sand. However, when the tide comes back, his designs get quickly washed away, leaving another blank canvas ready for his next masterpiece.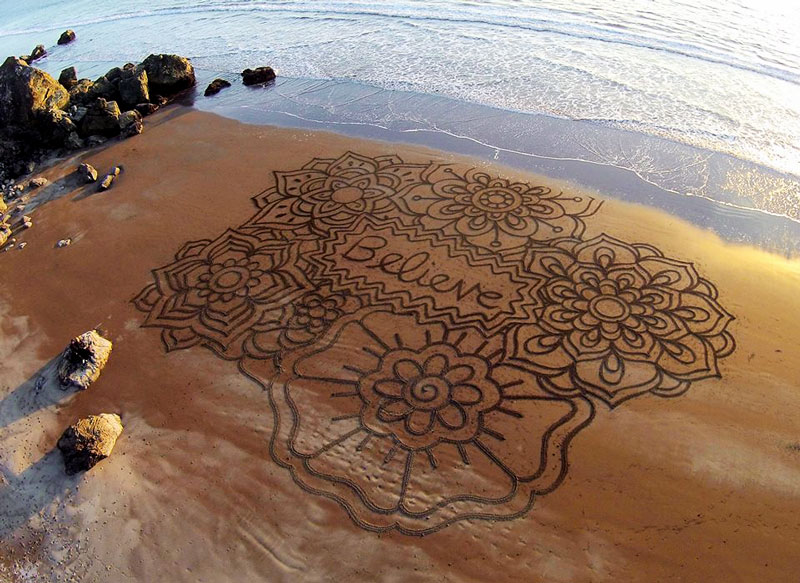 Looking at Amador's earthscapes from the air is where his work really blows your mind. It is incredible to think that his earthscapes are all created by hand. The precision in his designs look like they were created on a computer. Amador says he sometimes uses a rope as a compass, but most of the time it is just him and his rake going it alone.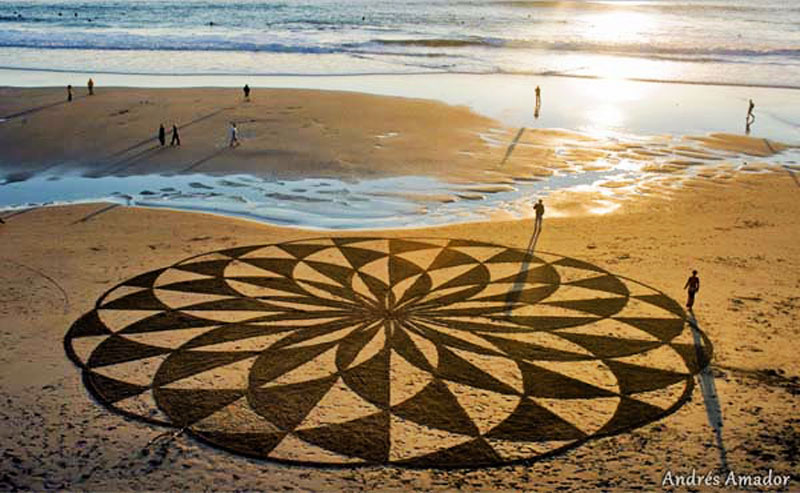 A lot of people think that Andres Amador has always been creative and artistic; however, Amador inspiration comes from maths. He says that when he was growing up he had never visited a beach at all and it was only when he started studying geometry around the world that the idea of creating these masterpieces on a beach came.
This probably won't come as much of a surprise, but Amador says the best beaches to work on are the big flat ones and with very few people around. If people do turn up to the beach where Andres Amador is working, then they are pretty good at keeping their distance, but he does have one nemesis – dogs!!! Andres Amador says that they create scars in the sand.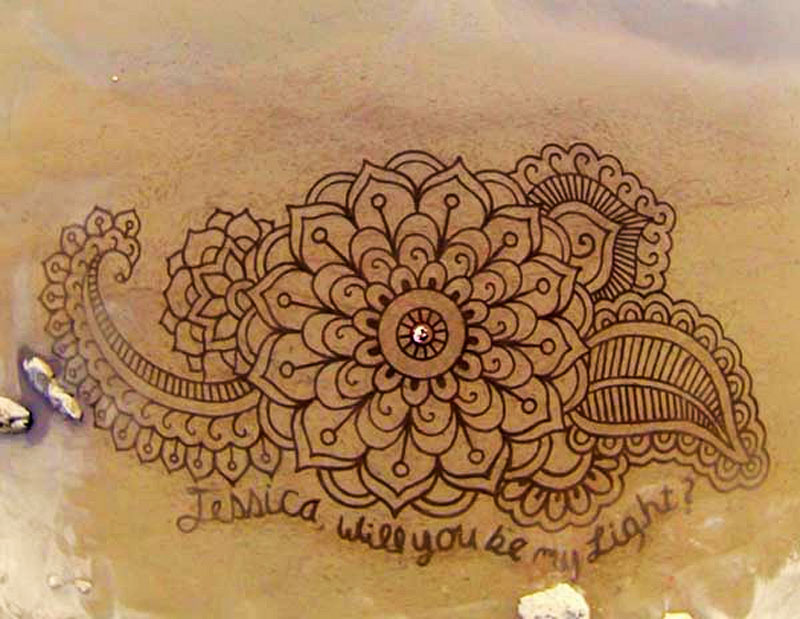 The designs look complicated and intricate, but the designs only usually take about 2 hours to complete. A question that Armador gets a lot is, does he have a hard time letting his designs get washed away? He says he enjoys the process of creating them instead of the end result.
"I'm not attached to the pieces once they're created — I can't hold onto them. When I'm done with the piece, and I can take my photos and sit with them for a few minutes, I feel complete. I feel that it has passed through me, and it's now beyond me, and I can leave." He does admit that it's difficult when he doesn't have time to finish a piece, though. "When the tide is returning, and I'm not yet done, that's when it's tough."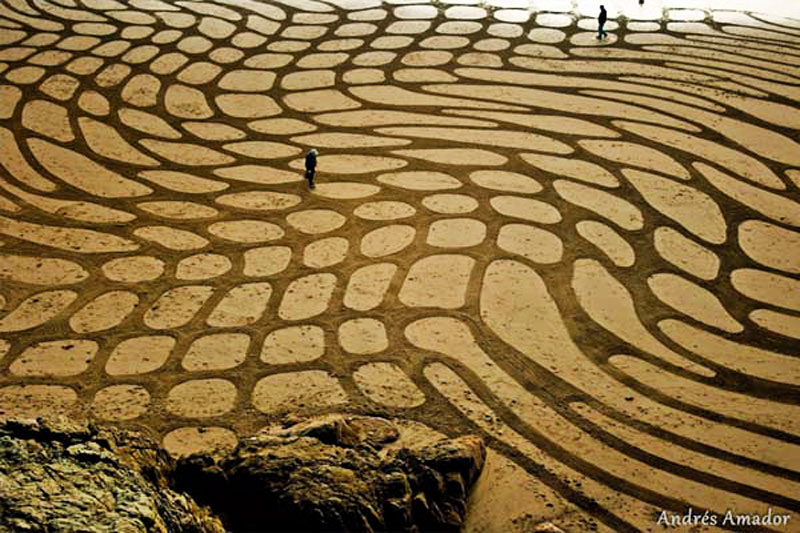 I hope you have enjoyed some of the earthscapes if you would like to find out more about Amador, then please pay him a visit at www.andresamadorarts.com