So today we did the same as the day before, nothing different until the evening came, and tonight was the night that pissed me off!! Excuse my language!
So I am lying semi-awake in the van, and I hear a noise. I notice something but can't figure what and decide to check it out, and I get out of the van look on the roof of the van where my trainers were some little shit had made off with them! Now you must be wondering why my trainers were on the roof of the campervan, and well, they stunk. I mean, really severely stunk, and well, I thought the fresh air would help.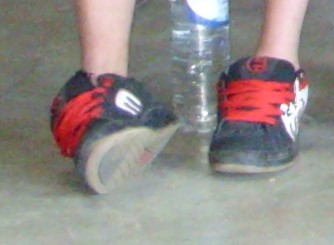 So now I am looking for the toe rag, and I see a group of lads in the distance, so I am walking briskly up the main road bare, bloody footed, fuming. As soon as I get near, they disappear. Where the bloody hell did they go? I am not sure, but into the shadows, they were lost. I couldn't get near them to ask them!! To me, it was apparent who had robbed them so I thought would turn round and out of the corner of my eye I could see them all they had just reappeared there was about 4 of them I think I decided that maybe after an hour of looking that I should let Jane know where I was.
So 2 hours passed and I am looking. I was kinder hoping they would get a whiff of the trainers and launch them into the undergrowth or into the sea but no chance I couldn't find the trainers or the punk that stole them!!
I was, to say the least, pissed off. I eventually got some sleep yet very angrily!!