It was a bit of a slow start to the day today we have been away for a couple of days to Newquay and not been on eh bikes but we had also not done a great deal of work either so we were both busy working on our projects. I was work on this site trying to make it look even more sexy and also doing some search engine optimisation for a clients site.
We are also trying to mix our routes up a bit so that we don't keep doing the same route and hopefully this gets some variety into our cycling so I printed off a map of the local area and drew a circle with a radius of 15 miles so that we could see what places fell in to the circle and we noticed that Arundel was in the circle so that was that we were off to Arundel.
We also fitted our bike saddle bags the day before and fitted the bottle holder so I didn't need to carry a ruck sack which was a blessing. The first part of the training was tough well the first 9 miles seemed to be all up hill and we stopped a few times, maybe that was because we were making the most of our new flashy drinks carriers?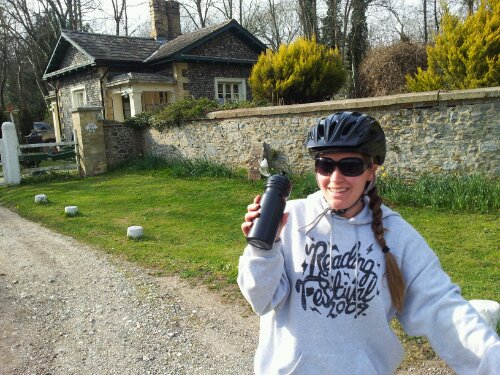 Jane was really struggling on the hills and not saying I wasn't but I feel that it is down to technique rather than fitness and it just needs Jane to get a bit more practice in. You have to remember that Jane has not been cycling long so she is still getting use to how the gears work and when she should be certain gears and she is getting the hang of it but sometimes she gets a bit stuck.
Once we got past the first 9 miles it was all down hill from there and I am not talking in a bad way it was actually all down hill… We clocked a top speed of a little over 30mph and it was good fun. It got a little bit twitchy at those speeds but that was probably due to me clenching my arse cheeks.
We got to Arundel castle and it was rude not to take a cheeky photo of the castle from the river…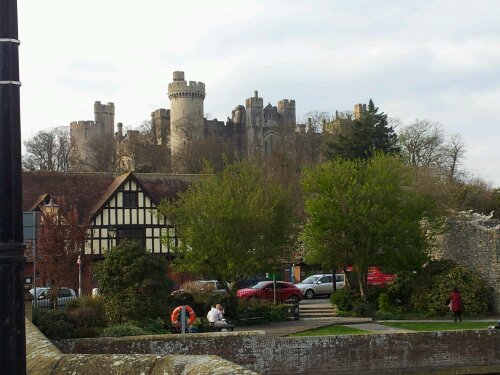 On the way home it was fairly easy as it must have been downhill as we really upped the pace and found it relatively easy. We got back to Middleton quite quickly and not as tired as you would expect. We clocked just over 19 miles so was a good cycle. Looking forward to Sundays adventure.