24/3/16
Calpe – calle de Estonia
We're hearing from all our neighbours… and there are a few in motorhomes I must say! that everywhere is chock-a-block full – as if we didn't already know that. Apparently we had nabbed the LAST space in this calle – how lucky are we – everything happens for a reason, and perhaps if we had stayed for a night in Benidorm we wouldn't have found a space in Calpe! We took Bert for a walk and later took him shopping at Lidl. Both bikes, shopping bags, and the dog. Managed to get everything on the bikes for the return ride… mine was so heavily laden every time I stopped I pulled a wheelie! 4 litres of wine, case of beer, bag of spuds, case of tonic, 16 litres of water AND all the food! I finally found courgettes slim enough to fit in my spiralizer – so it's courgetti bolognese for supper tonight!
We're off to sit on the beach for a while!
The beach is lovely – soaked up the sun and watched some volleyball – feeling really relaxed now. We went back to the van to prep supper, then Nick tells me Bryn is on his way!
It was so good to see him – he looks great! It's been so many years since we saw him, but the years do just melt away – we waffled and drank beer and wine and waffled some more! He's been living here for 9 years – lives up on the hill in the old town in a proper old Spanish house. Sadly his wife is very poorly and he looks after her full-time. He was able to come and see us only because his sister is visiting from UK at the moment and could take over for a while.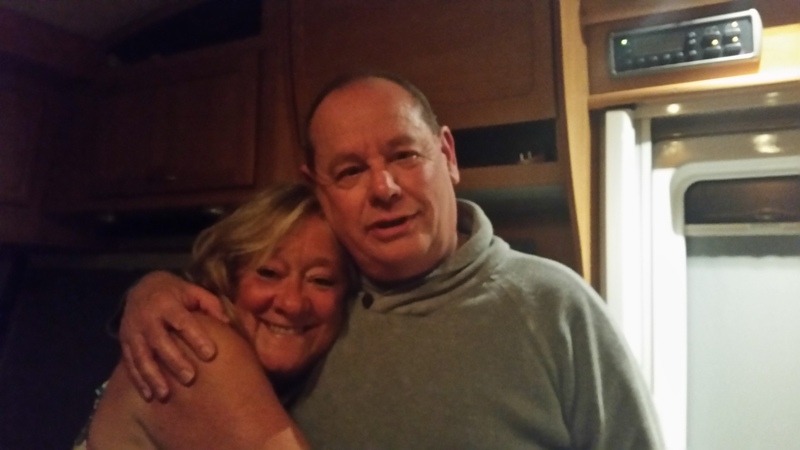 We're hoping we can see him again on Sunday before we leave on Monday – perhaps we can talk him into a chinese with us – Nick's gagging for chinese for some reason? I really hope so!
Delivered Aunty Jan hugs to Bryn as requested, and Nick did all the blokey greetings from our friends in Horsham.
We went to bed really chuffed that we'd got to see him… after that courgetti bolognese of course!
25/3/16
Calpe
Good Friday. It's warm today but not as sunny as yesterday. We took a stroll down to the front and a different beach, and then found a nice little chinese bazaar where we bought, among other things, a covered pot which will fit my tiny hob in the Blobbybus and also go in the oven, and a humongous paella pan for our hanging barbecue at home… a mouse for my laptop (mine has been deceased since we left UK), and a clothes airer that will clip to the window or the bike rack — all cheap as chips! Had a couple of beers and some patatas bravas for lunch on the way back, and found some pretty flamingoes on the way back too! I thought they were buoys to start with… (must get new specs when I get home…)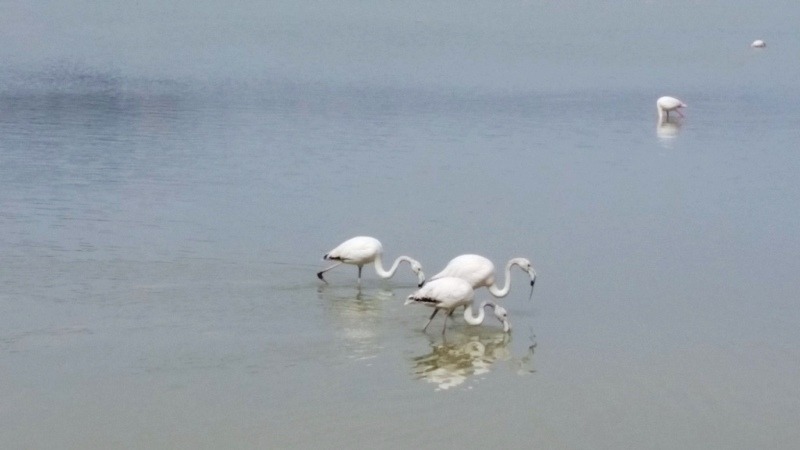 Sleepy afternoon! At sunset the bats come out to catch pesky midges… I LOVE watching the bat show at dusk every day – they're just such fantastic flyers! There's open ground each side of where we're parked and plenty to feed on. I just wish my camera was up to taking pictures of them – but they're too quick, and I'm too slow!
26/3/16
Calpe
Market Day.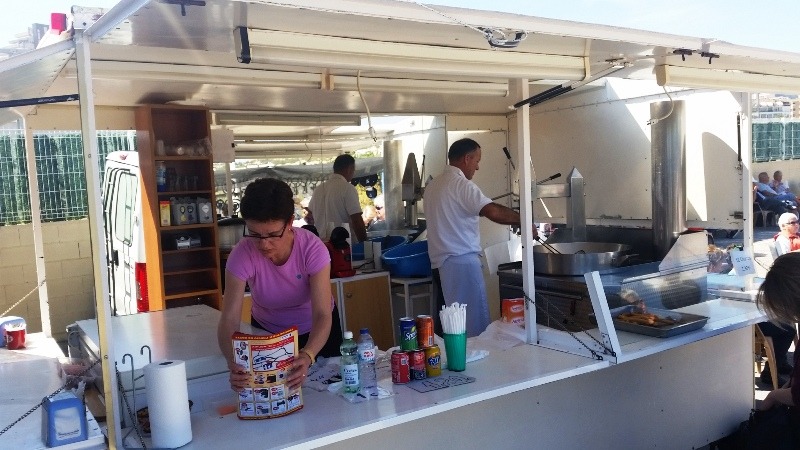 The streets are full today – we are parked one row back from the market area, and decide to go take a peek. We take Bert – who makes his customary deposit at the intersection of the 2 market streets. Nick gratefully accepts this deposit in a doggy poo bag, but gets some on his hands – so he walks back to the van to clean up! (leaving me and Bert alone in the market).. I spot a jacket I like, and the thing is bagged up before I can blink… I show the lady my bag (empty of funds – just like the Queen) and explain that my Equerry carries the cash! I escape… Nick catches up with me at the western end of the road, we're parked to the east – so I try to hide from my jacket lady! I'm SUCH a wimp! We successfully sneak past her stall, and shortly I find another stall with a dress and a shirt I like, and negotiate (hah!) a small discount. I let Nick choose the dress colour, and when we got back I didn't like it! Walked back for a cambio and my problem was solved!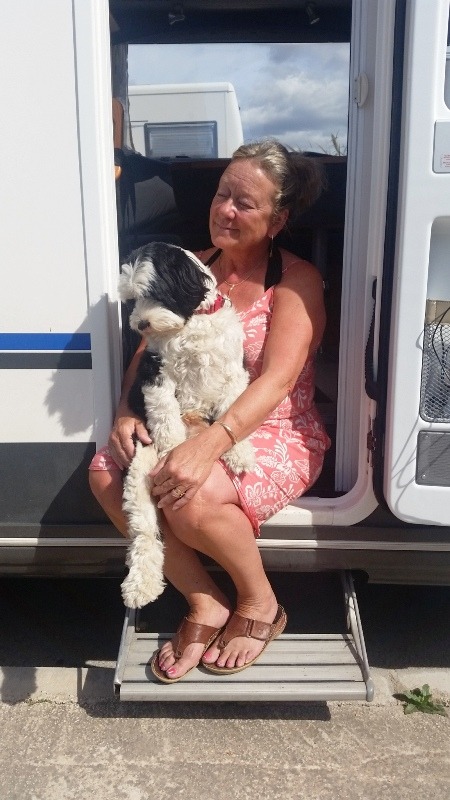 We sat on the beach for a couple of hours in the afternoon and had tapas for supper – Chipirones tinta croquettas (black – look awful – taste good); gambas; patatas bravas and chorizo in sherry. Yummy! Nick plays with satellite system, I fall asleep!
27/3/16
Calpe
Easter Sunday. It's a lovely morning so we go for a walk along the beach with Bertie – up towards the old town. Came back for breakfast and decided it was too nice to ignore the sun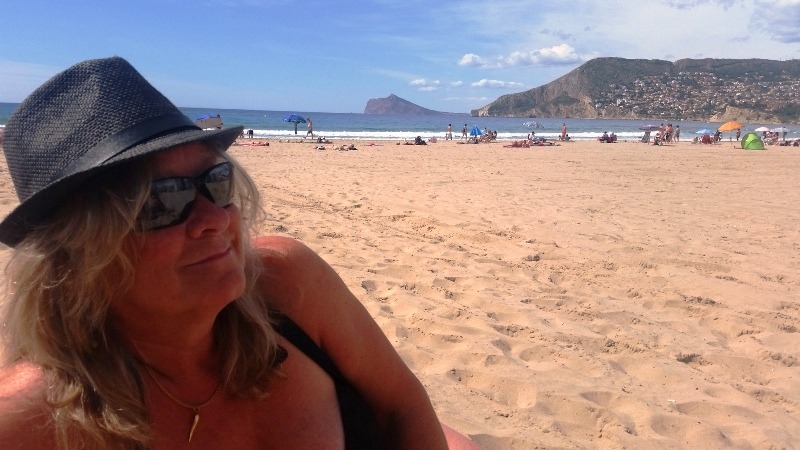 so went for a read and a lie on the beach. Watched a little fleet of lasers racing – read a little – then it clouded over and we walked back.
Cooked Hairy Bikers Diet Pork and Rice for lunch – lush! I'm sooooooooo fat!
We're headed for Javea, or Denia, or Platja de Tavernes tomorrow – so we try to contact Bryn once more – he'll meet us later this evening if we get up nearer the old town, so that's what we resolve to do.
Spent a bit of time cleaning and blogging, and set off to find Bryn.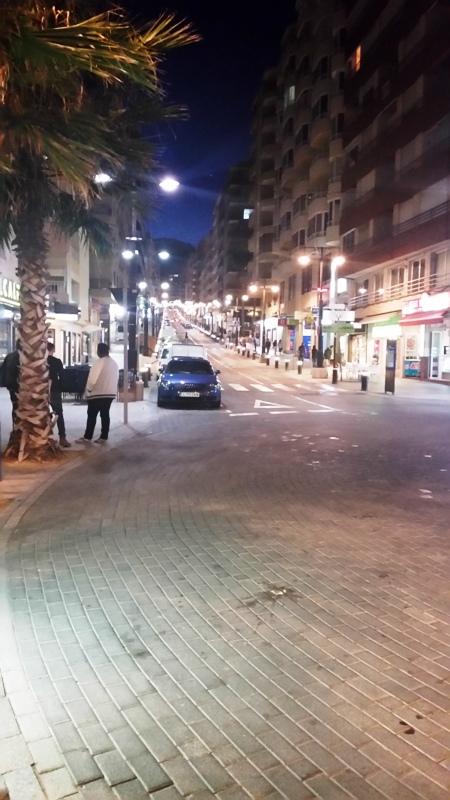 We bumped into each other on the seafront… and went off to a little bar called The Delfin.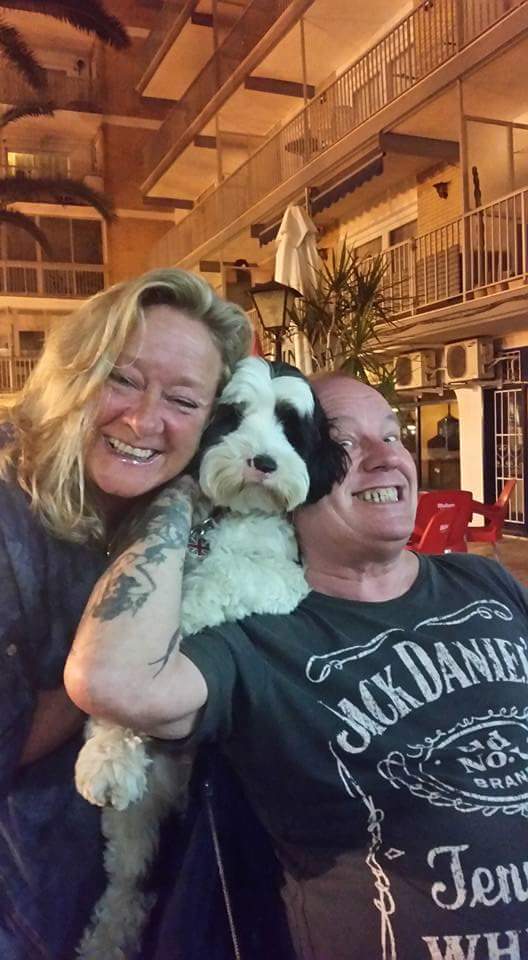 We drank a lot…. it was so much fun to waffle about old times with Bryn… but we probably, no definitely, drank a whole lot more than we should….! We said a sad farewell to Bryn after a fun evening, promising to visit again at the end of the year – and we will!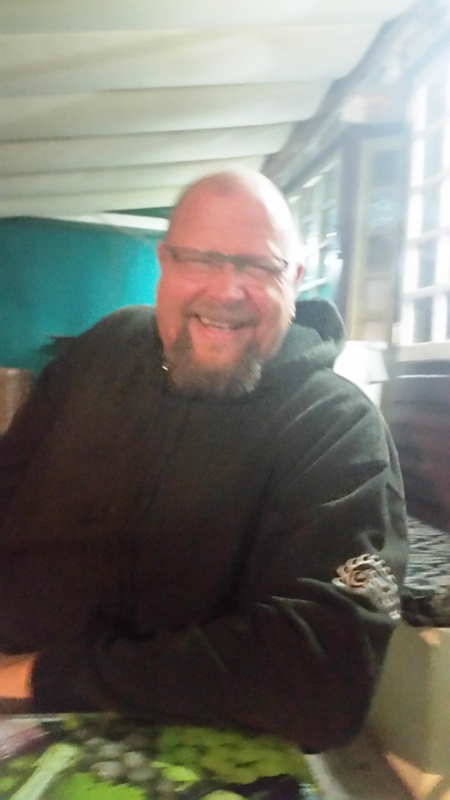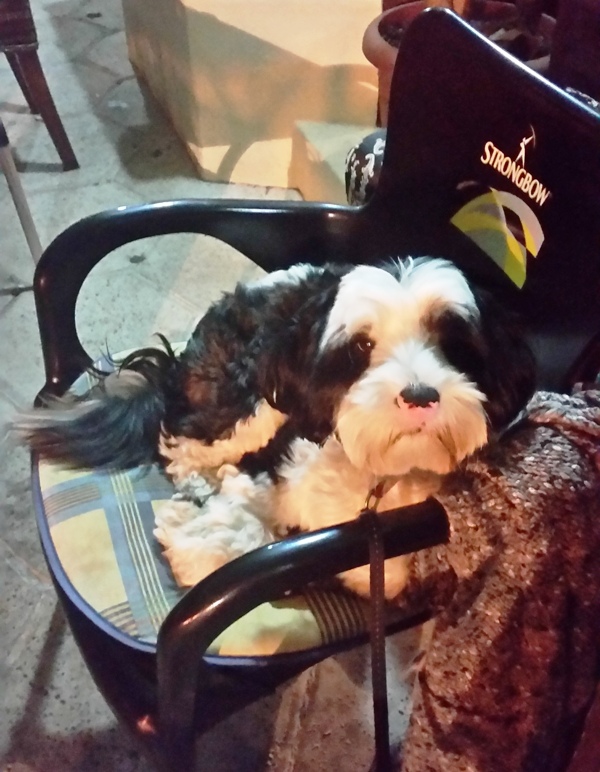 I don't actually remember walking back to Blobbybus…. but I DID take some very close-up pictures of that roundabout again….. much too close…. WHAT WAS I DOING IN THE MIDDLE OF THE ROAD?