So today we avoided McDonald's like the plague and headed for a little cafe we had spotted the day before it was very nice we both had eggs and jane had hot chocolate, and I had decided to save my money and have just the water I bought with me.
The last few days we have been having problems charging batteries, and we soon realised that the battery charger is using an ac adapter and that when we plug it in it was reducing 110v down and this was not enough to charge the batteries. We were gutted!!
We also realised that my clippers wouldn't work as well, so we need to get a battery charger. We hunted high and low for a USB battery charger, we got some right strange looks but we eventually found one, and we can finally charge batteries again…. we still need to find a voltage converter thought to power my clippers so I think that we might have to buy an inverter anyway.
We walked around Central Park and me being entirely unromantic decided against the horse and cart ride (hate horses). We found some pretty cool hedge sculptures in the park which were pretty cool the photo below shows me trying to copy the ape!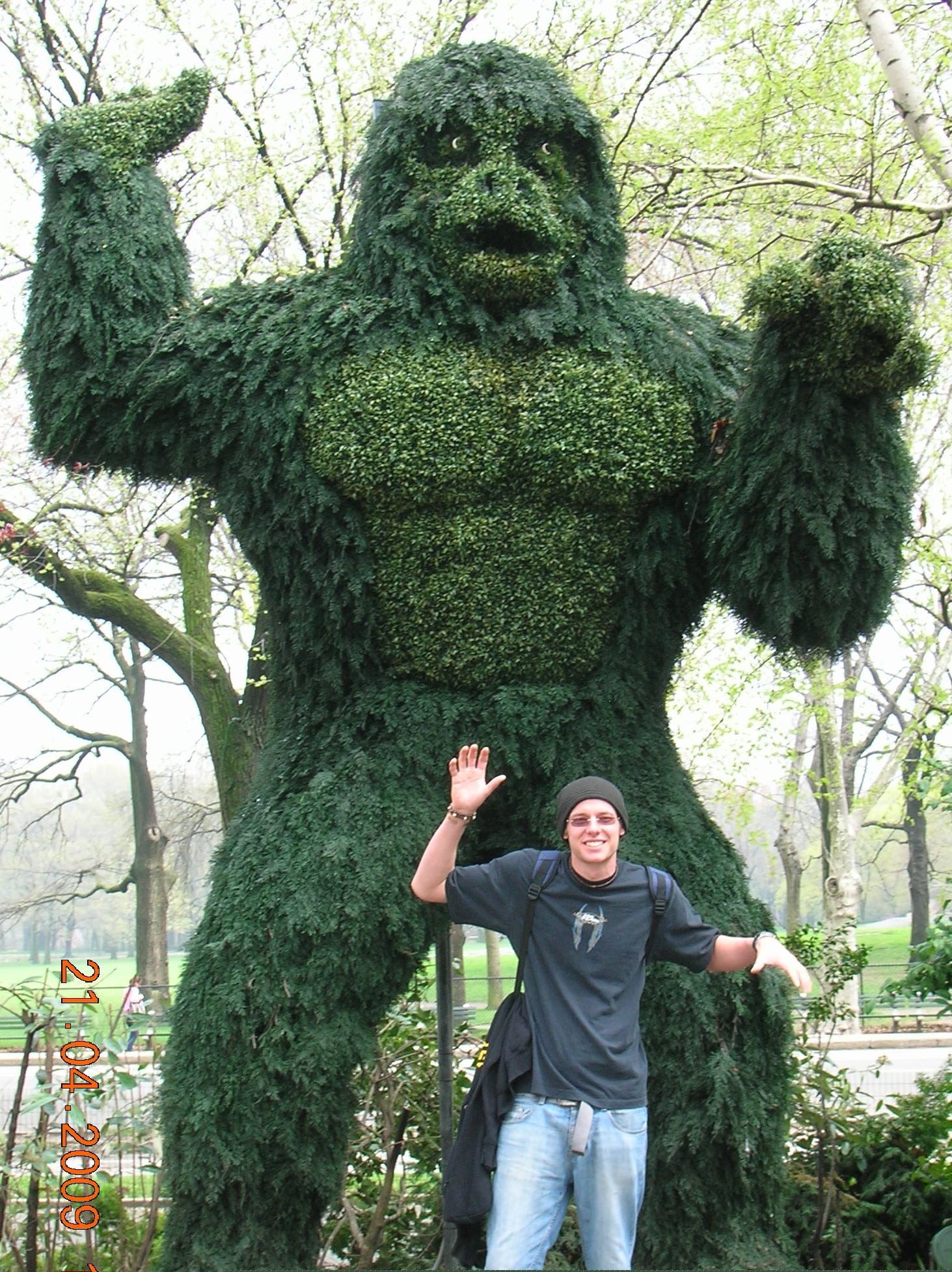 We headed back to the hostel to sort out our laundry, and we then went to a laundrette we stuck our washing in, and we both fell asleep waiting for the wash to finish about 40 minutes later. We bunged them in the tumble dryer for two spins, and the clothes were a little damp so we thought that the room would be as warm as it was the night before, so we went back to the hostel to hang the washing up.
The clothesline was pretty funny and worked pretty well if the heating came on, but it must have been the coldest night in that room. We headed out to China town and found a sort of buffet for $4.50 a head and thought perfect!!!
Jane was asking the server what everything was and the server kept saying chicken. I found mine really lovely, but Jane was convincing herself that she was eating rat, cat or dog and decided to leave the rest of hers….. Their kitchen must have had a one-way cat flap in the kitchen some of the meats we had eaten tasted like nothing else we had tried…..Jane was not impressed!!
We headed to a pub and spent $11 on two drinks sooooo bloody expensive, so we called it a night and went to bed!