So we woke up bright and early to a wet Fort William. We ached like hell and could not be bothered to go anywhere especially in the rain. We had another fried breakfast which was just as good as the day before and this will be the last one we have as it is not particularly healthy and it is simply not a good idea.
We needed to find a bike shop that was open today and find one that would be willing to look at Jane's bike for us as I really thought we should get it checked out. The walk down to Alpine Cycles was pretty difficult, I am not sure how you can walk with legs that feel like they have been filled with lead and not looking like you have crapped yourself.
We made it to the bike shop and pretty much begged the poor chap to look at Jane's bike, which he agreed to do and Jane and Myself struggled back to the B&B to get Jane's bike.
After listening to Jane scream down another steep hill (quite embarrassing) she gets the bike in the shop and we start pressuring the poor chap to not only look at the knackered wheel bearings but to also repair them. He pulled the wheel apart and we soon discovered that one of the bearings was like new but the other side was shot and although it could do with replacing he did not have any or the time to do it so he said he will re-grease it and it "should" last our trip.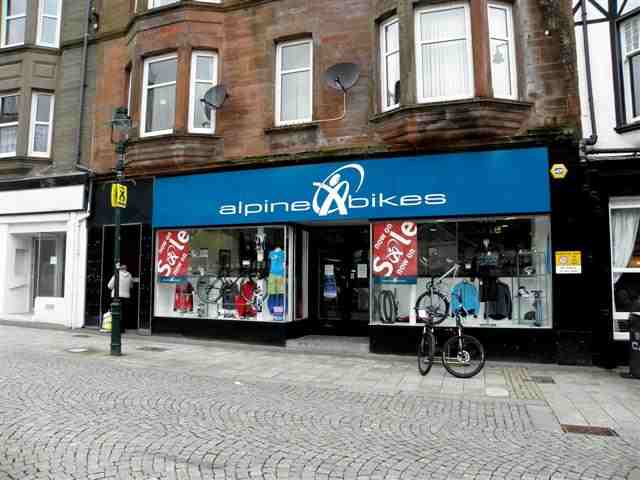 In the bike shop again it was like an Aladdin's cave and we spent a small fortune on bits and bobs, mainly 2 bigger water bottles and some more spare inner tubes to replace the ones that had too shorter presta valves so we will be sending them home to get them replaced at our local bike shop.
We decided to spend another night in Fort William in our nice B&B which is costing us a small fortune.In fact its costing us around £120 a day in food and sleep, its no wonder that people do not holiday as much in Great Britain as it is just too damn expensive.
We got back to the B&B and I started writing and uploading blog photos and within an hour or so I was asleep. I woke up about two hours later and it was then time for our evening meal.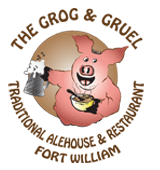 We headed to a restaurant/pub called Grog and Gruel and all I am going to say was that is what it was. The service was slow and the food was not very nice, I found a nice long pubic hair in my food and that was enough to put anybody off but Jane's food was just rough. We told the waitress but she didn't seem to care much and so we decided to pay the bill and not bother with desert. We waited for the bill and it did arrive, we placed our card on the tray and waited… about ten minutes passed and the waitress came over to tell us that the card machine doesn't work…. brilliant!!!
Time to get some rest for a big few days cycling ahead of us.