We were once again up early and leaving the Travelodge without eating and I suddenly had the urge to cycle down the corridor of the Travelodge… why? I am not sure but what a buzz that was 🙂 But the sun was shining and there were blue skies….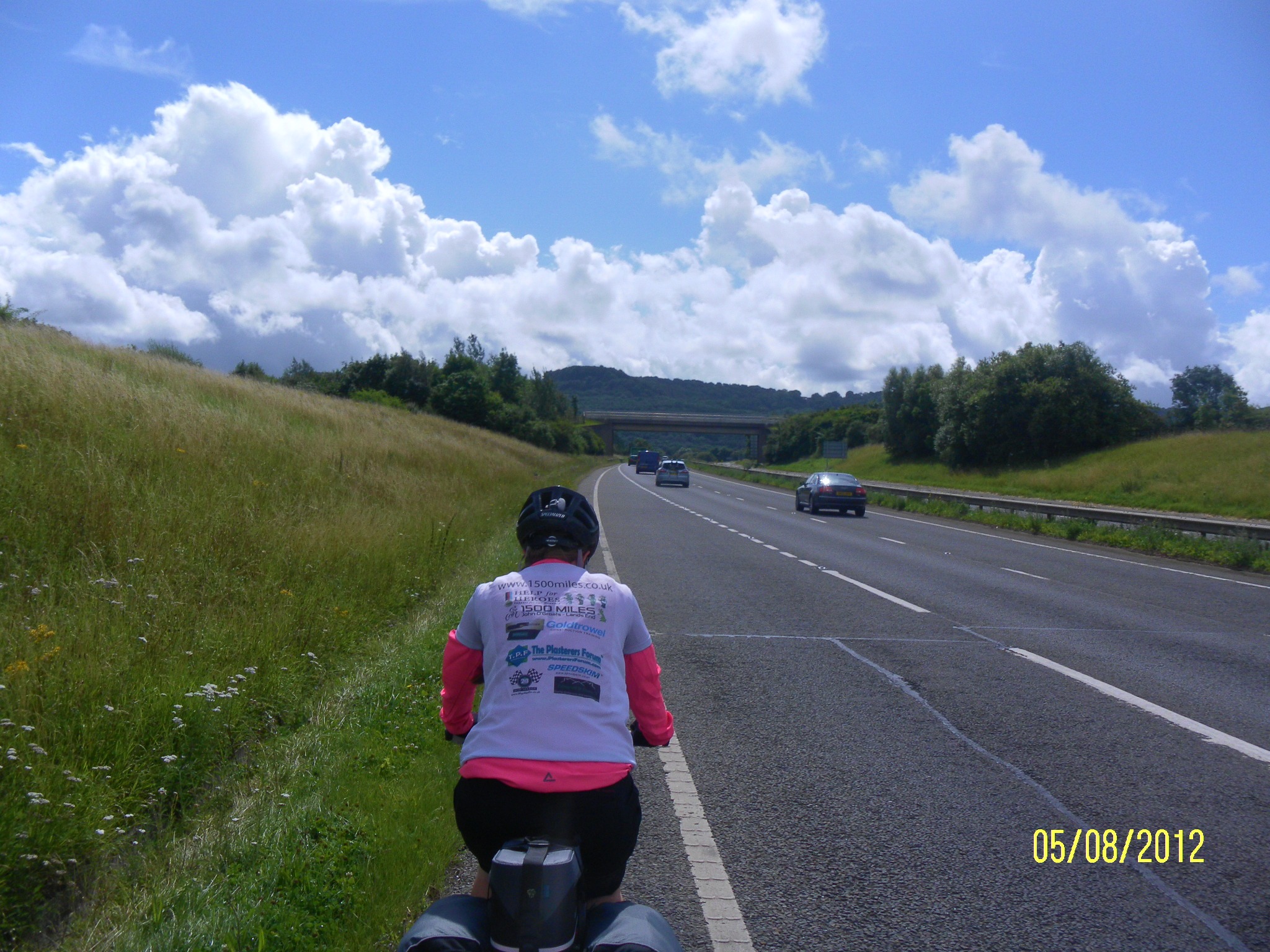 Todays route took us along the the A417 and we have quite a lot of experience with busy 'A' roads but this road was to say the least a bit of a worry and having to cycle with 2 lanes of fast moving traffic on your left hand side and 3 more lanes of busy faster moving traffic on your right hand side it wasn't going to be too long before there was an accident and we soon lost our cycle space in the gutter and it was not good in anyway shape or form.
We pulled over in what use to be a road and decided to discuss what we were going to do as we both knew it was not a good idea to carry on along the A417. However it was not obvious which route we should take and more importantly how many miles is it going to add to the days total and quite frankly we are getting very tired not just physically but mentally.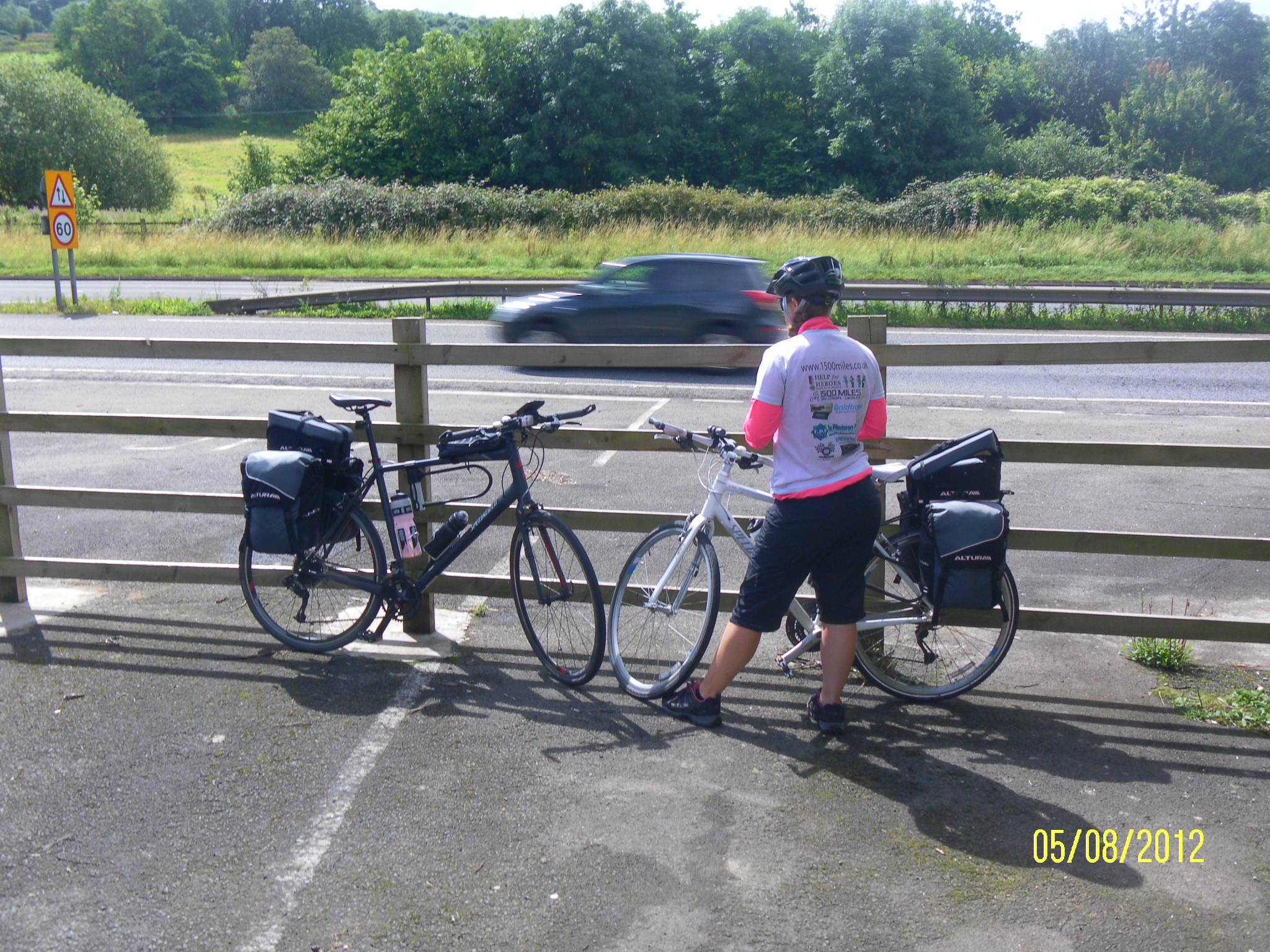 We literally throw our bikes over a fence and get on a little country track and head to what can only be described as a little village where we sit on a grass bank staring at maps and try and plan a safer route to Royal Wootton Basset. About half an hour passes and as you can tell we were not in any rush to get back in the saddle when a lady on a horse trots up and starts chatting away and she tells us of some nice roads to get us to Royal Wootton Bassett and so we decide to once again take the advice of a local.
We very quickly start to regret this decision as the roads soon get smaller and smaller and steep and I kid you not when I say it was like climbing a brick wall it was tough and we are cycling along at a very slow pace and most of the time it would have been quicker to get off and push the bikes. But that was not an option.
Oh yeah and did I mention that Jane told the Horsey lady that we where being quite lucky with the rain and that it hasn't been too bad… What the hell was Jane thinking… for the rest of the day it hammered down and we were pretty much drenched all friggen day.
What seemed like hours we were still climbing up steep hills in the rain and we finally found some civilisation in the form of a service station and we get bad tasting Hot Chocolates and warm pies while we once again find excuses to not get on the bikes. The rain just doesn't ever seem to want to stop and we are now getting very cold and are resorting to sitting in the petrol station toilets with the hand driers on trying to get feelings back in fingers and toes.
We get a slight lift of energy and decide to grab this opportunity by the horns and jump back on the bikes and start pushing to the limits to get to Royal Wootton Bassett I start trying to entertain myself and tune into "Cycle FM" which is very much to Janes annoyance!!
Cycle FM continues for the next few hours and even Jane is really getting involved giving interviews and generally taking part in this very limited edition pirate radio station!
We finally arrive in Royal Wootton Basset and we find a beautiful sign that we wanted to get a photo of with us in the picture with our bikes. So we look around and would you beleive it that not a soul was around to take this photo so we had to resort to placing the camera a good 30 meters away on another sign and zooming in and putting it on a timer. Now, the camera only has a 10 seccond delay and so that meant we had to run like hell to get to the sign and compose yourself before the picture is taken.
This was hard by any standards but our legs where not up to running and it took a few attemps and as time went on it got harder but as you can see from the photos below its not as easy as you would think but enjoy them anyway.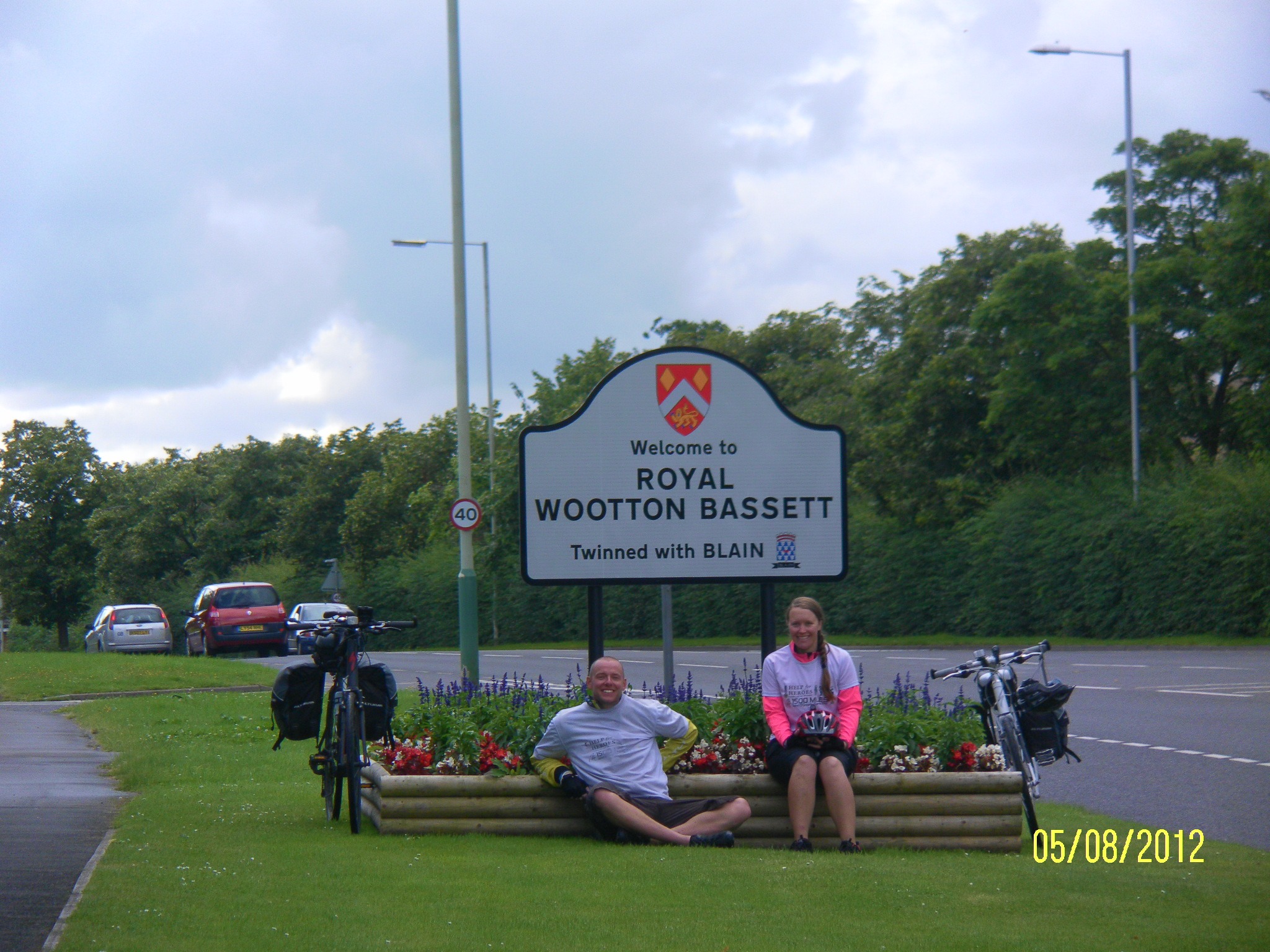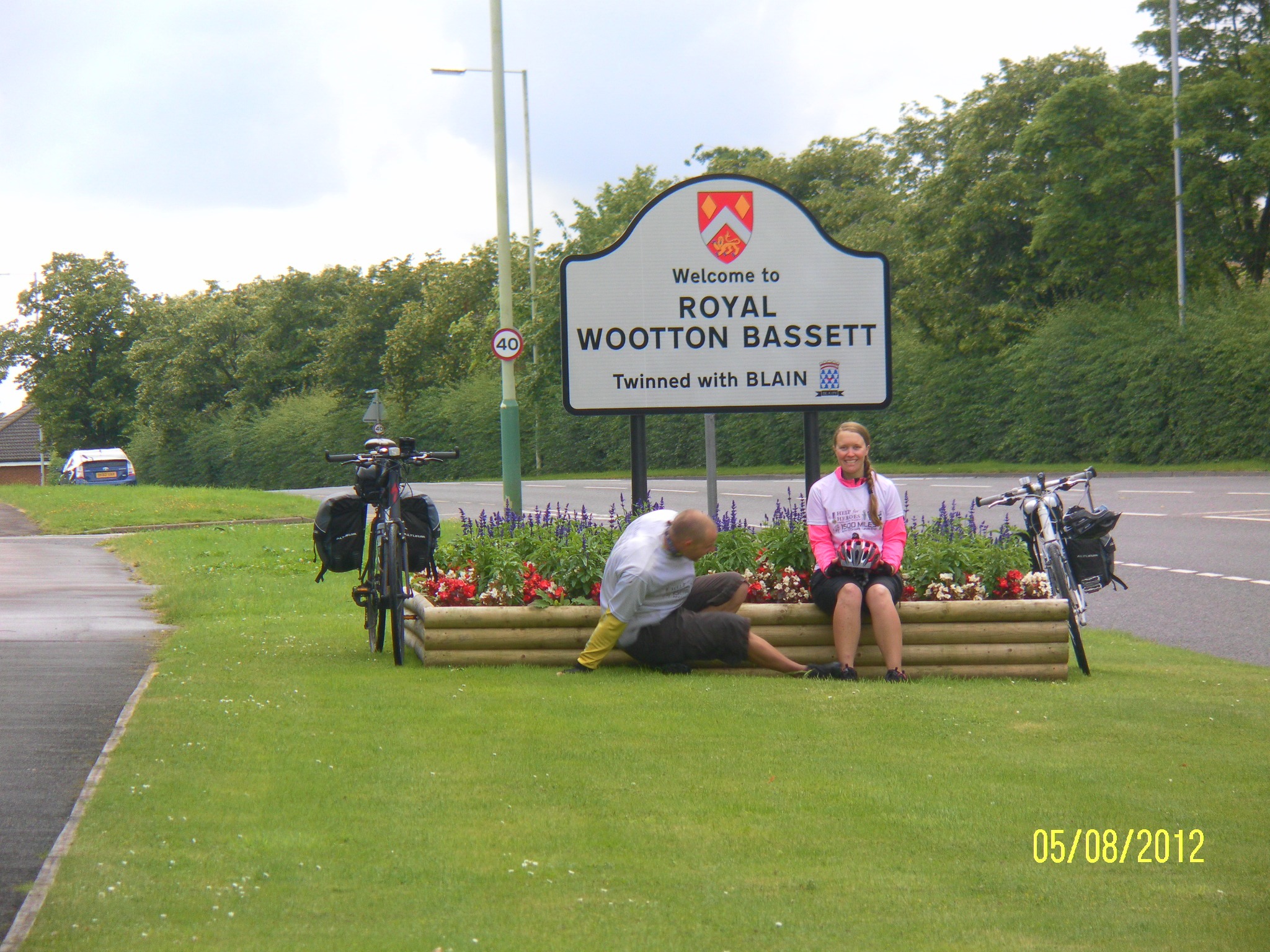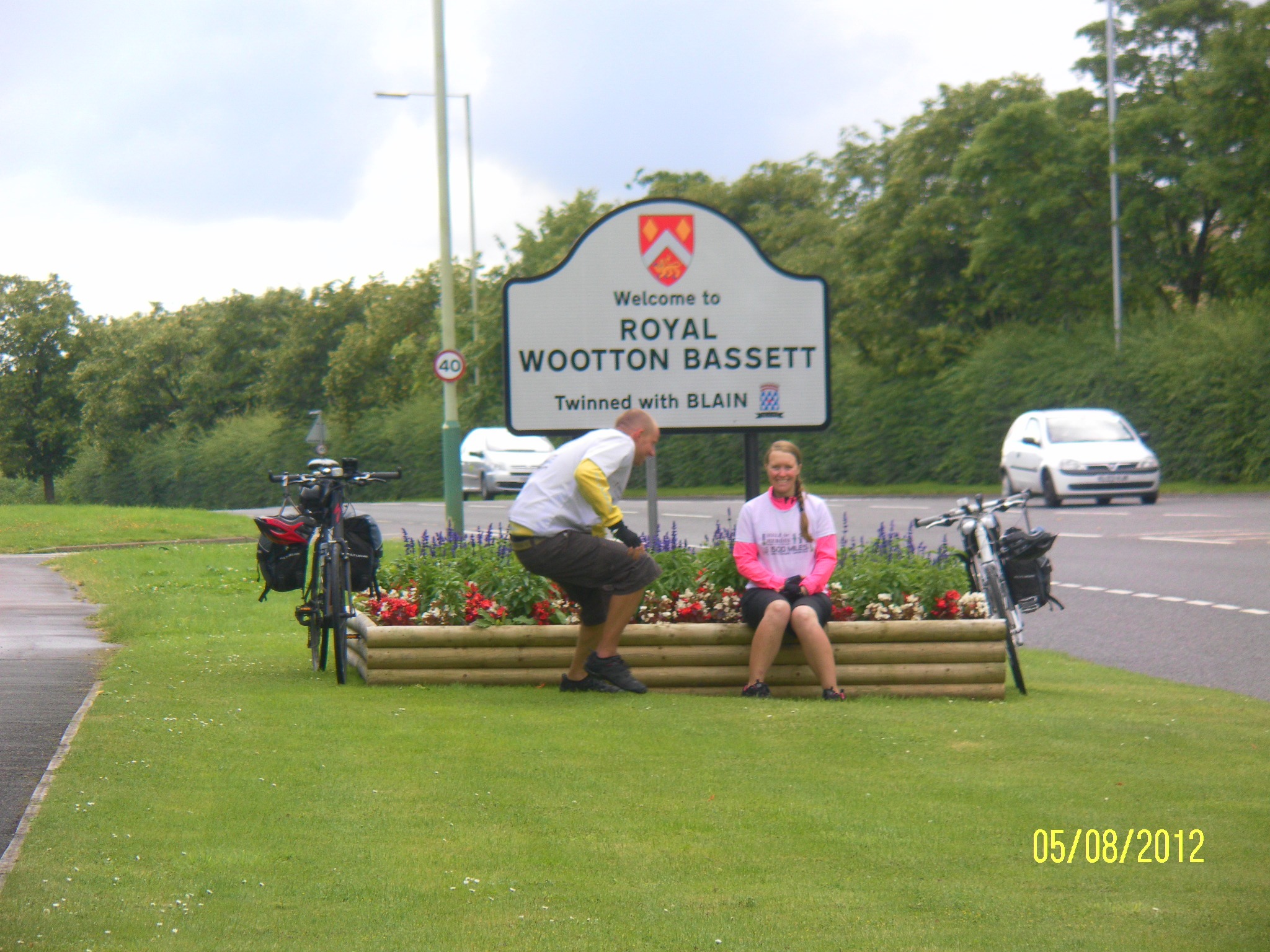 Then Jane had a go which was quite funny…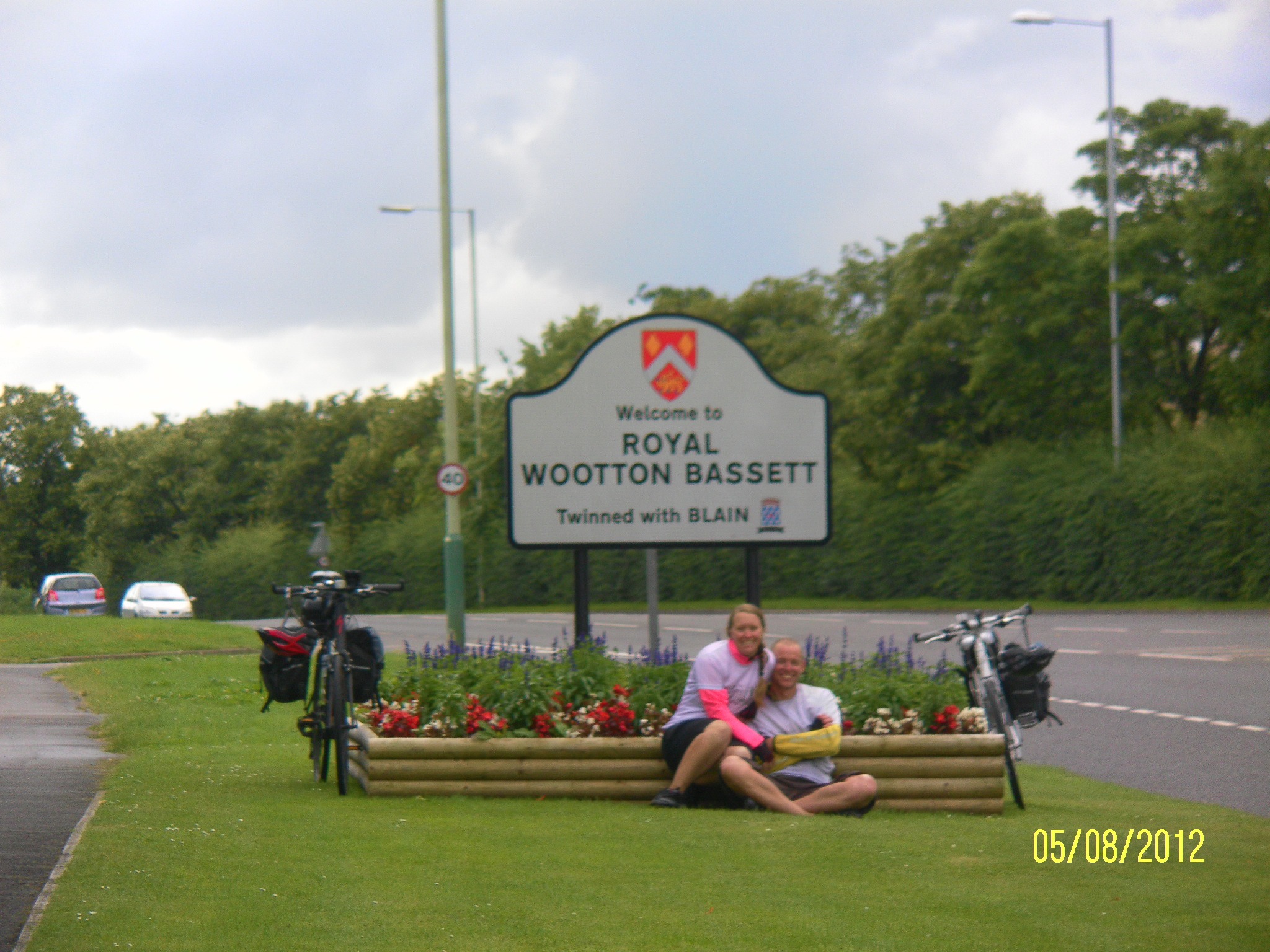 After catching our breath we head into Royal Wootton Bassett and our Friends Peter and Julie have organised tonights B&B which was in a 17th Century farmhouse and I have to say it was stunning. Although all the ceilings and doorways were very low and I had to resort to climbing up the stairs on my hands and knees it was still beautiful.
We even got to chase sheep around their garden which was interesting and also quite amusing for the owners little boy who found it quite amusing as well.
Once our luggage was loaded into our room we decided it was time to make use of the huge bathroom and Jane ran a huge bath and she looked mega relaxed… and I mean really relaxed but I was destined to come and ruin that ambiance by having to use the toilet which as you can imagine did not go down quite well…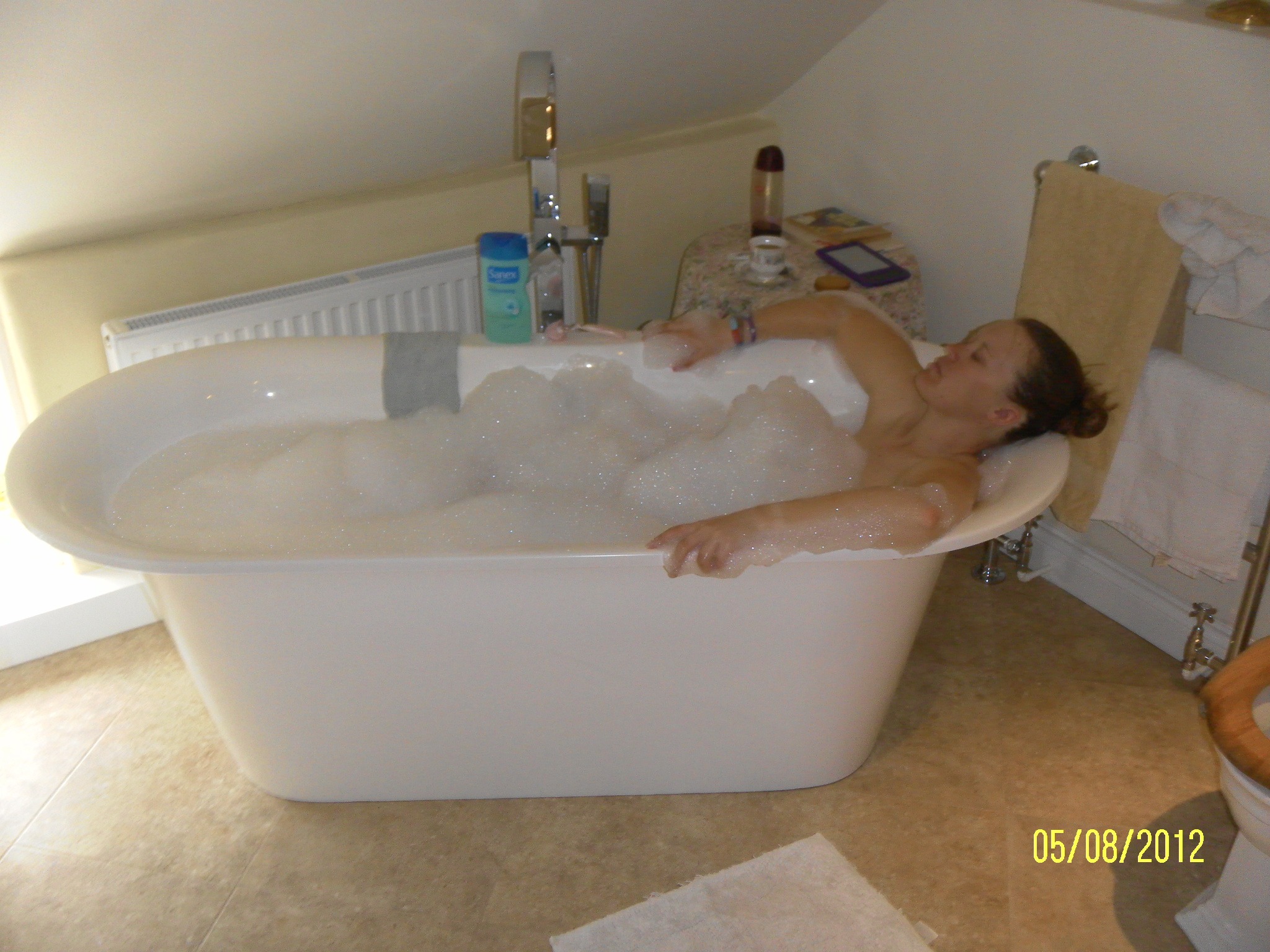 After we had a bath each I wanted to try out the huge shower so I had one of them as well 🙂 I felt a little bit guilty about my carbon footprint but it was too good to resist.
Once we were clean and rested it was time to find some food as we are burning around 6,000 calories a day and keeping our food intake up is quite hard.
The trouble we had with this B&B was that it was in the middle of nowhere and so we had to cycle back into Royal Wootton Bassett to get food, but it was also sunday night and not everywhere was doing food so we really had to hunt around for somewhere to eat. I was not too keen about getting the bikes back out and having to cycle them after a few beers in the dark but we did it and it was ok.
I once again had a huge fish and chips and Jane had Lasagne and we got chatting to bar staff who said that they would have let us stay in the hotel for nothing as they really support the Help For Heroes which was a bit annoying as we had already paid for our B&B…. but in exchange they gave us a few rounds of beer which was just as appreciated 🙂
We now had the challenge of cycling back in the dark and to say we were a little bit wobbly was an understatement and it was all down hill….. oh boy!! But we made it safe and sound into our B&B and we thought we were being quiet but I dont actually think you can get around a 17th century farmhouse without making a noise.
We where asleep before our heads hit the pillows.